Fall around Coffeyville, Kansas
Amazon.com Coffeyville, Kansas: Walter P. Johnson Campground
We are staying in Walter P. Johnson City Park Campground in Coffeyville, Kansas. I would suggest this campground to anyone passing through the area. You can easily find this City Park if you are traveling through Coffeyville on US 166 or US 169 you will pass right by the Park. There is a big Steam Locomotive on the east side of town around the intersection of 4th or 5th streets. That is the entrance to the Park. Or you can turn east on 8th street and find the Campground. They advertise $8 a night for water & elect ---- FHU is $12. There is a free dump along Park Avenue near the arena and across from the playground.
We are in Coffeyville to work for a few months at the Amazon.com fullfillment center. Since we are here in the Fall we took some pictures to share what Fall looks like around here.
This part of Kansas is soybean country. Soybeans are everywhere and it is harvest time.
Delivering soy beans to the grain elevator near Coffeyville, Kansas
This truck is dumping a load of freshly harvested soy beans. That is a major activity around Coffeyville, Kansas this time of year.
This maple tree was showing off its fall color.
Joyce snapped this picture of a farmer's Halloween decoration. It was both colorful and cute.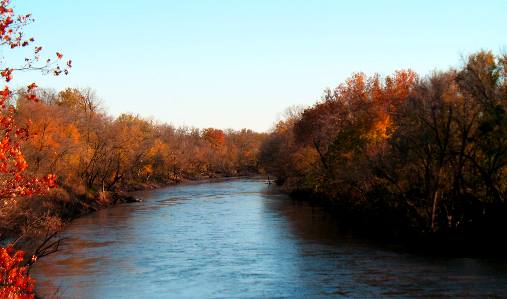 This is the Verdigris River taken from a bridge just east of South Coffeyville, Oklahoma.

This is one of the harvesters that are harvesting soy beans in the area.
Maple trees are showing off and this one is no exception. It will only be this pretty for several days.
Here are some of our other Kansas Travel Adventures:
Flint Hills Scenic Byway, & Council Grove ** Kansas Wheat fields ** Salt mine tour in Hutchison-Over 600' underground
Tallgrass Prairie National Preserve in the Flint Hills of Kansas ** Santa Fe Trail through south-central Kansas
The world's bread basket ** Lyons, Kansas Underground Salt mine ** Post Rock Fences of Kansas
Grain Elevators of Kansas ** Limestone Buildings of Kansas ** Kansas Grazing land ** Quintessential Kansas
Grain Transporting Equipment ** Wilson & Russell Kansas ** Wilson Reservoir ** Kansas ** Coffeyville
Harvesting Grain in Kansas ** Kansas Pontoon Boat "Happy Hooker" ** Kansas Countryside ** Kansas Soy Beans
Typical Kansas ** Old Native Limestone Churches of the open plains ** Brown Mansion in Coffeyville, Kansas
Little House on the Prairie Historic Site near Coffeyville, Kansas ** Soy Bean Harvest in southeast Kansas
Fall in Coffeyville, Kansas ** Southeast Kansas ** Coffeyville, Kansas Industry ** Dalton Gang