Brown Mansion Coffeyville, Kansas
We are in Coffeyville, Kansas. The Dalton Gang robbed their last bank in Coffeyville and most of the Daltons are buried in the local cemetary.
The Little House on the Prairie historic site is located just west of Coffeyville and the Brown Mansion is a main attraction in Coffeyville.
We moved the motorhome from Pensacola, Florida to Coffeyville, Kansas where we plan to spend a few months working for Amazon.Com in their "fulfillment-center". This is the place where Amazon.com warehouses, packages & ships their products. During the Christmas season Amazon.com hires around 500 "temporary" workers to help with the increase in business. We are joining around 500 other "workampers" that are are sending out your Christmas presents.
We left Pensacola, Florida and stopped the first night in Vicksburg, Mississippi where we stayed in the Ameristar Casino Campground $22.50 for FHU paved interior roads and sites.
We only stayed there one night then headed on toward our destination in Coffeyville, Kansas.
However, they had a good band in the Casino that we enjoyed. We knew this would be our last chance to have a good time until we got back to Florida after Christmas. We didn't get an early start the next morning. VBG
Mississippi River Bridge at Vicksburg, Mississippi
Leaving Vicksburg, Mississippi, heading west, we crossed over the Mississippi River on this bridge. As you can see they were working on the bridge and had one lane blocked off. It is always a hoot to cross over the Mississippi River and this was no exception.
Maples and Red Oak at the Brown Mansion in Coffeyville, Kansas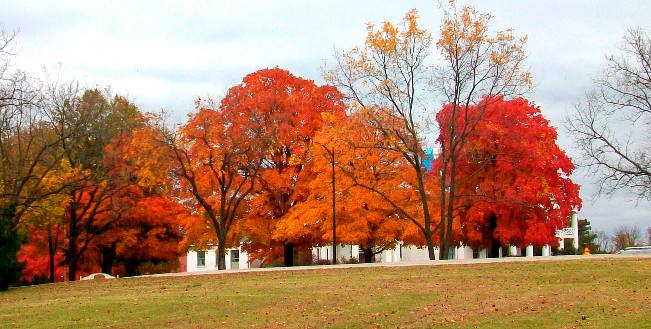 These maples and I think a red oak or two were showing off at the Brown Mansion, one of the tourist attractions, here in Coffeyville.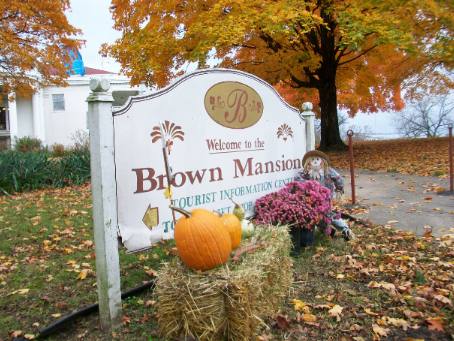 We intend to tour the Brown Mansion before we leave Coffeyville but have not done so yet.
And we never got around to it.
But we did make it to the South Coffeyville, Kansas Livestock Auction.
After arriving in Coffeyville we headed out to find things to see and do since we are not scheduled to start work until next week. There was a livestock auction in South Coffeyville so we stopped by on Friday to watch the action.
We were amused to watch this cute blond teen age girl unloading cattle that were being delivered to the auction. Out here girls hold their own.
Folks this girl is WORKING for a living. This isn't a job for wooses.
It is definitely interesting to see, first hand, how the rest of the country lives.
Here are some of our other Kansas Travel Adventures:
Flint Hills Scenic Byway, & Council Grove ** Kansas Wheat fields ** Salt mine tour in Hutchison-Over 600' underground
Tallgrass Prairie National Preserve in the Flint Hills of Kansas ** Santa Fe Trail through south-central Kansas
The world's bread basket ** Lyons, Kansas Underground Salt mine ** Post Rock Fences of Kansas
Grain Elevators of Kansas ** Limestone Buildings of Kansas ** Kansas Grazing land ** Quintessential Kansas
Grain Transporting Equipment ** Wilson & Russell Kansas ** Wilson Reservoir ** Kansas ** Coffeyville
Harvesting Grain in Kansas ** Kansas Pontoon Boat "Happy Hooker" ** Kansas Countryside ** Kansas Soy Beans
Typical Kansas ** Old Native Limestone Churches of the open plains ** Brown Mansion in Coffeyville, Kansas
Little House on the Prairie Historic Site near Coffeyville, Kansas ** Soy Bean Harvest in southeast Kansas
Fall in Coffeyville, Kansas ** Southeast Kansas ** Coffeyville, Kansas Industry ** Dalton Gang