Typical Kansas farm
I have been wrestling with what is "typical" about Kansas. Many ideas crossed my mind but a clear thread ran through all of them. Rural, small town America and farms seemed to be what Kansas was all about.
Barns, grain fields, in the extreme background is a green milo field, it will not be ripe for another month or so.

Wheat, wheat and more wheat. That is what Kansas is all about. This is truly the breadbasket of the world.
Wheat harvest in Kansas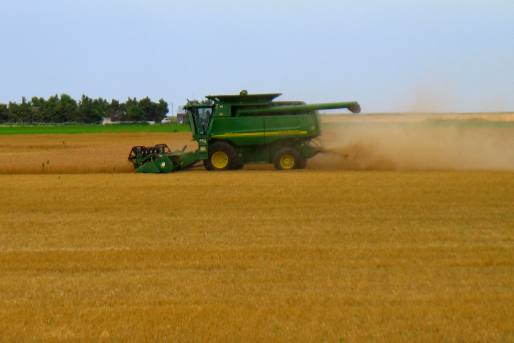 These combines are running around the clock in wheat fields. They just turn on the lights and keep on going. You can see harvesting operations like this a long distance away by the cloud of dust. It is unbelievably dusty.
Kansas wheat harvest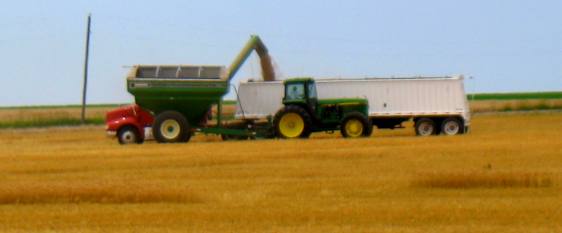 The tractor with the bin is emptying grain into this 19-wheeler which will transport it to the nearest silo operation. One of the bin drivers said those bins hold 1,000 bushels.
Kansas wheat harvest

Here is that same operation. You can see one 18-wheeler pulling away as he heads to the silo while the other is being loaded. This is a continuous operation from the field to the silo.
Combine in Kansas wheat field
You can see that this combine is getting very full of grain and will have to be emptied soon.
Combines working Kansas wheat field during harvest
Do not worry, that tractor pulled bin is there to relieve the combine of that load of wheat. As soon as the combine rounds that corner the driver will extend the snoot on the combine and start discharging that load of wheat into the large grain bin being towed behind the tractor. Harvesting equipment does not like to slow down. Two combines are operating in this field. Every time one comes by this side they empty their load of grain into the waiting bin. The tractor driver will rush over to waiting 18-wheel trucks and quickly unload the grain in that bin then hurry back over to this spot in order to receive more grain from the combine. The action reminds me of a well organized symphony orchestra, the difference is; there just isn't any little guy standing on his toes, waving a wand.
And this is Kansas through our eyes.
Here are some of our other Kansas Travel Adventures:
Flint Hills Scenic Byway, & Council Grove ** Kansas Wheat fields ** Salt mine tour in Hutchison-Over 600' underground
Tallgrass Prairie National Preserve in the Flint Hills of Kansas ** Santa Fe Trail through south-central Kansas
The world's bread basket ** Lyons, Kansas Underground Salt mine ** Post Rock Fences of Kansas
Grain Elevators of Kansas ** Limestone Buildings of Kansas ** Kansas Grazing land ** Quintessential Kansas
Grain Transporting Equipment ** Wilson & Russell Kansas ** Wilson Reservoir ** Kansas ** Coffeyville
Harvesting Grain in Kansas ** Kansas Pontoon Boat "Happy Hooker" ** Kansas Countryside ** Kansas Soy Beans
Typical Kansas ** Old Native Limestone Churches of the open plains ** Brown Mansion in Coffeyville, Kansas
Little House on the Prairie Historic Site near Coffeyville, Kansas ** Soy Bean Harvest in southeast Kansas
Fall in Coffeyville, Kansas ** Southeast Kansas ** Coffeyville, Kansas Industry ** Dalton Gang