Kansas Countryside
June 28, 2009
We are camped in Wilson RV Park in Wilson, Kansas. It is a FHU place for $18 but nothing better than OK. If you are looking for amenities this isn't the place for you.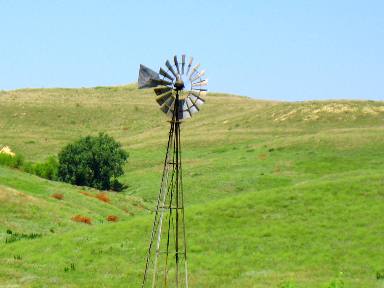 Most wind mills are long gone but here is one and it was pumping water.
We are in the post rock area of Kansas and here is an outcropping of limestone
This is a rock escarpment on the plains of Kansas.
Kansas Post Rock limestone
It is this layer of "post rock" limestone that produces the limestone for fence posts and buildings in this area. According to what I have read it is rather soft until it is exposed to oxygen then it becomes hard. In the early days the settlers uncover this layer of limestone and cut it while it was still "soft" then set it aside to dry and harden.
An old limestone farm building
An old limestone farm building complete with wind mill.
Irrigated alfalfa in Kansas field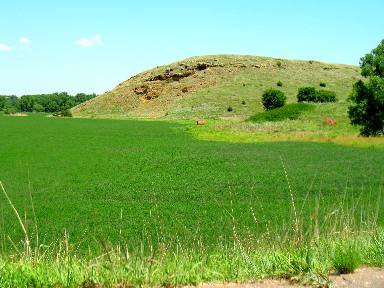 A Kansas alfalfa field near Wilson Reservoir.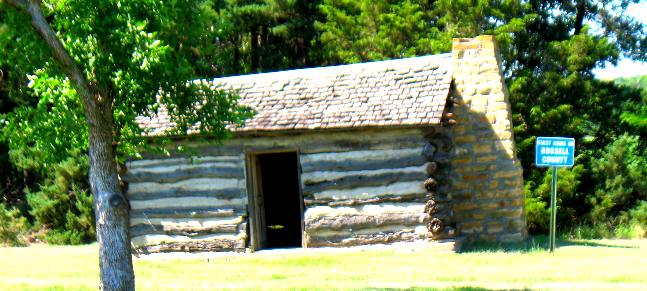 This is the first log cabin in Russell County, Kansas. It is located in Luray, Kansas at a roadside park maintained by the city.
There are also two $10 campsites with water and electricity and shade in the park with an "honor" box. These were nice campsites for anyone just passing through.
Here are some of our other Kansas Travel Adventures:
Flint Hills Scenic Byway, & Council Grove ** Kansas Wheat fields ** Salt mine tour in Hutchison-Over 600' underground
Tallgrass Prairie National Preserve in the Flint Hills of Kansas ** Santa Fe Trail through south-central Kansas
The world's bread basket ** Lyons, Kansas Underground Salt mine ** Post Rock Fences of Kansas
Grain Elevators of Kansas ** Limestone Buildings of Kansas ** Kansas Grazing land ** Quintessential Kansas
Grain Transporting Equipment ** Wilson & Russell Kansas ** Wilson Reservoir ** Kansas ** Coffeyville
Harvesting Grain in Kansas ** Kansas Pontoon Boat "Happy Hooker" ** Kansas Countryside ** Kansas Soy Beans
Typical Kansas ** Old Native Limestone Churches of the open plains ** Brown Mansion in Coffeyville, Kansas
Little House on the Prairie Historic Site near Coffeyville, Kansas ** Soy Bean Harvest in southeast Kansas
Fall in Coffeyville, Kansas ** Southeast Kansas ** Coffeyville, Kansas Industry ** Dalton Gang