Beautiful sunset Council Grove, Kansas from a COE campground
This is a sunset picture from a COE park located on a reservoir north of Council Grove.
Sterling College in Sterling, Kansas
This is a building belonging to Sterling College in Sterling, Kansas. The native limestone construction is prevalent in older buildings.
The Arkansas River flows through Kansas on its way to the Gulf of Mexico.
This picture was taken between Hutchison and Lyons, Kansas.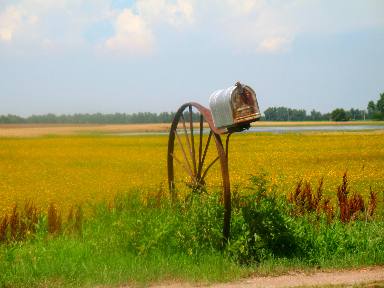 We took this picture of a mail box near Quivara NWR Kansas. The ground is so wet that wildflowers instead of grain make up the field behind the mail box. In the distance you can see a wheat field.
Carriage Crossing Mennonite restaurant in Yoder, Kansas
We ate at Carriage Crossing Mennonite restaurant in Yoder, Kansas. It seems we always see fresh breads and pastries in Mennonite communities. This place was no different. The size of those frosted buns shocked me though. Look at them in comparison to the donuts or in relation to the loaf of bread. Those things must have weighed two pounds. They were huge. I drooled ----- but did not get one.
Amish children in Yoder, Kansas
These Amish children were so precious. We stopped and watched them run and play on their scooters. I thought they were Mennonite but was informed by a local that these children were Amish. We were in the small Mennonite town of Yoder a few miles south of Hutchison so I just "thought" they were Mennonite. I do so appreciate the kind folks who take the time to write and tell me when I make these mistakes.
Amish horse and buggy seen in Yoder, Kansas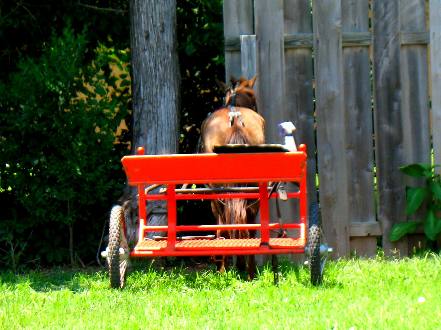 Equally as cute was the transportation these Amish children used to get to town. That small pony is attached to the red cart with bicycle wheels. How cute is that?
Kansas Alfalfa Field
Wheat is not the only thing grown in Kansas although there is a lot of wheat. This is an alfalfa field and we see a good bit of it. Farmers are also planting milo and soy beans along with some corn.
Typical Kansas farm
I have been wrestling with what is "typical" about Kansas. Many ideas crossed my mind but a clear thread ran through all of them. Rural, small town America and farms seemed to be what Kansas was all about.
Barns, grain fields, in the extreme background is a green milo field, it will not be ripe for another month or so.
And this is Kansas through our eyes.
Here are some of our other Kansas Travel Adventures:
Flint Hills Scenic Byway, & Council Grove ** Kansas Wheat fields ** Salt mine tour in Hutchison-Over 600' underground
Tallgrass Prairie National Preserve in the Flint Hills of Kansas ** Santa Fe Trail through south-central Kansas
The world's bread basket ** Lyons, Kansas Underground Salt mine ** Post Rock Fences of Kansas
Grain Elevators of Kansas ** Limestone Buildings of Kansas ** Kansas Grazing land ** Quintessential Kansas
Grain Transporting Equipment ** Wilson & Russell Kansas ** Wilson Reservoir ** Kansas ** Coffeyville
Harvesting Grain in Kansas ** Kansas Pontoon Boat "Happy Hooker" ** Kansas Countryside ** Kansas Soy Beans
Typical Kansas ** Old Native Limestone Churches of the open plains ** Brown Mansion in Coffeyville, Kansas
Little House on the Prairie Historic Site near Coffeyville, Kansas ** Soy Bean Harvest in southeast Kansas
Fall in Coffeyville, Kansas ** Southeast Kansas ** Coffeyville, Kansas Industry ** Dalton Gang