Harvesting grain in Kansas
June 22 through 27, 2009
While we are traveling through Kansas in late June the winter wheat harvest is in full swing. It seems that Kansas received rain in early June that pushed back the harvest. Fields are still wet but harvesters are operating around the clock.
Combine in Kansas wheat field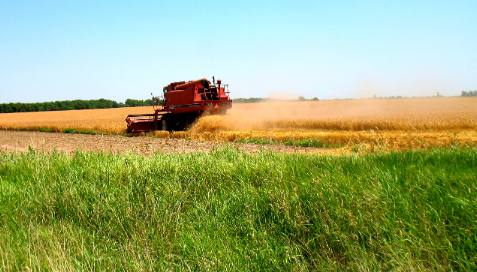 This combine is making its first pass in this field. It will not slow down until all the grain has been harvested.
Combine in Kansas wheat field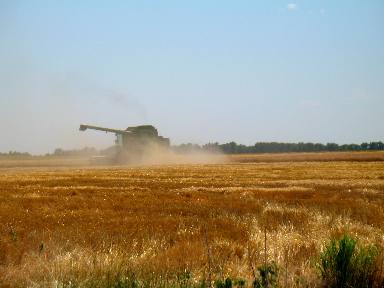 Combines are a dusty operation as you can see from this picture. This picture is so quintessential Kansas.
John Deer equipment in Kansas wheat field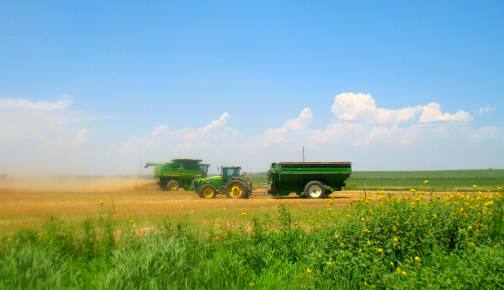 This looks like new John Deer equipment.
Harvester unloading grain in Kansas wheat field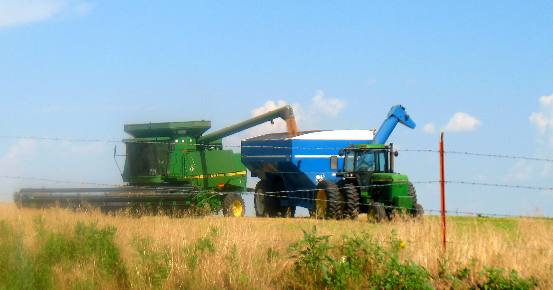 Harvesters do not stop very often. Usually the tractor driver just drives the bin alongside the harvester while the combine is making a pass. However, this harvester has stopped and is unloading his wheat.
These bins can hold 1,000 bushels of grain according to one of the folks in this operation. The tractor will pull that huge bin to a large 18-wheeler that will haul the grain to a nearby grain elevator.
Here are some of our other Kansas Travel Adventures:
Flint Hills Scenic Byway, & Council Grove ** Kansas Wheat fields ** Salt mine tour in Hutchison-Over 600' underground
Tallgrass Prairie National Preserve in the Flint Hills of Kansas ** Santa Fe Trail through south-central Kansas
The world's bread basket ** Lyons, Kansas Underground Salt mine ** Post Rock Fences of Kansas
Grain Elevators of Kansas ** Limestone Buildings of Kansas ** Kansas Grazing land ** Quintessential Kansas
Grain Transporting Equipment ** Wilson & Russell Kansas ** Wilson Reservoir ** Kansas ** Coffeyville
Harvesting Grain in Kansas ** Kansas Pontoon Boat "Happy Hooker" ** Kansas Countryside ** Kansas Soy Beans
Typical Kansas ** Old Native Limestone Churches of the open plains ** Brown Mansion in Coffeyville, Kansas
Little House on the Prairie Historic Site near Coffeyville, Kansas ** Soy Bean Harvest in southeast Kansas
Fall in Coffeyville, Kansas ** Southeast Kansas ** Coffeyville, Kansas Industry ** Dalton Gang