Kansas, the Bread Basket of America
June 22 through 27, 2009
While we are traveling through Kansas in late June the winter wheat harvest is in full swing. It seems that Kansas received rain in early June that pushed back the harvest. Fields are still wet but harvesters are operating around the clock.
Combine in Kansas wheat field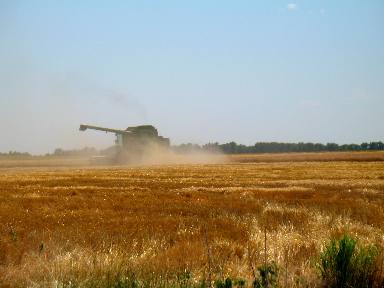 This is a quintessential Kansas scene.
Mennonite Immigrant House In Goshen, Kansas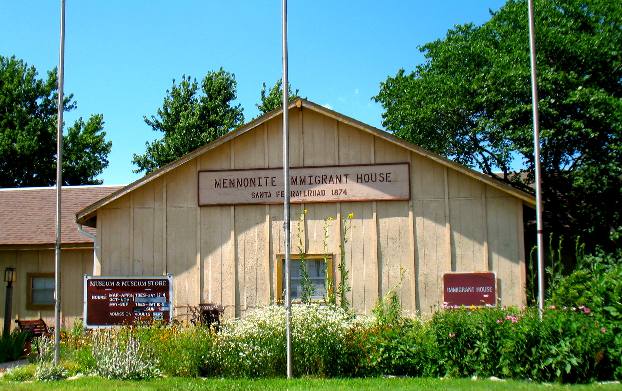 Many Mennonite communities are scattered throughout Kansas. This community of Mennonites migrated from Russia carrying wheat seeds with them. They settled in Kansas and have been here ever since. I think this was in Goshen, Kansas.
Mennonite threshing stone on display in Goshen, Kansas
This is an old Mennonite threshing stone. I have no clue as to how it was used but I Googled "threshing" and found one place that said: "threshing is the process of separating wheat seeds from the straw" then another article said: "Threshing is the process of loosening the edible part of cereal grain from the scaly, inedible chaff that surrounds it. It is the step in grain preparation before winnowing, which separates the loosened chaff from the grain. Threshing does not remove the bran from the grain."
Wickipedia added: :Another traditional method of threshing is to make donkeys or oxen walk in circles on the grain on a hard surface. A modern version of this in some areas is to spread the grain on the surface of a country road so the grain may be threshed by the wheels of passing vehicles."
Take your pick. It has something to do with getting wheat from the field into an edible product. Why the groves on this stone if threshing is done on the surface of a country road by the wheels of passing vehicles?
This threshing stone looks like a stone gear to me. But then again it looks like it was operated like a cart. You can tell I do not know anything about threshing wheat.
I found this information using a Google search: Threshing Stones, were used by the Mennonites of Russia. The threshing stone is a seven-ribbed cone-shaped stone wheel with a round hole through the horizontal axis. It was about thirty inches long and two feet in diameter. Each six-inch rib is tapered from six inches at the base to two and one-half inches at the outer edge. In Kansas such threshing stones were cut according to a wooden model, provided by the early Mennonite settlers, in a stone quarry near Florence.
"The cut grain was spread in two concentric circles on the threshing floor with the heads of the grain facing each other. The threshing stone was pulled by two horses; the ribbed stone rolling over the heads of the grain knocked the grain and chaff from the straw, after which the grain was fanned."
Ok, I still do not know why it had to be ribbed.
Mennonite church Goshen, Kansas
This is a beautiful Mennonite church in Goshen, Kansas.
Hudson, Kansas grain elevators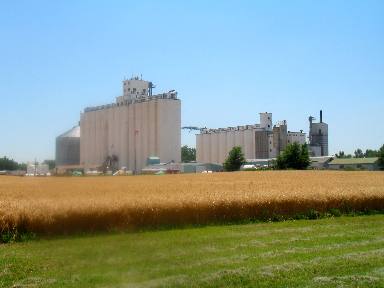 These grain elevators were in the small Kansas town of Hudson. Some of the silos possibly all belong to the Stafford County Flour Mill Company. We stopped by there to take a mill tour but only got to see a very good video and talk with some of the employees who explained everything to us. We didn't get to take the tour because it was late in the day and the workers had already gone home. Temperatures this week have been at or over 100-degrees so the mill workers have been coming in early and leaving early before temperatures reached the 100-degree mark.
Hudson Cream Stafford County Flour Mill in Kansas
Someone had sewn a quilt that advertised Hudson Cream which is the flour produced at Stafford County Flour Mill. It is called Cream because of the fine texture. It is ground finer than other flour that you can buy.
Google Stafford County Flour Mill and Hudson Cream to purchase their flour and learn about why it is so special.
Here are some of our other Kansas Travel Adventures:
Flint Hills Scenic Byway, & Council Grove ** Kansas Wheat fields ** Salt mine tour in Hutchison-Over 600' underground
Tallgrass Prairie National Preserve in the Flint Hills of Kansas ** Santa Fe Trail through south-central Kansas
The world's bread basket ** Lyons, Kansas Underground Salt mine ** Post Rock Fences of Kansas
Grain Elevators of Kansas ** Limestone Buildings of Kansas ** Kansas Grazing land ** Quintessential Kansas
Grain Transporting Equipment ** Wilson & Russell Kansas ** Wilson Reservoir ** Kansas ** Coffeyville
Harvesting Grain in Kansas ** Kansas Pontoon Boat "Happy Hooker" ** Kansas Countryside ** Kansas Soy Beans
Typical Kansas ** Old Native Limestone Churches of the open plains ** Brown Mansion in Coffeyville, Kansas
Little House on the Prairie Historic Site near Coffeyville, Kansas ** Soy Bean Harvest in southeast Kansas
Fall in Coffeyville, Kansas ** Southeast Kansas ** Coffeyville, Kansas Industry ** Dalton Gang