Kansas
June 29, 2009
We are camped in Hays, Kansas at EL Charra. It is a FHU place for $18 but nothing better than OK. If you are looking for amenities this isn't the place for you. In fact we found a much better campground operated by the City of Ellis, Kansas $15 a night for water & electric that we will stay in the next time we stop in this area.
Construction limestone exposed in Kansas roadcut
We saw this sandstone outcropping south of Cedar Bluff Reservoir. It was an outcropping such as this that supplied the sandstone used to construct the beautiful limestone churches seen throughout Kansas.
Grocery shopping in Ransom, Kansas
This truck was spotted in Ransom, Kansas outside the local grocery store.
Beautiful old church in rural Kansas
This church was on a lonely road with no houses in sight, about 30-miles south of I-70 in Kansas.
A few working wind mills can still be seen on the plains of Kansas.
We enjoyed the wildflowers on US 283 south of exit 127 on I-70 in Kansas.
Multicolored Kansas grain fields
Large grain fields on the horizon.
Alfalfa field near Hays, Kansas with large bales ready to be picked up
This beautiful alfalfa field was spotted near Hays, Kansas.
Joyce standing by a huge Kansas Cottonwood Tree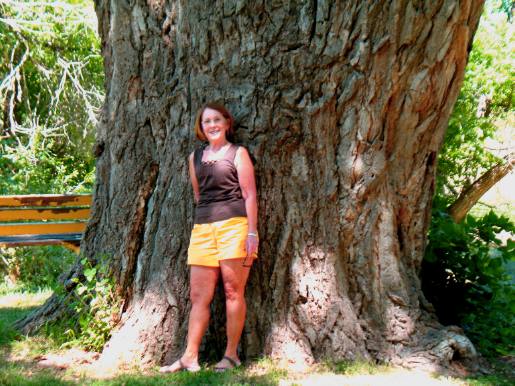 We saw this giant cottonwood tree in a city park in Hays, Kansas.
Here are some of our other Kansas Travel Adventures:
Flint Hills Scenic Byway, & Council Grove ** Kansas Wheat fields ** Salt mine tour in Hutchison-Over 600' underground
Tallgrass Prairie National Preserve in the Flint Hills of Kansas ** Santa Fe Trail through south-central Kansas
The world's bread basket ** Lyons, Kansas Underground Salt mine ** Post Rock Fences of Kansas
Grain Elevators of Kansas ** Limestone Buildings of Kansas ** Kansas Grazing land ** Quintessential Kansas
Grain Transporting Equipment ** Wilson & Russell Kansas ** Wilson Reservoir ** Kansas ** Coffeyville
Harvesting Grain in Kansas ** Kansas Pontoon Boat "Happy Hooker" ** Kansas Countryside ** Kansas Soy Beans
Typical Kansas ** Old Native Limestone Churches of the open plains ** Brown Mansion in Coffeyville, Kansas
Little House on the Prairie Historic Site near Coffeyville, Kansas ** Soy Bean Harvest in southeast Kansas
Fall in Coffeyville, Kansas ** Southeast Kansas ** Coffeyville, Kansas Industry ** Dalton Gang