Underground salt mine Tour Hutchison, Kansas
From Hutchison, Kansas June 26, 2009
We are camped in Lyons City Park where they offer free camping with electricity. There is a water source but not at each site. There is also a central dump. What we needed when here was electricity and they had that at each site. We like the campground and will return.
We traveled about 30-miles south of Lyons to Hutchison, Kansas where we took an underground salt mine tour in the Kansas Underground Salt Museum. Hutchison sits atop the richest vein of salt in the U.S. -- 400 feet thick in places -- which extends all the way into Oklahoma, Texas, and even New Mexico. The Museum occupies only a fraction of the mine's vast network of underground galleries. Hutchison Salt Co. still excavates 500,000 tons of rock salt each year from other sections of the mine.

Underground salt mine Hutchison, Kansas
After riding an elevator down over 600-feet we open the door to this huge mine. This much salt has been removed for several miles from this spot. Currently the working mine is removing salt from the face almost two miles from here.
The mine is one, endless room, with a floor and ceiling. The floor is as flat as Kansas. The cavity broken into identical squares by columns of un-mined salt that support the roof. A map of the mine resembles the precise street grid of a city. There are no twisty tunnels or shafts. You could drive a vehicle down here for several miles and never hit anything.
Mineral deposit in the salt mine
This is a mineral that sometimes collects in salt deposits. It is very bitter thus the miners make sure it does not get included in the salt headed to the surface. One of the uses for the salt in this mine is for a supplement in animal feed especially cattle. Cattle will not eat food with this in it. Now you know why it is removed.
Pure salt in Kansas underground salt mine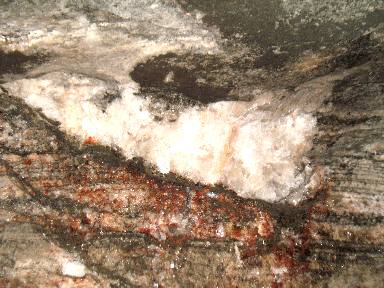 Salt that is being mined in this mine is 97% pure which is a high grade of salt. This light colored salt is 99.9% pure. Our guide explained how this happens but I forgot his explanation.
Remember that salt is created by evaporation. In this instance in a shallow sea. On occasion impurities (mud & silt) were washed into the briny water thus the dark streaks you see. It is easy to remove these impurities to make table grade salt, however, this mine does not process their salt into table salt. Since most of it is being used to salt streets and roads a little impurity doesn't matter.
Huge fans in Kansas underground salt mine
Huge fans bring fresh air into the mine and move the air around once down here. This is a remnant of an old fan and a picture of that fan. OSHA wasn't around in those days.
Old vehicle we saw on Kansas underground salt mine tour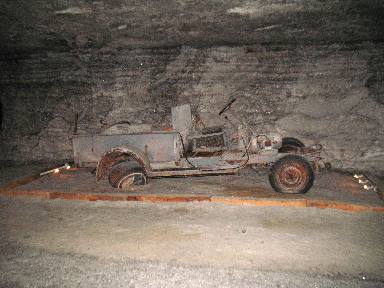 Vehicles used in the mine have to be disassembled and brought down on the elevator that we rode down on. Once down in the mine it is reassembled. This vehicle was used for years. It was an actual vehicle with the engine removed and an electric motor in place of the gasoline engine. It was used with a LONG extension cord.
Everything that comes down here, stays down here. You can never take it back up. If you did it would instantly corrode.

Joyce collecting salt rocks in underground salt mine in Hutchison, Kansas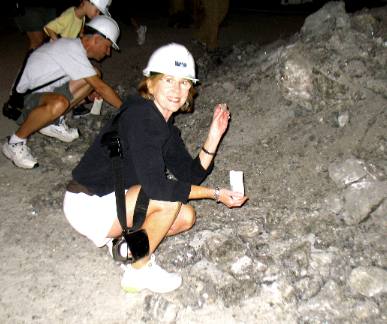 Joyce is collecting souvenir salt rocks for our grandsons.
Drill bits used in underground salt mine Hutchison, Kansas
These are drill bits used to drill about 8 feet into the salt face. It looked to me that the ceiling was about 12' tall and the drill face would be about 100' across. Holes are drilled about every 2' in a series of rows across the entire 100' face. Explosives are put into the holes.
The Kansas Underground Salt Mine Museum & Tour is a really good experience.
Salt rubble seen on Underground salt mine tour Hutchison, Kansas
This is the result. As you can see a huge pile of "blasted" salt rubble is now ready to be loaded and moved to the surface.
Blasted salt on seen on Underground Salt Mine Tour Hutchison, Kansas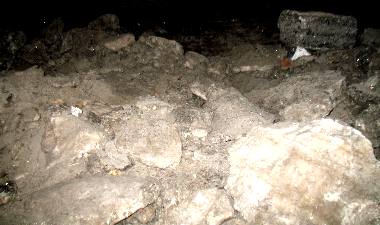 This is a closer look at the "blasted" salt they showed us on our underground salt mine tour.
The nearest working face of the mine is several miles from the space occupied by the underground museum.
"T" shirt sold on Underground Salt Mine Tour in Hutchison, Kansas
On several occasions our tour guide turned off all lights. Talk about dark. That is a place where the sun truly Don't Shine.
This T shirt in their gift shop advertised that fact.
The mine's perpetual 68 degrees and 40 percent humidity make it a great place to stash stuff once you screen out the salt. A company named Underground Vaults and Storage has been doing that here since the 1940s, founded by ex-GIs who saw a similar operation in Nazi Germany.
Working salt mine Hutchison, Kansas
On the surface this is the active shaft being used by the current mining operation. It is located about 1/2 mile from the mine shaft we went down. This mine is storing fine salt in that white building. The sides are sloped to contour to the shape salt takes when dumped from that conveyor belt.
Railroad cars being loaded with rock salt from this Hutchison, Kansas underground salt mine

Most of the salt from this mine is shipped via rail to municipalities where it is used to salt streets.
Here are some of our other Kansas Travel Adventures:
Flint Hills Scenic Byway, & Council Grove ** Kansas Wheat fields ** Salt mine tour in Hutchison-Over 600' underground
Tallgrass Prairie National Preserve in the Flint Hills of Kansas ** Santa Fe Trail through south-central Kansas
The world's bread basket ** Lyons, Kansas Underground Salt mine ** Post Rock Fences of Kansas
Grain Elevators of Kansas ** Limestone Buildings of Kansas ** Kansas Grazing land ** Quintessential Kansas
Grain Transporting Equipment ** Wilson & Russell Kansas ** Wilson Reservoir ** Kansas ** Coffeyville
Harvesting Grain in Kansas ** Kansas Pontoon Boat "Happy Hooker" ** Kansas Countryside ** Kansas Soy Beans
Typical Kansas ** Old Native Limestone Churches of the open plains ** Brown Mansion in Coffeyville, Kansas
Little House on the Prairie Historic Site near Coffeyville, Kansas ** Soy Bean Harvest in southeast Kansas
Fall in Coffeyville, Kansas ** Southeast Kansas ** Coffeyville, Kansas Industry ** Dalton Gang