Flint Hills Scenic Byway & Skyline Scenic Drive: Kansas
June 22 & 23, 2009
Kansas Flint Hills, Council Grove, Council Oak, Big Brutus & Stone fences
Driving the Flint Hills Scenic Byway and Skyline Scenic Drive while camping at a COE (Corps of Engineers) campground north of Council Grove. Visiting Big Brutus the old piece of mining equipment from a long gone coal mine.
We visited all the COE parks on the lake north of Council Grove and all of them were nice and two of them had water and electricity.
Actually, I am beginning this travellog a bit before we reach the Flint Hills Scenic Byway in Kansas. Last night we spent the night in Springfield, Missouri. We had spent the day driving over 400-miles from Nashville, Tennessee. Today we are traveling from Springfield, Missouri. to Council Grove, Kansas. We made our way from Springfield to the small farming town of West Mineral, Kansas in the extreme southeast corner of Kansas. We were headed there to see "Big Brutus" a giant earth moving machine that was left in place when the local mine company that has stopped mining the coal. We were not going out of our way to see "Big Brutus" it was on our way to the Flint Hills Scenic Byway.
Big Brutus a tourist attraction near Mineral, Kansas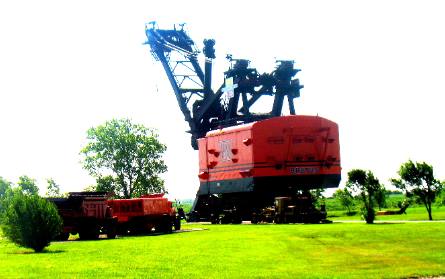 Joyce complained all the way. Big Brutus wasn't near ANYTHING but it was on our way to the Flint Hills. She said my punishment for visiting Big Brutus is going to be a several hour shopping trip where I ride the bench for hours on end while she does that girlie thing. We weren't there but 10-minutes but she complained about the 3-mile ride down gravel roads -- she was complaining an hour later.
There was a museum and we could have walked around and possibly into Big Brutus but from here I could see all I needed to see. It is BIG, really big. That little piece of equipment you see almost underneath Big Brutus is a road grader placed there for scale I suppose. The two dump trucks you see are not your normal dump trucks. They are the monster dump trucks that are used in the mining industry. I think Big Brutus was used to remove the overburden on a layer of coal that was mined here years ago. If you are interested in Google Big Brutus do a Google search.
Council Oak in Council Grove, Kansas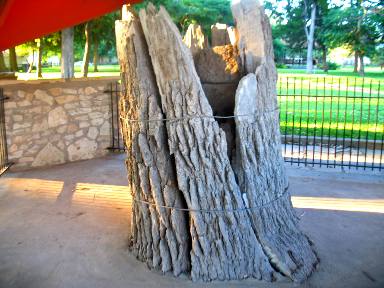 The stump of this old oak tree holds a lot of significance. It is the Council Oak, the same oak tree where in 1825 Major George C. Sibley, acting for the United States Government, negotiated a treaty with the Osage Indians granting right of way through their land thus establishing the Santa Fe Trail.
When the Mexicans overthrew the Spanish in 1821 it opened trade opportunities between Mexico and the United States. When Spain was in control Mexicans could only trade with Spain now that Spain was no longer in control Mexico was eager to trade with the Americans. Sensing an opportunity William Bucknell, a Missouri trader, put together a mule train loaded with trade items and headed out for Santa Fe (now in New Mexico) but at that time a northern city in Mexico. The Santa Fe Trail was an ancient passageway. After 1821 Mexican and American merchants & traders used the trail extensively. However, Indian attacks regularly occurred thus the need for treaties where possible and army posts in other locations.
The Council Oak is located in Council Grove, Kansas and was the last stopping off place before caravans pushed across the great plains.
When a storm blew down the old tree a few years ago the city put a roof over this stump and tried as best they could to preserve what was left of that historic tree.
Skyline Scenic Drive in the Flint Hills of Kansas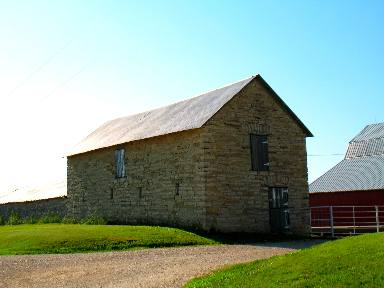 North of Council Grove on what is known as Skyline Scenic Drive we spotted this old limestone barn.
Limestone buildings along Skyline Scenic Drive near Alma, Kansas
These limestone outbuildings were also located along Skyline Scenic Drive not far from Alma, Kansas.
Flint Hills wheat field near Alma, Kansas along Skyline Scenic Drive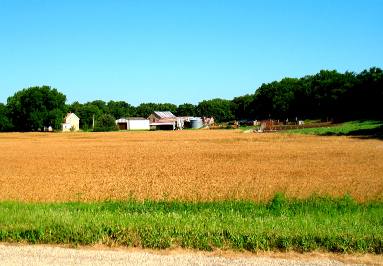 This looks like a typical farmstead in the Flint Hills.
Historic limestone building Alma, Kansas
I think this old limestone building was in Alma.
Kansas Flint Hills Stone fence near Alma, Kansas
Stone fences like this one are part of the history of the Flint Hills. They are left over from the 1860's and 1870's. Before 1867 cattle roamed on open ranges. That all changed in 1867 when open ranges were abolished by law. The law that implemented the end of open ranges provided for payment of 40 cents per rod (16&1/2 feet) to landowners to build and maintain a 4&1/2 foot stone fence. Stone was plentiful in the Flint Hills and landowners built miles of fences like the restored fence shown here.
Click here for more of our Kansas Travel Logs & Travel Blogs
Stone Fences of Kansas explained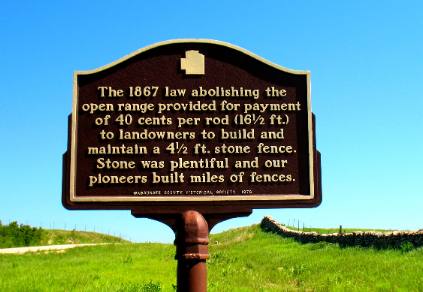 Flint Hills stone fence around Alma, Kansas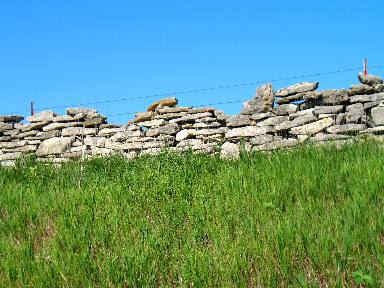 Many of the old stone fences are in disrepair. We learned that these old stone fences are favorite "scratching posts" for cattle thus they get knocked down by cows relieving an itch.
Tourist cattle land in the Flint Hills of Kansas
We read on a kiosk that truck loads of Texas cattle were brought up here in the spring and left to graze until winter in the lush grass. In Kansas they call them "tourist" cattle.
Flint Hills Scenic Byway in eastern Kansas
Depending on where the information comes from cattle feeding on this lush grass gain between 1.8 and 2.5 pounds per-day during the summer grazing season.
If you want to learn more about the Flint Hills and the Flint Hills Scenic Byway Google is your friend. It is a beautiful drive and well recommended.
Here are some of our other Kansas Travel Adventures:
Flint Hills Scenic Byway, & Council Grove ** Kansas Wheat fields ** Salt mine tour in Hutchison-Over 600' underground
Tallgrass Prairie National Preserve in the Flint Hills of Kansas ** Santa Fe Trail through southcentral Kansas
The world's bread basket ** Lyons, Kansas Underground Salt mine ** Post Rock Fences of Kansas
Grain Elevators of Kansas ** Limestone Buildings of Kansas ** Kansas Grazing land ** Quintessential Kansas
Grain Transporting Equipment ** Wilson & Russell Kansas ** Wilson Reservoir ** Kansas ** Coffeyville
Harvesting Grain in Kansas ** Kansas Pontoon Boat "Happy Hooker" ** Kansas Countryside ** Kansas Soy Beans
Typical Kansas ** Old Native Limestone Churches of the open plains ** Brown Mansion in Coffeyville, Kansas
Little House on the Prairie Historic Site near Coffeyville, Kansas ** Soy Bean Harvest in southeast Kansas
Fall in Coffeyville, Kansas ** Southeast Kansas ** Coffeyville, Kansas Industry ** Dalton Gang