Wilson Reservoir on Saline River in Kansas
June 28, 2009
We are camped in Wilson RV Park in Wilson, Kansas. It is a FHU place for $18 but nothing better than OK. If you are looking for amenities this isn't the place for you.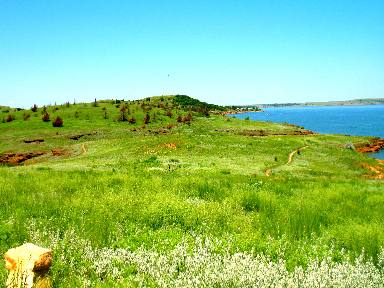 We are on a bluff overlooking Wilson Reservoir a few miles north of Wilson, Kansas.
This truly is a party boat. It has a huge grill on back along with two large deck boxes and an old rusty refrigerator.
From the decorations on this boat some serious partying has taken place on the deck.
If you are into a good redneck laugh you might like to see more of this Happy Hooker Party Boat.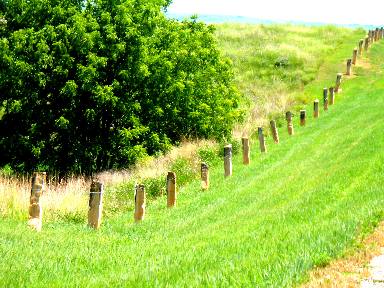 This post rock fence was inside a COE park along Wilson Reservoir.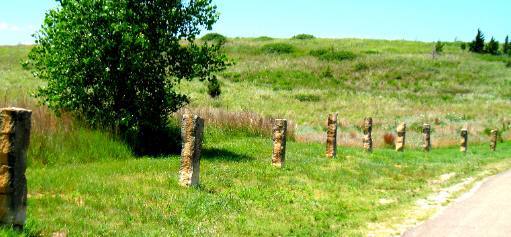 This is a good string of post rocks ready for barbed wire to be stretched between them.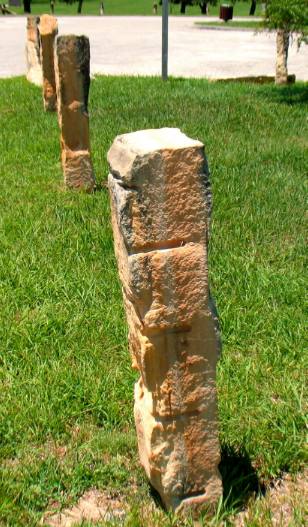 Close up of a post rock.
This is Wilson Reservoir and dam located a few miles north of Wilson, Kansas. This is a salt water lake. The dam impounds water from the Saline River. A local told us the river ran through a salt deposit thus the reason this lake is salt. This same local said fresh water fish lived in the lake so it must not be too salty.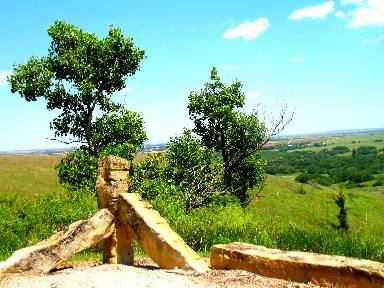 Examples of post rocks marking the boundary of something in this Kansas countryside.
Here are some of our other Kansas Travel Adventures:
Flint Hills Scenic Byway, & Council Grove ** Kansas Wheat fields ** Salt mine tour in Hutchison-Over 600' underground
Tallgrass Prairie National Preserve in the Flint Hills of Kansas ** Santa Fe Trail through south-central Kansas
The world's bread basket ** Lyons, Kansas Underground Salt mine ** Post Rock Fences of Kansas
Grain Elevators of Kansas ** Limestone Buildings of Kansas ** Kansas Grazing land ** Quintessential Kansas
Grain Transporting Equipment ** Wilson & Russell Kansas ** Wilson Reservoir ** Kansas ** Coffeyville
Harvesting Grain in Kansas ** Kansas Pontoon Boat "Happy Hooker" ** Kansas Countryside ** Kansas Soy Beans
Typical Kansas ** Old Native Limestone Churches of the open plains ** Brown Mansion in Coffeyville, Kansas
Little House on the Prairie Historic Site near Coffeyville, Kansas ** Soy Bean Harvest in southeast Kansas
Fall in Coffeyville, Kansas ** Southeast Kansas ** Coffeyville, Kansas Industry ** Dalton Gang