The location is where the house used to be as well as other buildings and things discussed in the book.
Little House on the Prairie: southern Kansas
Little House on the Prairie: southern Kansas
This is a replica of the Little House on the Prairie made famous in Laura Ingalls Wilder's book.
Well so much for Little House on the Prairie.
It is time for us to find the Yellow Brick Road we all heard about in the Wizzard of Oz.
Yellow Brick Road in Sedan, Kansas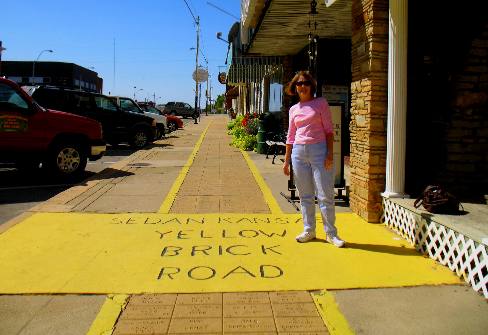 The small Kansas town of Sedan is located west of Coffeyville and is home to The Yellow Brick Road.
How hokie!
They advertise this hokie Yellow Brick Road in everything possible
. The Yellow Brick Road is nothing more than some yellow bricks laid in a sidewalk in downtown Sedan. They aren't even bricks they are cement pavers made locally with colored sand and possibly some dye. I think in our 8-years of traveling and sightseeing this is our biggest disappointment.
Hokie, only begins to describe how over-hyped this "Yellow Brick Road" was/is. Unless you are totally enamored by the Wizzard of Oz the Yellow Brick Road is a total waste.
Here are some of our other Kansas Travel Adventures:
Flint Hills Scenic Byway, & Council Grove ** Kansas Wheat fields ** Salt mine tour in Hutchison-Over 600' underground
Tallgrass Prairie National Preserve in the Flint Hills of Kansas ** Santa Fe Trail through south-central Kansas
The world's bread basket ** Lyons, Kansas Underground Salt mine ** Post Rock Fences of Kansas
Grain Elevators of Kansas ** Limestone Buildings of Kansas ** Kansas Grazing land ** Quintessential Kansas
Grain Transporting Equipment ** Wilson & Russell Kansas ** Wilson Reservoir ** Kansas ** Coffeyville
Harvesting Grain in Kansas ** Kansas Pontoon Boat "Happy Hooker" ** Kansas Countryside ** Kansas Soy Beans
Typical Kansas ** Old Native Limestone Churches of the open plains ** Brown Mansion in Coffeyville, Kansas
Little House on the Prairie Historic Site near Coffeyville, Kansas ** Soy Bean Harvest in southeast Kansas
Fall in Coffeyville, Kansas ** Southeast Kansas ** Coffeyville, Kansas Industry ** Dalton Gang