Kansas Grain Elevators
June 22 through 27, 2009
While we are traveling through Kansas in late June the winter wheat harvest is in full swing. It seems that Kansas received rain in early June that pushed back the harvest. Fields are still wet but harvesters are operating around the clock.
Kansas grain elevator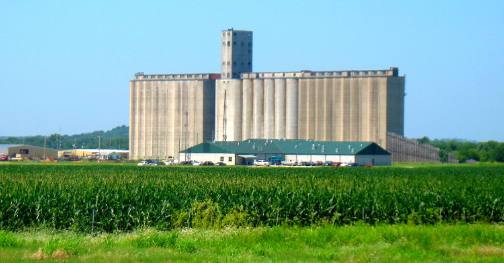 Large grain elevators like this are in every city of any size. Smaller grain elevators are in every small town. Large elevator systems like this are major storage and transfer facilities usually involving the rail road.
Durham, Kansas Grain Elevator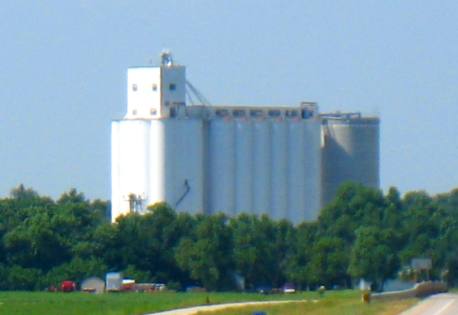 This is a good size grain elevator operation located in Durham, Kansas. There is a Durham wheat. I wonder if the two have any connection. If anyone knows please send me some information.
Hudson, Kansas grain elevators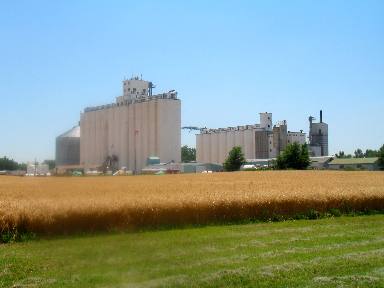 These grain elevators were in the small Kansas town of Hudson. Some of the silos possibly all belong to the Stafford County Flour Mill Company. We stopped by there to take a mill tour but only got to see a very good video and talk with some of the employees who explained everything to us. We didn't get to take the tour because it was late in the day and the workers had already gone home. Temperatures this week have been at or over 100-degrees so the mill workers have been coming in early and leaving early before temperatures reached the 100-degree mark.
Grain elevators loading grain into rail cars in central Kansas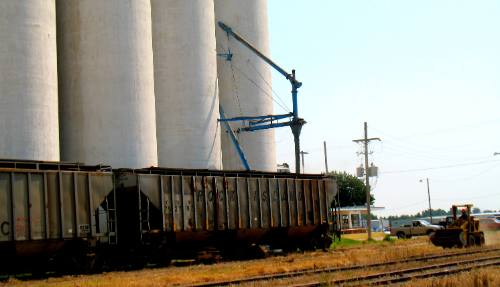 Grain comes in and grain goes out, that is the function of grain elevators. Here grain is being loaded into RR hopper cars. On the other side of these silos trucks are lined up to unload their grain. This is a busy place.
Kansas grain elevators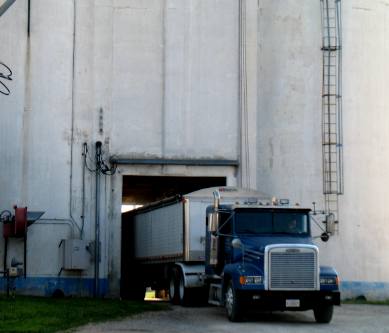 This large truck was delivering wheat to the grain elevator operation that was filling the RR car above. One after another these trucks pull through and dump their grain. It only takes a few minutes and they are on their way. Some of the large harvest operations operate all night.
Grain Elevators and rail cars: central Kansas
In this picture a rail car is being loaded with grain.
Large 18-wheelers constantly deliver wheat to this grain elevator operation from the small cities in the area. This operation was using a fork lift to move the rail cars into position
Here are some of our other Kansas Travel Adventures:
Flint Hills Scenic Byway, & Council Grove ** Kansas Wheat fields ** Salt mine tour in Hutchison-Over 600' underground
Tallgrass Prairie National Preserve in the Flint Hills of Kansas ** Santa Fe Trail through south-central Kansas
The world's bread basket ** Lyons, Kansas Underground Salt mine ** Post Rock Fences of Kansas
Grain Elevators of Kansas ** Limestone Buildings of Kansas ** Kansas Grazing land ** Quintessential Kansas
Grain Transporting Equipment ** Wilson & Russell Kansas ** Wilson Reservoir ** Kansas ** Coffeyville
Harvesting Grain in Kansas ** Kansas Pontoon Boat "Happy Hooker" ** Kansas Countryside ** Kansas Soy Beans
Typical Kansas ** Old Native Limestone Churches of the open plains ** Brown Mansion in Coffeyville, Kansas
Little House on the Prairie Historic Site near Coffeyville, Kansas ** Soy Bean Harvest in southeast Kansas
Fall in Coffeyville, Kansas ** Southeast Kansas ** Coffeyville, Kansas Industry ** Dalton Gang