Capturing the essence of Key West, Florida
February, 2010
We are dry camping along with some 700 other RV'ers at the Navy Base here in Key West. Actually, there are two bases within the NAS Key West complex that make up the 700-plus campsites. The two locations are at Sigsby and Trumbo Point. Sigsby is located 3 to 4 miles from "Duval Street" in Key West while Trumbo Point Campground is located 6 to 8 blocks from "Duval Street". We are staying at Trumbo Point, an easy walk to Duval-Street. But remember this is Dry Camping. There is central dump station and fresh water. Generators can run from 6am to 10PM. Life is good.
Commercial Campgrounds in Key West start at $100 a night and are located about 5-miles from Duval Street. Parking in Key West starts at $13 a day and goes up. The $13 parking site is about 6 blocks from Duval Street. The closer you get to Duval Street the more expensive the parking site.
Cruise ships like this arrive on a daily basis. Some days there are three large cruise ships in port.
This is Sunset Key located just west of Key West. It is visible from Mallory Square where everyone gathers to watch the sunset each evening.
El Meson De Pepe Cuban Restaurant, a Key West tradition located at Mallory Square
We ate in El Meson De Pepe Cuban Restaurant one night when it rained really hard for several hours. The food was OK but not nearly as good as the pork loin we had at Hog Fish Grill on Stock Island. El Meson De Pepe is located at Mallory Square in Old Town Key West.
One night we spotted this old gentleman on a large tricycle that was all decorated complete with what looked like Christmas lights. He was slowly riding down Duval Street. Of course it is hard to get a picture at night especially when this rig was across the street. This is the best we could do.
This is an old truck outside B.O's. Fish Wagon. That old truck is an icon. It is one of the places tourist gather to get their pictures made. You can find it one block south of Key West Bight.
Cowboy Bill's Honky Tonk on Duval Street in Key West, Florida
We saw this sign at the entrance to Cowboy Bill's Honky Tonk on Duval Street. We have seen this sign before but it is funny no matter how many times we see it. Key West only has urban cowboys and they don't have stuff on their flip-flops!
This was on the side of a building on Whitehead Street about four blocks from the Southernmost point in the U. S.
In my opinion they should have provided directions to the Green Parrot Bar, Mile Marker "0" on US-1 and the huge Kapok Tree in front of the Monroe County Court House, all on Whitehead Street.
Until next time remember how good life is.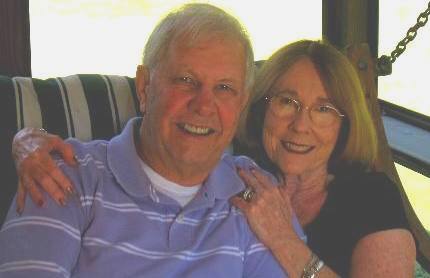 Mike & Joyce Hendrix who we are
We hope you liked this page. If you do you might be interested in some of our other Travel Adventures:
Mike & Joyce Hendrix's home page
Travel Adventures by Year ** Travel Adventures by State ** Plants ** Marine-Boats ** Geology ** Exciting Drives ** Cute Signs ** RV Subjects ** Miscellaneous Subjects
We would love to hear from you......just put "info" in the place of "FAKE" in this address: FAKE@travellogs.us
Until next time remember how good life is.