Cowboy Bills Key West
Cowboy Bill's in Key West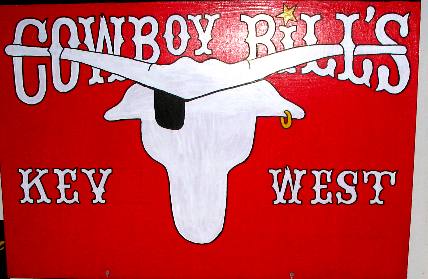 Cowboy Bill's Honky Tonk Saloon is the Southernmost Country Bar in the USA. Situated on Key West's infamous Duval Street, Cowboy Bill's is open seven days a week from 10am.
Mike & Joyce at Cowboy Bill's in Key West
Cowboy Bill's is actually an entertainment complex. There is an air conditioned Mexican Restaurant -- Salsa Loca, with good Mexican food and drink.
Then there is the air-conditioning inside the Sports Bar while playing pool, darts, video games or watching some 27 TV's.
We watched the college football National Championship game and the Super Bowl in the Sports Bar and restaurant.
Cowboy Bill's Saloon Sign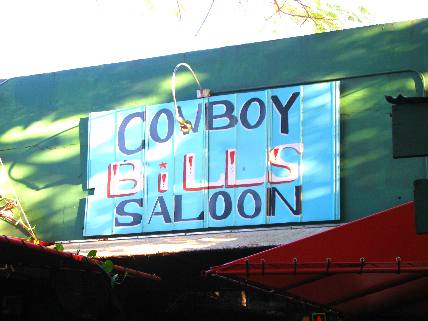 Outside at Cowboy Bills you will find the Saloon Bar. That is where you can listen to great live music or boot scoot on the largest dance floor in Key West.
Chas Blakemore performing an acoustic show at Cowboy Bills
Chas Blakemore performs about 5-afternoon/nights a week at Cowboy Bills. Chas has a voice like Alan Jackson's. He is easy to listen to.
Outside seating at Cowboy Bill's as seen during the day
The outdoor bar is empty this afternoon. Folks gather in this area to watch action on the mechanical bull. They can also keep an eye the dance floor from this location.
Dance floor and outdoor bar at Cowboy Bill's in Key West
We stopped by Cowboy Bill's one afternoon and the place was virtually empty. I see a few customers near the bar but it will be a totally different scene in here once the sun goes down. Some nights are standing room only.
Keep in mind that Cowboy Bill's has the largest dance floor in Key West.
Mechanical Bull at Cowboy Bill's
Around 9pm folks line up and try to ride this mechanical bull. It is entertaining to watch.
Sometimes it is hard to know what to watch since the mechanical bull is near the dance floor. It seems that after about 9pm something is happening on both the dance floor and the bull.
Until next time remember how good life is.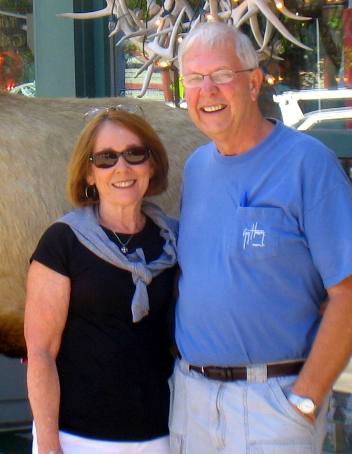 Mike & Joyce Hendrix who we are
We hope you liked this page. If you do you might be interested in some of our other Travel Adventures:
Mike & Joyce Hendrix's home page
Travel Adventures by Year ** Travel Adventures by State ** Plants ** Marine-Boats ** Geology ** Exciting Drives ** Cute Signs ** RV Subjects ** Miscellaneous Subjects
We would love to hear from you......just put "info" in the place of "FAKE" in this address: FAKE@travellogs.us
Until next time remember how good life is.