Mallory Square Sunset Celebration in Key West, Florida
We are dry camping along with some 700 other RV'ers at the Navy Base here in Key West. Actually, there are two bases within the NAS Key West complex that make up the 700-plus campsites. The two locations are at Sigsby and Trumbo Point. Sigsby is located 3 to 4 miles from "Duval Street" in Key West while Trumbo Point Campground is located 6 to 8 blocks from "Duval Street". We are staying at Trumbo Point, an easy walk to Duval-Street. But remember this is Dry Camping. There is central dump station and fresh water. Generators can run from 6am to 10PM. Life is good.
Commercial Campgrounds in Key West start at $100 a night and are located about 5-miles from Duval Street. Parking in Key West starts at $13 a day and goes up. The $13 parking site is about 6 blocks from Duval Street. The closer you get to Duval Street the more expensive the parking site.
This is one of the sunset pictures from our MANY journeys to Mallory Square. One thing is pretty certain in my life ------ I am going to walk down to Mallory Square to watch the sunset almost every night when we are in Key West. It is one of those things that make Da Boss happy, and I am into keeping Da Boss happy. VBG
Every night is not a good night to catch a beautiful sunset but if you go every evening you are bound to catch some good ones. This one was pretty good.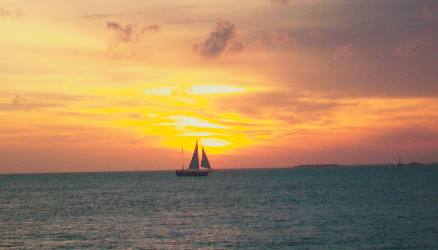 Another sunset picture taken from Mallory Square. Sunset Key is located just out of view on the right side.
It is getting late but the sky is ablaze. Sailboats take passengers out for sunset cruises every night.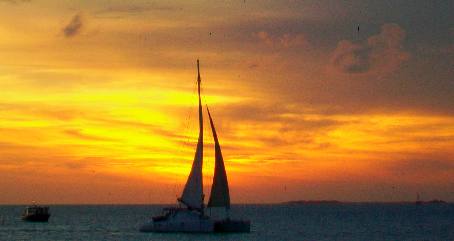 A dozen or more large sail boats take folks out to view the sunset every evening. Most have live music, some serve free drinks others feature dinner.
Day after day came and went without a good sunset. Today looked like it was going to be another one of those days. There was heavy cloud cover all day then just as the sun disappeared there was a slight opening. Joyce made the best of that opportunity. This was the most color we saw in about 10-days.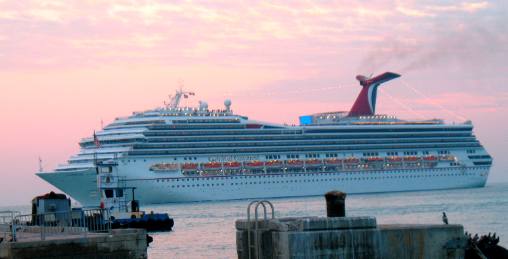 I think this was the Disney Magic Cruise Ship leaving the port of Key West at sundown one afternoon. Joyce took this picture from Mallory Square while we were waiting for the sunset to mature.
Until next time remember how good life is.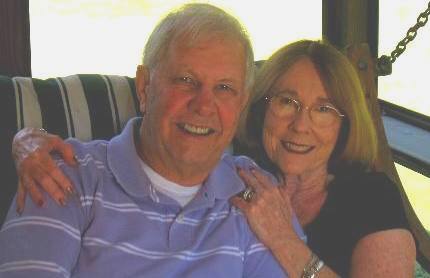 Mike & Joyce Hendrix who we are
We hope you liked this page. If you do you might be interested in some of our other Travel Adventures:
Mike & Joyce Hendrix's home page
Travel Adventures by Year ** Travel Adventures by State ** Plants ** Marine-Boats ** Geology ** Exciting Drives ** Cute Signs ** RV Subjects ** Miscellaneous Subjects
We would love to hear from you......just put "info" in the place of "FAKE" in this address: FAKE@travellogs.us
Until next time remember how good life is.