Hogfish Grill
Hogfish Grill on Stock Island has ambiance, lots of it but it also has good food.
We dine there for both the excellent food and the ambiance
Cat enjoying the scenery from Hogfish Grill open air window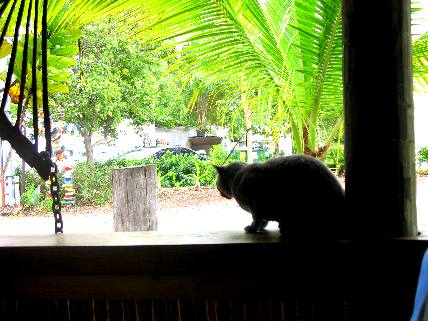 In Key West you never know what you are going to see next, you really don't. When dining at Hogfish Grill you may see a cat sitting in one of the windows (open air window) or a chicken walk through the dining area to beg a morsel from whomever is willing to share their food.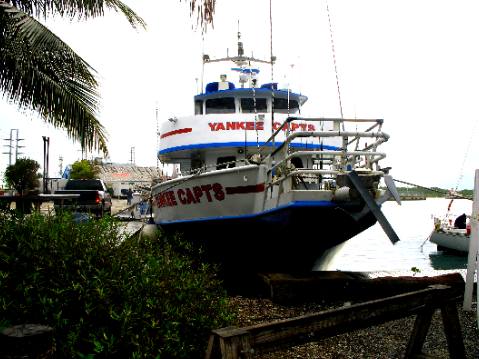 Yankee Capts operates 2, 3 and 4-day trips to the Dry Tortugas. They start fishing around 4-hours after they leave the dock and do not stop fishing until about 4-hours from the dock and the end of the trip.
Folks that is serious fishing.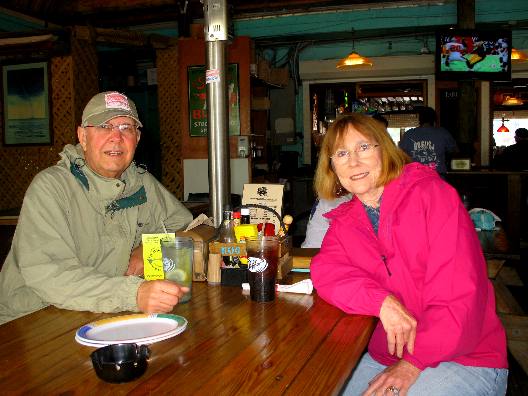 This picture was taken in January. I know it was January because the winter was so warm in 2011 that we did not put on long pants in the month of February. There was one week in January (possibly 10-days) that the day time temperatures dropped into the 60's with a stiff north wind so this picture must have been taken during that week.
Much of Hogfish Grills dining area is alfresco or semi alfresco. In this area we have a roof but there are no windows or doors.
I am always attracted to direction posts. I want to see how far away each place is and decide if they have the arrow pointed in the right direction.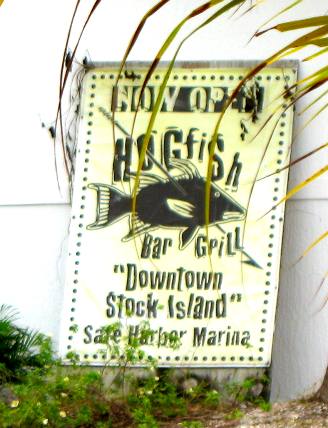 Joyce took this Hogfish Grill sign picture in front of the restaurant on Stock Island.
I think this is an old metal sign located somewhere inside Hogfish Grill.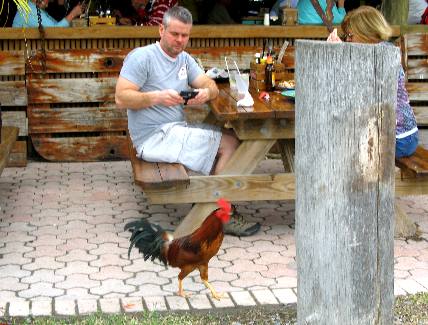 Cats, chickens, whatever it is all part of the ambiance at Hogfish Grill on Stock Island.
As you can see this gentleman is documenting the chicken that has joined them for lunch at Hogfish Grill.
Also note that these folks are in shorts indicating that it was probably February since February was so nice in Key West this winter.
This weather channel sign pretty much sums up the laid back atmosphere in Key West.
It is pretty hard to explain the laid back lifestyle island folks live. You actually have to be here to understand. It isn't just one thing it is a lot of of little things.
Locals do not notice someone with green hair, they do not notice a cat in the dining room, they do not notice a chicken walking through the dining room.
I heard one old conch quip, "when you have seen as many Yankees as we have absolutely nothing will phase you".
Hogfish Grill Dinner Menu
LOCAL DINNER SPECIALTIES

Grilled Hogfish Filet & Blackened Scallops
Served with Island Coconut Rice & Fresh Veggies $23.95

Fried Coconut Shrimp
Served with a Spicy Sweet & Sour Dipping Sauce $18.95

Our Famous Lobster Pot Pie
Just like Mom's - a Creamy Bisque loaded with Meat
& Veggies and served with a Fresh Small House Salad! $19.95

Stuffed KW Shrimp
Served with Savory Crab Cake Stuffing $20.95

Panko-Encrusted Hogfish & Shrimp Ceviche
Served with Island Rice & Veggies $23.95

Ocean City Crab Cakes
Served with Spicy Key Lime Sauce, Island Rice & Veggies $19.95

Stock Island Mixed Grill
Fresh Local Fish, Shrimp, Scallops, Calamari & Lobster
served with Island Rice & Veggies $22.95

Our World Famous BBQ Rib Platter
Slow-cooked, served with Fries, Cole Slaw & Mango BBQ Sauce $19.95

Marinated Skirt Steak & Grilled Shrimp
Smothered with Mojo Chimichuri Sauce $21.95

Havana Roast Pork
A local favorite with Rice, Black Beans & Cuban Bread $16.95

We absolutely LOVE the Havana Roast Pork but there is so much we share it and even take some home after sharing. No kidding, we share this dish and take some home. The roast pork has been marinated in Mojo which is a special marinade that is popular with the Caribbean population in this area.
If you decide to dine at Hogfish Grill consider the Havana Roast Pork if you have already maxed out on seafood.
Until next time remember how good life is.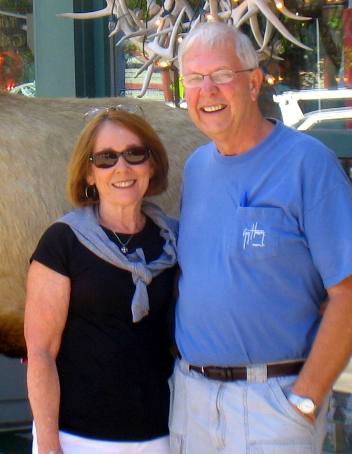 Mike & Joyce Hendrix who we are
We hope you liked this page. If you do you might be interested in some of our other Travel Adventures:
Mike & Joyce Hendrix's home page
Travel Adventures by Year ** Travel Adventures by State ** Plants ** Marine-Boats ** Geology ** Exciting Drives ** Cute Signs ** RV Subjects ** Miscellaneous Subjects
We would love to hear from you......just put "info" in the place of "FAKE" in this address: FAKE@travellogs.us
Until next time remember how good life is.