Mile 0 on US-1 in Key West
Joyce really wanted to pose with her "Red Solo Cup" and camera. The sign marking the end of US-1 on Whitehead Street just happened to be in the sign.......not really. VBG
Note that this is the END of US-1. The marker for the BEGINNING of US-1 is on the other side of Whitehead Street.
Look for the "BEGINNING" sign a little further down this travellog.
You know you have run out of something to entertain yourself when you pose for a picture with a MILE 0 sign.
Brenda & Richard Roselli posed with us for a group picture to document that we really were in Key West. Folks it is the end of January 2012 and we are all dressed in shorts. This is why everyone likes to visit Key West in the winter. It doesn't get any better than this.
Good times with good friends.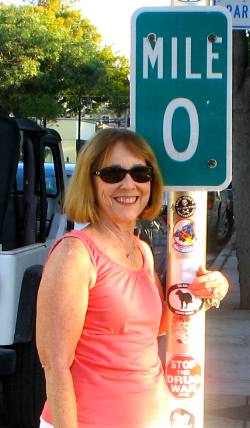 Joyce will do almost anything to get her picture taken and posing with a MILE 0 sign is just one of those things.
Actually, we pass by this sign numerous times each day when we visit Key West. There is usually a line at this sign waiting for an opportunity to hug the MILE 0 sign just like Joyce is doing.
So, when we pass by and no one is hanging on to the sign it beckons for us stop for a picture.

This marker is for the beginning of US-1. It is located across the street from the END of US-1. Of course US-1 begins and ends in the same place with one beginning and ending in Key West the other in Maine.
Until next time remember how good life is.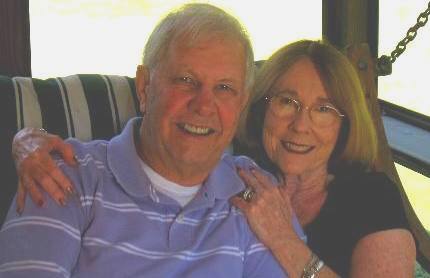 Mike & Joyce Hendrix who we are
We hope you liked this page. If you do you might be interested in some of our other Travel Adventures:
Mike & Joyce Hendrix's home page
Travel Adventures by Year ** Travel Adventures by State ** Plants ** Marine-Boats ** Geology ** Exciting Drives ** Cute Signs ** RV Subjects ** Miscellaneous Subjects
We would love to hear from you......just put "info" in the place of "FAKE" in this address: FAKE@travellogs.us
Until next time remember how good life is.