Kapok Tree or Silk Cotton Tree
The Kapok tree was the sacred tree of the Mayan people who believed that the souls of the dead climbed a mythical kapok whose branches reached into heaven.
Kapok or Silk Cotton trees can grow 10' taller in one year but they are better known for their wide buttresses at the base of the trunk.
Note the wide buttresses at the base of this kapok tree located in front of the Court house in Key West Florida.
If you are visiting Key West you can find this tree at the corner of Whitehead and Fleming streets in Old Town Key West.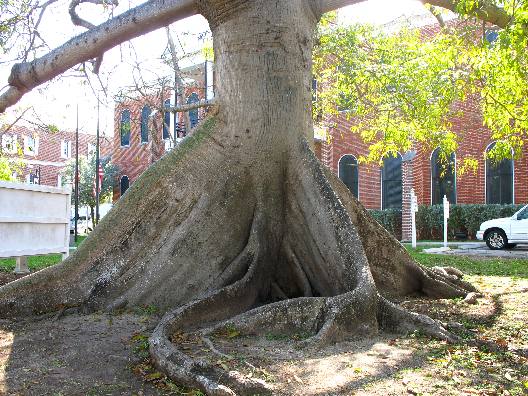 Kapoks drop their leaves once a year during the dry season leaving bare limbs.
Every 5 to 10 years large bell-shaped flowers appear with foul-smelling flowers. The white to pink flowers have 5 petals. The flowers open in the early evening in order to attract bats that polinate the kapok tree.
This large kapok tree is located on Whitehead Street in Key West. It is in front of the Monroe County Courthouse located on Whitehead Street in the same block where the "0" mile marker sign for US-1 is. It is 1/2 block north of the famous Green Parrot Bar.
This Kapok tree is located on the corner of US-1 and White Street in Key West. There are two large kapok trees at this location.
Most commercial kapok comes from the Island of Java in Indonesia.
Adult trees produce seed pods. The pods contain seeds surrounded by a fluffy, yellowish fiber. That fiber is used as insulation, furniture stuffing and is even found inside some lifejackets. During WW II these life jackets were known as Mae Wests. The fiber is light-weight and waterproof.
The fiber is not used for clothing because it is short and breaks easily so it can not be easily made into thread like cotton.
Kapok oil is made from the seeds and is used to make soap. The seeds are edible and are even eaten in some areas of the world.
Kapok wood is soft and is used to make dugout canoes, carvings and caskets.
This kapok tree is located in Key West. I can tell that by the chickens. Chickens are protected in Key West and seem to be everywhere.
Until next time remember how good life is.
Mike & Joyce Hendrix who we are
We hope you liked this page. If you do you might be interested in some of our other Travel Adventures:
Mike & Joyce Hendrix's home page
Home ** Travel Adventures by Year ** Travel Adventures by State
** Plants ** Marine-Boats ** Geology ** Exciting Drives ** Cute Signs ** RV Subjects ** Miscellaneous Subjects
We would love to hear from you......just put "info" in the place of "FAKE" in this address: FAKE@travellogs.us
Until next time remember how good life is.