Southernmost House Key West
Southernmost House Circa 1897
This is the Southernmost House in the Continental US. It faces the Atlantic Ocean and is adorned by many beautiful palm trees. Not to mention the other outstanding landscaping throughout the entire property.
Southernmost House located in Key West
This is a close up view of Southernmost House in Key West
The striking Bed and Breakfast is within walking distance of Duval Street and Old Town.
1400 Duval Street
Key West, Florida, 33040
877- 552 9821
Southernmost House Circa 1897
The Southernmost house was built in 1897 by Judge Vinning Harris and his wife Florida Curry.
This Queen Anne Victorian-style mansion was designed as a one bedroom home.
Thomas Edison oversaw the home's original electrical design and installation.
During prohibition the mansion served as a "speakeasy" Club and in the l940's was a night club called Cafe Cayo Hueso.
Cayo Hueso is Spanish for Key West.
Five United States Presidents have been hosted at this mansion.
You will find this little information sing on the wall in front of the Southernmost House.
Southernmost House in the continental US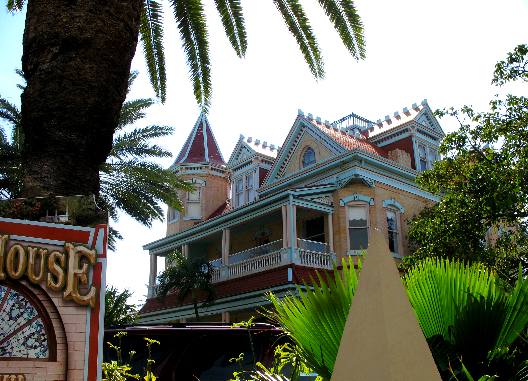 Another view of the historical Southernmost House. The landscaping and gardens are beautiful.
Another structure on the Southernmost House property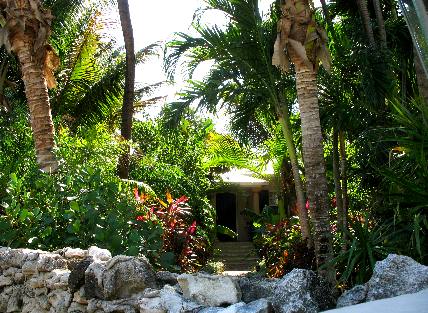 This little place is tucked into the Southernmost House property but we have no idea how it is connected. It is certainly a tropical setting with all the tropical vegetation.
The Southernmost Southernmost House USA
Like you I have to wonder what a "Southernmost" Southernmost House is.
If you have a clue please let us know.
Southernmost House Guest Rooms , Museum Tours and Gift Shop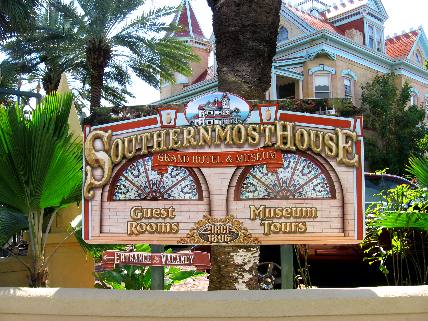 Currently the Southernmost House is operating as an upscale B&B with tours as you can see. I am not sure what the Museum contains but since the house is circa 1897 with the Queen Ann Victorian style construction it should be interesting.
Southernmost House Guest Rooms , Museum Tours and Gift Shop
Just another stunning view of the Queen Ann Victorian style of construction in the Southernmost House is seen in this side entrance.
Gift Shop at the Southernmost House
This is the Southernmost Home Gift Shop. It is a pretty unique gift shop owned and operated by a Key West native that hand picks the merchandise. This shop has many items unique items that are not found in other shops in Key West.
Casa Cayo Hueso The Southernmost House in the Continental United States
Casa Cayo Hueso means Key West House, but you have to get there in a round about way.
Cayo Hueso is the original Spanish name for the island of Key West.
Spanish-speaking people still refer to Key West as Cayo Hueso. Cayo Hueso means "bone key". It seems that early natives used the island as a communal graveyard thus the island of Key West was littered with the bones of native inhabitants when the early Spanish explorers visited the island.
Now lets put together what we know Casa means "house or home" in Spanish and Cayo Hueso is the Spanish name for Key West. So put everything together and it means Key West House when translated into English.
The rest of this sign out front of the Southernmost House is self explanatory.
Until next time remember how good life is.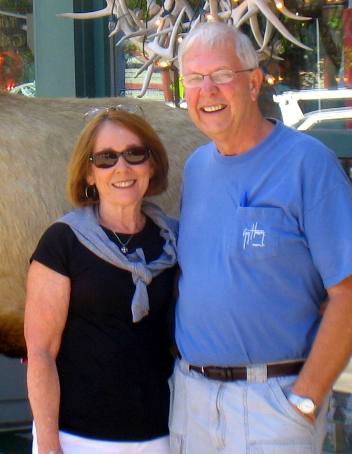 Mike & Joyce Hendrix who we are
We hope you liked this page. If you do you might be interested in some of our other Travel Adventures:
Mike & Joyce Hendrix's home page
Travel Adventures by Year ** Travel Adventures by State ** Plants ** Marine-Boats ** Geology ** Exciting Drives ** Cute Signs ** RV Subjects ** Miscellaneous Subjects
We would love to hear from you......just put "info" in the place of "FAKE" in this address: FAKE@travellogs.us
Until next time remember how good life is.