January, 2010.
Sightseeing in Key West is an interesting pursuit with iguana and feral chickens roaming the streets, exotic trees like the red pealing tourist tree, and watering holes like the Hogs Breath Saloon.
We are dry camping along with some 700 other RV'ers at the Navy Base here in Key West. Actually, there are two bases within the NAS Key West complex that make up the 700-plus campsites. The two locations are at Sigsby and Trumbo Point. Sigsby is located 3 to 4 miles from "Duval-Street" in Key West while Trumbo Point Campground is located 6 to 8 blocks from "Duval-Street". We are staying at Trumbo Point, an easy walk to Duval-Street. But remember this is Dry Camping. There is central dump station and fresh water. Generators can run from 6am to 10PM. Life is good.
Commercial Campgrounds in Key West start at $100 a night and are located about 5-miles from Duval Street. Parking in Key West starts at $13 a day and goes up. The $13 parking site is about 6 blocks from Duval Street. The closer you get to Duval Street the more expensive the parking site.
I will spend more time later explaining more about Key West.
It takes about 3-hours to get to Key West from the mainland (Homestead). It is only 100-miles but the speed limit is 45-mph most of the way and it is congested most of the way as well.
Once you get to the Keys things change. Life is more "laid-back". The only ones in a hurry are the Snow birds down here on vacation.
This was at a shop on Green Street in Old Town Key West?
Bright colors are the ticket. Joyce snapped this shot in Key West.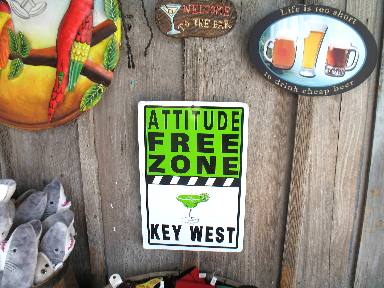 This pretty much sums up the way locals feel.
I laughed when I saw this T-shirt since I have seen a few who were obviously trying to "make-history". VBG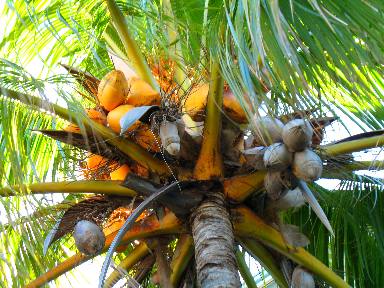 South Florida and the Keys are indeed a tropical paradise complete with real coconuts. This magnificent tree was absolutely full of large coconuts.
Chickens and roosters run free all over Key West and the adjoining Islands. We see chickens every time we stroll down Duval Street. It is so novel to see them walking through stores, restaurants, parking lots, yards ----- you name it. We see them everywhere. The other night a feral chicken was in a tree above a live band playing at Hogs Breath Saloon. Every now and then the feral hicken would crow. Unique to say the least.
These colorful crab pot floats were seen on a Key West side street
Crab trap floats decorate this second story porch in Key West. I guess you could say they are "island-colors".
This is a tourist tree. It got this moniker from the red pealing bark.
Tourist trees are one of Key West's unique trees. Several can be viewed from Duval Street.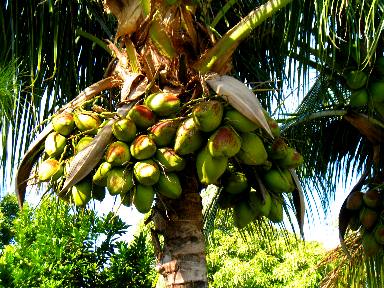 More coconuts. They make beautiful trees.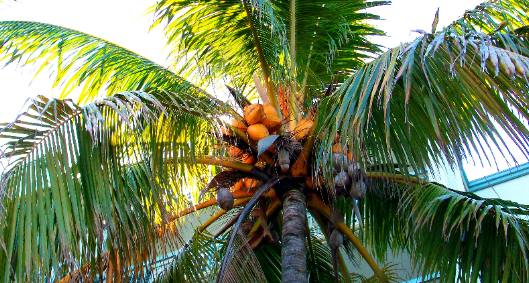 Joyce took this picture from Mallory Square as we were waiting for the sunset to mature.
The sun was shining just right on the coconuts to make them bright orange.
We about stepped on this large green iguana while walking in Key West. It was 4 to 5-feet long and probably weighed 20-pounds or more. You can not tell it but that is a sidewalk it is laying on.
Iguana are cold blooded thus, spend time basking in the sun for body heat. I guess that is what this one is doing. Male green iguanas have a special flap of skin called the dewlap. They can deploy their dewlap to appear bigger than they really are, either to intimidate predators, or to impress females. Since I can see that "dewlap" under this green iguana's chin I guess this would be a male. Iguana spend most of their time in the canopy, about 40-50 feet above the ground. Iguana are diurnal, meaning that they are awake during the day. Iguana tend to eat mostly plants, especially leaves and fruits. An iguana's tail can also break off if caught by a predator, but grows back without permanent damage. Green iguana are quite sturdy-- they can fall 40-50 feet to the ground without getting hurt!
Now, is their anything else you want to know about this green iguana sunning himself on a residential sidewalk here in Key West?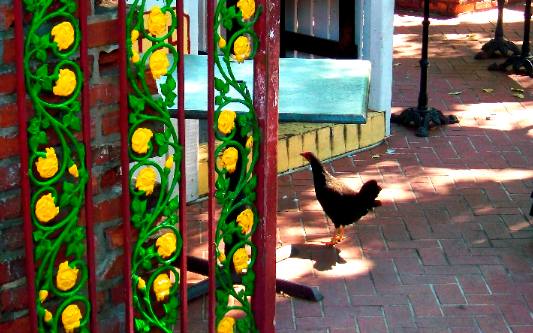 And finally one of Key West ubiquitous chickens checking out a restaurant on Duval Street.
Until next time remember how good life is.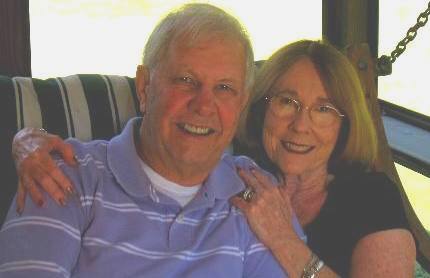 Mike & Joyce Hendrix who we are
We hope you liked this page. If you do you might be interested in some of our other Travel Adventures:
Mike & Joyce Hendrix's home page
Travel Adventures by Year ** Travel Adventures by State ** Plants ** Marine-Boats ** Geology ** Exciting Drives ** Cute Signs ** RV Subjects ** Miscellaneous Subjects
We would love to hear from you......just put "info" in the place of "FAKE" in this address: FAKE@travellogs.us
Until next time remember how good life is.