Mallory Square Cruise Ships
Cruise Ship docked at Mallory Square in Key West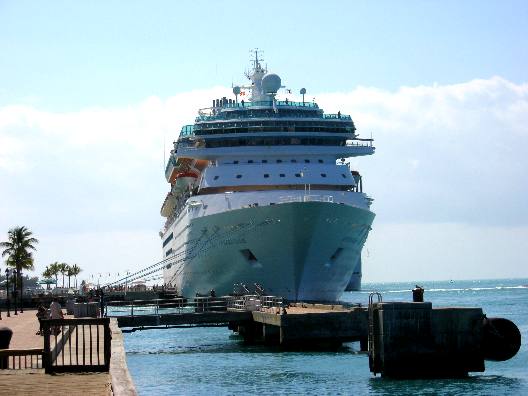 Large cruise ships like this one visit Key West around 5-days per-week.
Most dock at Mallory Square.
Sail boat passing Mallory Square during the famous Key West sunset celebration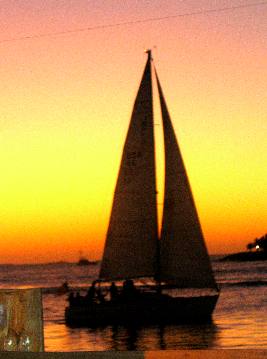 The folks in this sail boat are enjoying the beautiful sunset just as we are. Except we are not going to have to clean up a boat when we get back to the dock. VBG
Two giant cruise ships in port at Mallory Square in Key West
One can only imagine the impact two cruise ships unloading upwards of 2,000 tourist each in Key West has on the economy of this small island.
These cruise ships unload tourist in the morning that do not return to the ship until late afternoon.
Duval Street in Key West is totally packed with tourist trying their best to sample each bar, each T-shirt shop, each key lime pie shoppe and the myriad of other things being offered.
Keep in mind that every tourist leaving the ship is walking through Mallory Square.
Carnival Freedom Cruise Ship moored at Mallory Square in Key West
These large cruise ships unload thousands of tourist on Key West on almost a daily basis. When they are in town business is booming. It turns into a near ghost town when the cruise ships depart. They are indeed the lifeblood of the economy here.
Key West does a good job of keeping Mallory Square clean and neat for the thousands of tourist that pass through the square each day.
Mallory Square is beautifully landscaped with coconut palms and giant crinum lilies.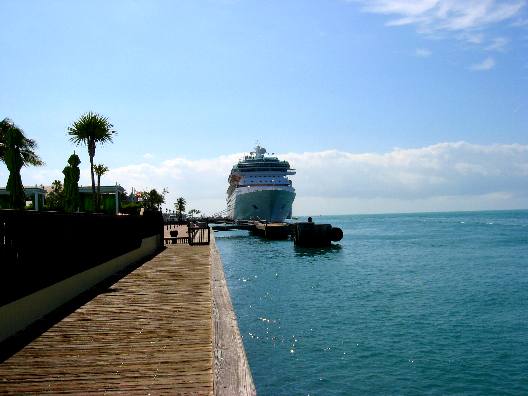 Joyce took this picture from the boardwalk connecting Sunset Pier at Ocean Key Resort with Mallory Square.
The cruise ship is actually docked at Mallory Square.
In the evening this boardwalk will be crowded with tourist gathered to watch the sunset.
Both Sunset Pier and Mallory Square are popular places to enjoy and partake in the famous Key West sunset celebration that takes place each evening.
Carnival Freedom docked at Mallory Square in Key West
The Carnival Freedom is just one of many cruise ships that visit Key and dock at Mallory Square when in port.
They seem to all depart in the late afternoon just in time for everyone to witness the sunset from Mallory Square.
Until next time remember how good life is.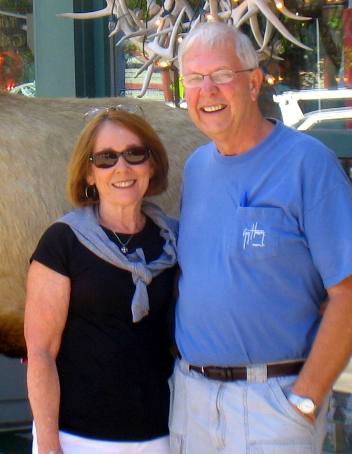 Mike & Joyce Hendrix who we are
We hope you liked this page. If you do you might be interested in some of our other Travel Adventures:
Mike & Joyce Hendrix's home page
Travel Adventures by Year ** Travel Adventures by State ** Plants ** Marine-Boats ** Geology ** Exciting Drives ** Cute Signs ** RV Subjects ** Miscellaneous Subjects
We would love to hear from you......just put "info" in the place of "FAKE" in this address: FAKE@travellogs.us
Until next time remember how good life is.