Duval Street in Key West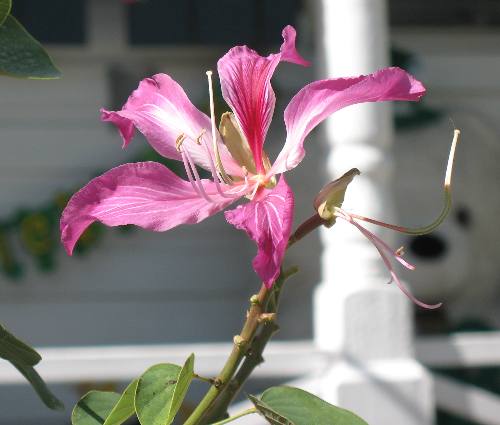 Orchid trees have spectacular blooms. Most of the time they have blooms that are this mauve color. However, we have spotted a few that had white blooms. One orchid tree with white blooms is located at the U.S. Post Office on Whitehead Street in Key West.
If you go looking for that white orchid tree it is located on the southwest side of the parking lot --- between the parking lot and the post office building.
As I recall Joyce took this picture in front of a home on south Duval Street in February.
Some things are unique to Key West and feral chickens is one of those things.
Cuban emigrants brought their fighting chickens with them when they settled Key West long ago. As you are aware it is no longer legal to fight "cocks". These old fighting chickens were set free and roam Key West. In fact they are protected by law.
This hen with several small chicks was hiding under a giant crinum lily in a small yard just feet from busy Duval Street.
Several thousand people a day walk the sidewalk Joyce is standing on to take this picture. That is totally amazing. I wonder how many people walking by here spot these chicks and that hen.
Beautiful old home along the the southern end of Duval Street
We enjoy the beautiful "island-colors" on this beautifully restored and maintained home on south Duval Street in Key West.
The Southernmost Hotel is one of the premier hotels in Key West. Joyce took this picture from the southern end of Duval Street.
Key West residents do a good job with their landscaping. These beautiful royal palm trees are an example. Joyce spotted these while walking on south Duval Street.
Jasmine worked at the Bull on the corner of Caroline and Duval Streets in Key West. The Bull is noted for great entertainers that play from around noon each day until sometime after 2am.
The Bull is also noted for the murals that adorn all walls inside the Bull. Stop inside and see how many of the famous individuals you can name.
Until next time remember how good life is.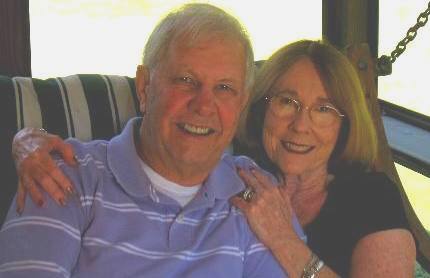 Mike & Joyce Hendrix who we are
We hope you liked this page. If you do you might be interested in some of our other Travel Adventures:
Mike & Joyce Hendrix's home page
Travel Adventures by Year ** Travel Adventures by State ** Plants ** Marine-Boats ** Geology ** Exciting Drives ** Cute Signs ** RV Subjects ** Miscellaneous Subjects
We would love to hear from you......just put "info" in the place of "FAKE" in this address: FAKE@travellogs.us
Until next time remember how good life is.