Whitehead Street Key West Part Four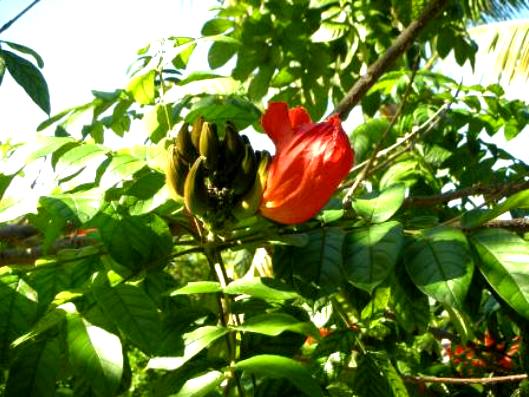 This African tulip bloom was on a tree at the Hemingway House located on Whitehead Street in Key West.
We passed by the Hemingway House several times this year and this African tulip tree with its bright orange/red blossoms always caught our eye.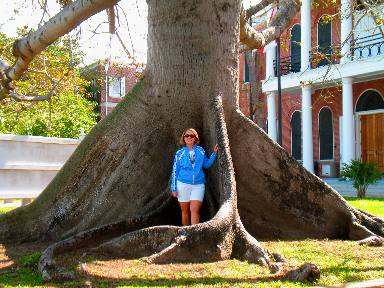 It is easy to spot this magnificent kapok tree when walking down Whitehead Street in Key West. It is located in front of the Monroe County Courthouse one block south of the U.S. Post Office also located on Whitehead Street.
Joyce looks as small as she really is when standing beside the awesome roots of this giant kapok tree.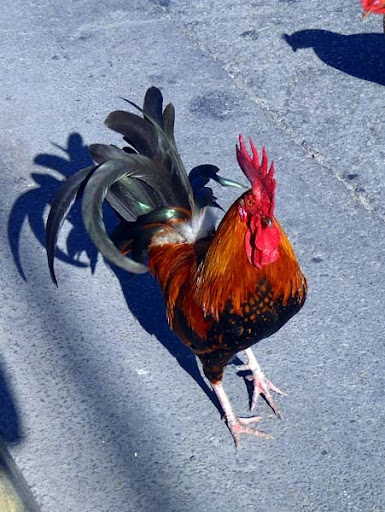 In case you do not know Key West has a large population of feral chickens. These chickens are descendants of fighting cocks brought to Key West by Cuban's years ago.
When cock fighting became illegal the chickens were released and are protected by law in Key West.
Actually, the feral chickens add charm and atmosphere to the island.
This picture was taken from the corner of Whitehead and Truman Avenue. Truman Avenue is US-1 in case you are interested.
This is an extremely unusual sight. Very rarely will you see this southernmost point marker without tourist in the picture. Someone must have hollered "bomb" or "terrorist" or something.
Trust me it is hard to pass by this marker located at the southern end of Whitehead Street when there isn't a line waiting to have their picture made with this marker.
The Green Parrot Bar on Whitehead Street in Key West, Florida is one of the most popular bars in town. It is a local favorite and tourist gather there as well to listen to quality blues bands the Green Parrot features.
Until next time remember how good life is.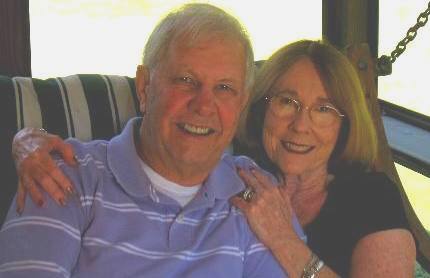 Mike & Joyce Hendrix who we are
We hope you liked this page. If you do you might be interested in some of our other Travel Adventures:
Mike & Joyce Hendrix's home page
Travel Adventures by Year ** Travel Adventures by State ** Plants ** Marine-Boats ** Geology ** Exciting Drives ** Cute Signs ** RV Subjects ** Miscellaneous Subjects
We would love to hear from you......just put "info" in the place of "FAKE" in this address: FAKE@travellogs.us
Until next time remember how good life is.