Mallory Square
Cuban Restaurant on Mallory Square in Key West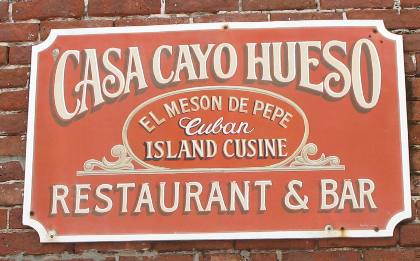 We ate here last year and it was OK. There is a lot of history in the restaurant but we have found some "local" Cuban and "island" restaurants that we like better.
Since this restaurant is located on Mallory Square there is a certain amount of ambiance that exudes from the place. But for just plain good Cuban food we much prefer El Siboney at 900 Catherine Street. No ambiance just good food. El Siboney is the locals place for Cuban food.
Most picture of Mallory Square are looking toward the ocean. I turned around and took this picture looking back toward Old Town Key West across the large open area portion of Mallory Square.
The cruise ships are docked to my back and the sunsets are to my back so the vast majority of pictures you will see are looking in the opposite direction.
It is insane the number of tourist that pour off these cruise ships into downtown Key West. During most days Duval Street is inundated with tourist. The bars, hangouts, boutiques, jewelry shops, key lime pie shoppes and hand rolled cigar shops do a booming business.
And all the folks off these cruise ships have to wander through Mallory Square to get to Duval Street.
Directory of businesses and shoppes in Mallory Square
Mallory Square is home to several restaurants and a wide variety of specialty shops.
You can get anything from fried conch to book a trolley ride.
There are two large cruise ships tied up to the pier in Key West today.
These cruise ships will depart before sunset and Mallory Square will fill with people that show up to celebrate the famed Key West sunset.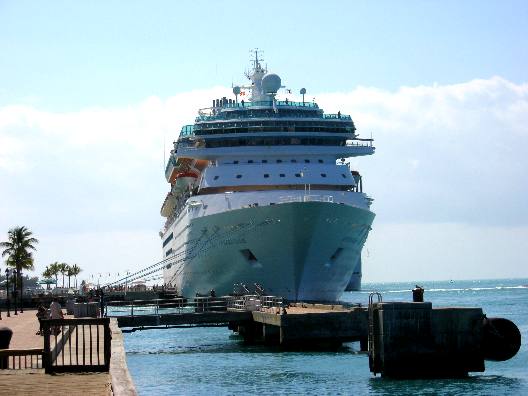 Dock space along Mallory Square in Key West usually contains at least on cruise ship during the day.
These cruise ships usually pull away from the dock 30 to 45 minutes before sunset so that the viewing area at Mallory Square is clear and everyone has a good view of the sunset.
Until next time remember how good life is.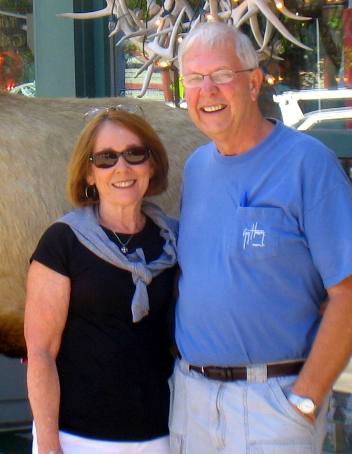 Mike & Joyce Hendrix who we are
We hope you liked this page. If you do you might be interested in some of our other Travel Adventures:
Mike & Joyce Hendrix's home page
Travel Adventures by Year ** Travel Adventures by State ** Plants ** Marine-Boats ** Geology ** Exciting Drives ** Cute Signs ** RV Subjects ** Miscellaneous Subjects
We would love to hear from you......just put "info" in the place of "FAKE" in this address: FAKE@travellogs.us
Until next time remember how good life is.