Whitehead Street Key West Part Nine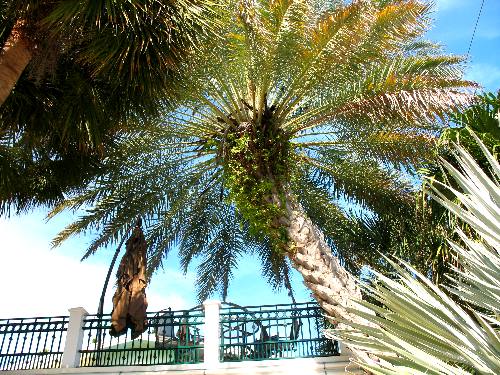 If you like beautiful landscaping and exotic plants a walk along Whitehead Street in Key West, Florida is is like walking through a dream. On the south end of Whitehead are yards with beautiful date palms like the one in this picture. One place has unique silver/blue colored silver Bismarck palms from the island of Madagascar off the African coast. Then there is the giant kapok tree in front of the Monroe County Court House and along the northern portion of Whitehead Street is the Banyan Resort Condominium property with the huge and exotic banyan tree then at the northern end of Whitehead at Mel Fisher's Museum is a really unique ficus, probably a strangler fig tree with a rectangular root system that must be 10' X 12' or more and in that strange rectangular shape. Then scattered along the way are brightly colored royal poinciana and orchid trees.
Pineapple entrance ornaments to a residence along south Whitehead Street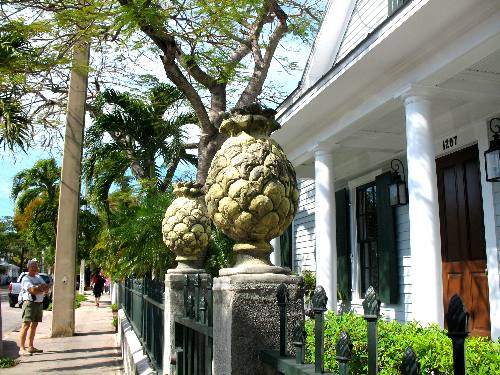 Pineapple is a fruit often included architecture, however, its usage in architecture didn't began the late 1600s and early 1700s when merchants began importing pineapple to the colonies from Jamaica.
Pineapples were a sweet fruit that was served as a delicacy to guests, and became a sign of hospitality that stands to this day.
Throughout the Caribbean, the pineapple symbolized hospitality, and the Spaniards soon learned they were welcome if a pineapple was placed by the entrance to a village. This symbolism spread to Europe, then to Colonial North America, where it became the custom to carve the shape of a pineapple into the columns at the entrance to plantations and estates.
Thus a pineapple has been a universal symbol of hospitality and welcome for many centuries.
In addition to these huge masonry pineapple entrance posts note the large royal poinciana tree and date palms in the background as we stroll along south Whitehead Street in Key West.
This is one of the famous 6-toed Hemingway Cats that inhabit the Hemingway House on Whitehead Street in Key West. These 6-toed cats are descendants of the cat that belonged to Hemingway's wife when they lived here in Key West.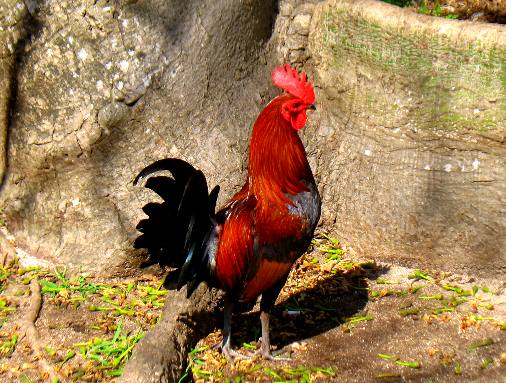 This is one of the feral chickens ---- or roosters that roam Key West. This particular rooster was searching for lunch around the root system of the giant kapok tree located in front of the Monroe County Court House on Whitehead Street in Key West.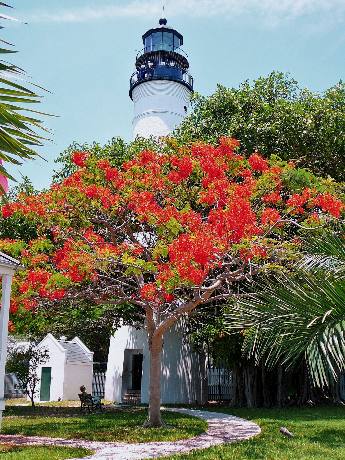 The Key West Lighthouse is real near the corner of Whitehead Street and Truman Avenue in Old Town Key West, Florida.
As long as you are in the area you should also stop by the Hemingway House which is within a block or so.
The southernmost point in the Continental US is located possibly 5-blocks south of the Key West Lighthouse on Whitehead Street. Just walk or ride south on Whitehead Street until it ends in the Atlantic Ocean and you will see the southernmost point marker.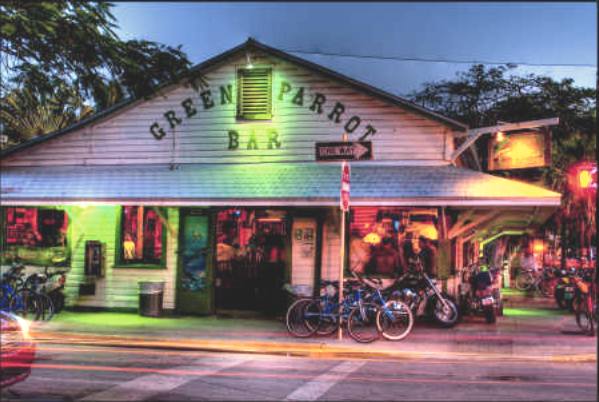 The bicycles and motor scooters around the Green Parrot Bar give true meaning to the fact that the Green Parrot is one of the most popular hang outs for locals in Key West. If you like blues and jazz then you should locate the Green Parrot Bar on Whitehead Street two blocks south of the Post Office.
Until next time remember how good life is.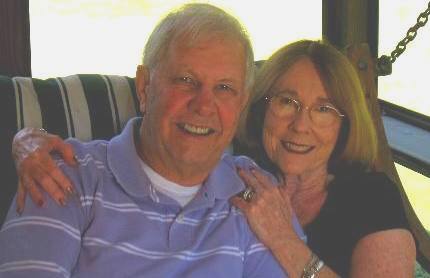 Mike & Joyce Hendrix who we are
We hope you liked this page. If you do you might be interested in some of our other Travel Adventures:
Mike & Joyce Hendrix's home page
Travel Adventures by Year ** Travel Adventures by State ** Plants ** Marine-Boats ** Geology ** Exciting Drives ** Cute Signs ** RV Subjects ** Miscellaneous Subjects
We would love to hear from you......just put "info" in the place of "FAKE" in this address: FAKE@travellogs.us
Until next time remember how good life is.