Grand Teton National Park and Jackson, Wyoming with our son and grandson
Aug 16-22, 2007.
While in the Tetons we stayed at two of the Grand Teton National Park Campgrounds: Colter Bay and Gros Ventre. Both are dry camping sites and are rarely full. Both are $17 per-night to "dry camp" with central water and dump site of course if you have the "geezer-pass" the rate will be half that. There are several hundred sites in each of the campgrounds. We spent most of our time in Gros Ventre because it is located only 10-miles north of Jackson and we love Jackson and all it has to offer.
Stephen taking pictures in Antelope Flats
Our son Jeff and grandson Stephen flew into the Jackson airport to spend a week with us in the Tetons and Yellowstone. We spent the first day and the last day touring the Tetons with them. Their airplane arrived around 10 AM and we quickly loaded their gear in our Saturn and headed out to find some animals. Not far from the airport we turned on Antelope Flats Road and spotted some buffalo right off. Stephen was so excited. Joyce let him out of his car seat and he grabbed his camera and started taking pictures.
That is a real digital camera that he has although it does not have a large memory card. I think he exhausted the memory on that card at this site. His dad had to delete some of the pictures so he could continue to take pictures.
Overlooking Willow Flats and Mount Moran from overlook near Jackson Lake Lodge
This picture of the Mount Moran in Grand Teton National Park. It was taken from an overlook near Jackson Lake Lodge with willow flats in the foreground then Jackson Lake and Mount Moran in the Teton Range in the background. The tall sharp mountain to the left of center is Grand Teton.
This is wiley coyote. We were able to spot several for Stephen
We spotted numerous coyotes while they were with us. Stephen wanted to see wolves so bad that we started calling these coyotes wolves.
Pronghorn antelope in Antelope Flats near Mormon Row and the small town of Kelly, Wyoming
This was a nice looking pronghorn antelope.
Picture of buffalo taken out of the car window in Grand Teton National Park
The colors in this picture made it worth including.
Coyote picture taken from the automobile
Another one of those coyotes.
Jeff and Stephen walked to a good spot to view this large bull moose in the Gros Ventre River
I like this picture of Jeff and Stephen with that large bull moose in the background.
We had to get out of our car and walk down to a spot where we could see the Gros Ventre River in order to see this bull moose. This bull moose was hanging out in this same area for over a week and it was not far from the Gros Ventre Campground that we were staying in. Any time we passed the spot and saw a lot of cars in the pull-out we knew moose were in the river.
Million Dollar Cowboy Bar on the Square in Jackson
Stephen and his coke outside the Million Dollar Cowboy Bar on the Square in Jackson. He is my little cowboy.
Cow moose and baby in lake along the Wilson to Moose Junction Road in Grand Teton National Park
Jeff and Stephen got very near this elk and her baby. Too close in my opinion, but the car was near. We saw this moose on the Wilson to Moose Junction Road.
Family picture on Jenny Lake in Grand Teton National Park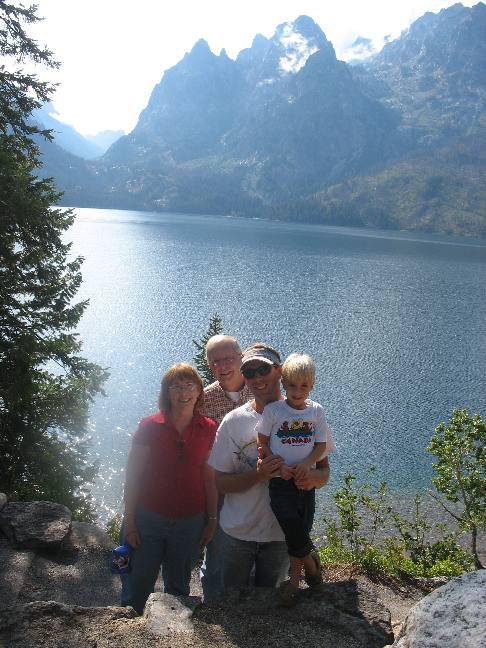 Joyce got someone to take a picture of us at an overlook on Jenny Lake.
Stephen and his flotation gear after float trip down the Snake River
Stephen and his life preserver after completing our Scenic Float trip down the Snake River.
Nice buck wandering through the Gros Venture Campground we are staying in
How about this nice buck jumping the fence. This looks to be an 8-point mule deer.
We enjoyed having Jeff and Stephen spend the week with us. I hope they enjoyed it half as much as we did.
Until next time remember how good life is.
Until next time remember how good life is.
Mike & Joyce Hendrix who we are
We hope you liked this page. If you do you might be interested in some of our other Travel Adventures:
Mike & Joyce Hendrix's home page
Travel Adventures by Year ** Travel Adventures by State ** Plants ** Marine-Boats ** Geology ** Exciting Drives ** Cute Signs ** RV Subjects ** Miscellaneous Subjects
We would love to hear from you......just put "info" in the place of "FAKE" in this address: FAKE@travellogs.us
Until next time remember how good life is.