Teton Range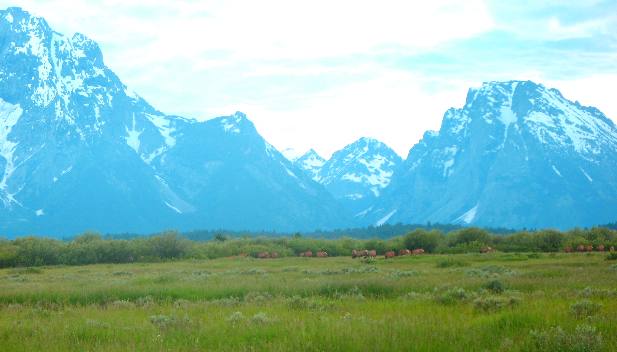 Joyce took this from the road that leads to Jackson Lake Dam and overlooks Willow Flats. Look closely and you can see a large herd of elk grazing in Willow Flats. The Teton Range is providing the backdrop in this picture.
Joyce framed this picture of Willow Flats and the Teton Mountain Range from a position behind Jackson Lake Lodge in Grand Teton National Park.
Stopping in for a visit at Jackson Lake Lodge is one of the things we like to do when visiting Grand Teton National Park. We usually stay in the Colter Bay Campground at Colter Bay Village or we stay in Gros Ventre Campground in the southern part of Grand Teton National Park along the Gros Ventre River near the small town of Kelly.
This is another picture of elk on Willow Flats with the Teton Range providing an interesting backdrop.
Joyce took this picture from Jackson Lake Dam looking to the southwest across Jackson Lake.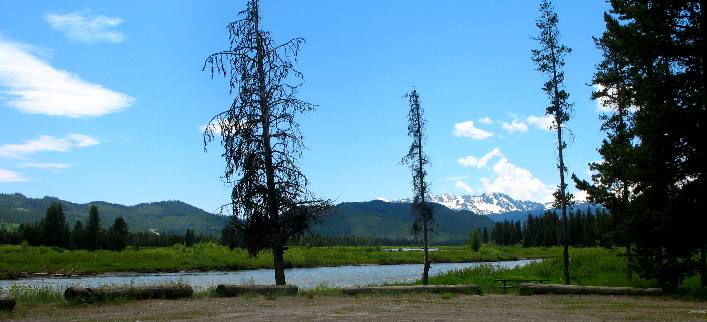 Grassy Lake Road is a gravel road that starts at Flag Ranch near the southern entrance to Yellowstone National Park and heads east across the northern end of the Teton Range and into Ashton, Idaho. There are a few interesting campground along Grassy Lake Road. I would be comfortable staying in Camp Site #1 and Camp Site #2 near Flag Ranch in our 35' motorhome. The other campgrounds were smaller and Grassy Lake Road got progressively worse. Grassy Lake Road is not well maintained, heck, I am not even sure it is maintained at all.
Joyce took this picture from Campsite #1 along Grassy Lake Road . There were several places for larger RV's in this campsite and the view was to die for. In addition the campsites are free.......keep in mind that these campsites do not have any utilities, however, there is a fairly nice pit-toilet at each camp. At campsite #1 up to 4-campsites would share the one common pit toilet. Campsites #1 & #2 were situated along the Snake River close to Flag Ranch.
Keep in mind that at this point we are in the extreme northern reaches of the Teton Mountain Range. Note also that the Snake River in this picture has just exited Yellowstone National Park and is headed to Grand Teton National Park where it will empties into Jackson Lake. At Jackson Lake Dam the Snake River will reconstitute itself in the tail waters of Jackson Lake Dam and continue it's journey through Grand Teton National Park past Jackson Hole and around the southern edge of the Teton Range where it will cross southern Idaho on it's way to join the mighty Columbia River and eventually the Pacific Ocean.
Joyce liked the "texture" presented in this picture opportunity. The rustic fence we seem to only see here in the Tetons along with the beautiful yellow mules ear adding color and of course the Teton Range filling in the background.
Until next time remember how good life is.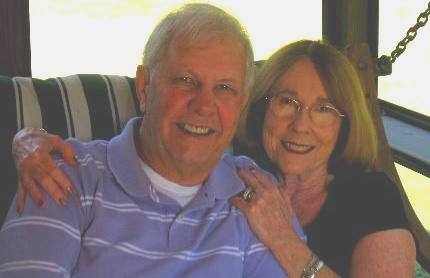 Mike & Joyce Hendrix who we are
We hope you liked this page. If you do you might be interested in some of our other Travel Adventures:
Mike & Joyce Hendrix's home page
Travel Adventures by Year ** Travel Adventures by State ** Plants ** Marine-Boats ** Geology ** Exciting Drives ** Cute Signs ** RV Subjects ** Miscellaneous Subjects
We would love to hear from you......just put "info" in the place of "FAKE" in this address: FAKE@travellogs.us
Until next time remember how good life is.