Grand Teton National Park
Magpie are one of the forms of life that we see in the Tetons. This one sat still long enough for us to get a picture of it.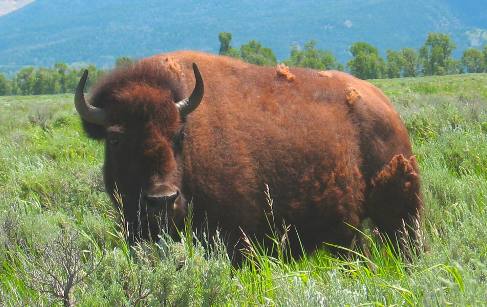 This lone buffalo is waist deep in lush grass along Mormon Row. This was a wet winter and the grass is green. Note that this buffalo has yet to shed all of his winter coat.
Every time we visit Jackson we pass by this sign. When heading north out of Jackson this sign is at the entrance to Grand Teton National Park about 5-miles north of Jackson.
For most visitors it is an obligatory photo-opportunity. No matter when they stop visitors have to wait in line to get their picture taken here without anyone else in the picture. Note that the Teton Range with Grand Teton Mountain are framed in this picture.
In mid-June we noticed the buffalo herds moving from Antelope Flats to the area around Gros Ventre Campground. The transition took place overnight. After they moved to the area around Gros Ventre Campground where we were staying we would see buffalo each time we came and went from the campground.
And for those of you that are interested, that is the Teton Range in the background and yes, it still has a lot of snow over 9,000 feet of elevation.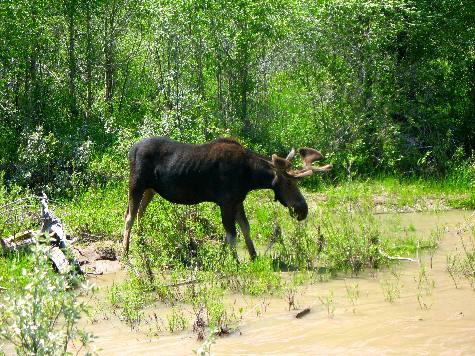 This moose was hanging around Dornans and Menor's Ferry in Grand Teton National Park. We had several moose that stayed near Gros Ventre Campground in June and July.
This lush pasture in the middle of Grand Teton National Park had a good bunch of pack mules and horses.
There are two entrance gates to Grand Teton National Park this is the one at Moran Junction about 10-miles south of Jackson Lake Lodge.
Scenic Drive on Pacific Creek and the road to Two Ocean Lake in Grand Teton National Park near the Moran Junction entrance gate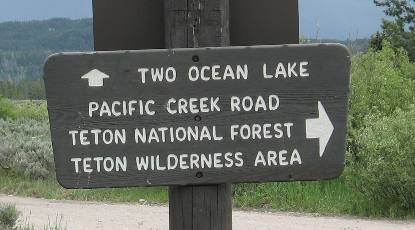 We have passed by this gravel road many times but this year we decided to check out both roads. Both roads were scenic and interesting. We would have enjoyed Two Ocean Lake more but the mosquitos were thick and vicious. Besides there were reports of a mother bear and cubs in the area. Between the bear report and the mosquitos we decided against any hike along the lake. For those that are interested Two Ocean Lake was named when early explorers thought the lake flowed to "two oceans". While creeks do exit from two sides of the lake both flow to the Snake River. The Continental Divide is approximately 25-miles east of Two Ocean Lake. There are lakes along the Continental Divide that do flow to two oceans, just not this one.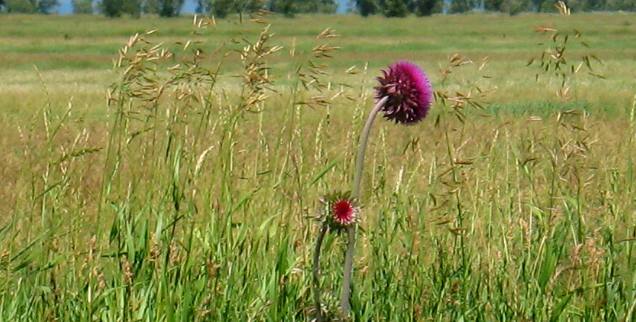 Joyce took this bright purple thistle bloom along Antelope Flats Road in Grand Teton National Park. The park service has employees that deal with noxious weed control. When the noxious weed employees ride down Antelope Flats road they will spray poison on this thistle and eliminate it. It is pretty difficult to spot one blooming since the noxious weed employees usually spot and kill them before they bloom. This bright colored bloom is like a spot light summoning the noxious weed folks.
Until next time remember how good life is.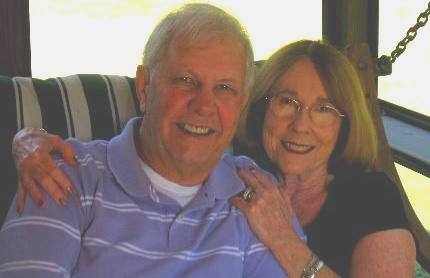 Mike & Joyce Hendrix who we are
We hope you liked this page. If you do you might be interested in some of our other Travel Adventures:
Mike & Joyce Hendrix's home page
Travel Adventures by Year ** Travel Adventures by State ** Plants ** Marine-Boats ** Geology ** Exciting Drives ** Cute Signs ** RV Subjects ** Miscellaneous Subjects
We would love to hear from you......just put "info" in the place of "FAKE" in this address: FAKE@travellogs.us
Until next time remember how good life is.