Antelope Flats in Grand Teton National Park
Buffalo feeding in Antelope Flats are loosing their winter coats and it is easy to spot in the plants. Joyce captured this clump of buffalo hair in this sagebrush on Antelope Flaps.
Buckwheat is a prolific plant that can be seen throughout Grand Teton National Park. Joyce took this picture while driving down Antelope Flats Road near our Gros Ventre Campground.
This was a colorful plant that we saw along Antelope Flats Road and Mormon Row. We tried to identify it but could not find it in any of our books. I think the yellow is just the leaves that turn red as they mature. The ones we saw were only about one foot tall but they did put on a bright show.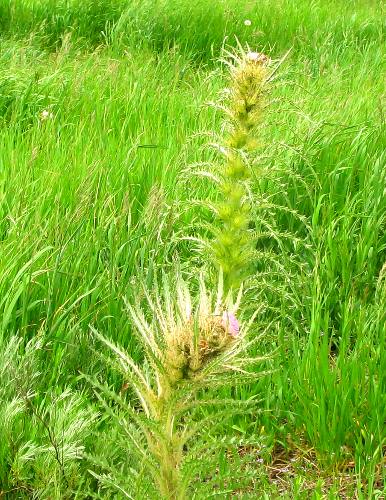 Elk Thistle is about to bloom along Antelope Flats Road in Grand Teton National Park. We see noxious weed crews spraying invasive plants along the roads in Grand Teton National Park and the surrounding wilderness areas. I suspect these thistles are considered to be noxious weeds and will be sprayed by the noxious weed crews.
You can locate views like this in Grand Teton National Park by driving North on the main highway through Grand Teton National Park from Jackson past the turn off to Moose Junction and Dornan's. A few miles north of the Moose Junction intersection you will see a road going east called Antelope Flats Road. Turn on Antelope Flats Road. Several miles up Antelope Flats road you will get to the junction of Mormon Row. When driving up Antelope Flats Road take a short detour off Antelope Flats Road on Mormon Row. You will enjoy the scenery along Mormon Row then return to Antelope Flats Road. Continue driving on past Mormon Row and visit the small town of Kelly and if you are really in for some visual overload turn on Gros Ventre Road and follow the Gros Ventre River into the Gros Ventre Wilderness. On the drive up Gros Ventre Road you will pass the Gros Ventre Slide where you will want to stop and read the kiosk plus take the short trail that leads out on the slide. It is a pretty awesome geological experience. Just upstream from the Gros Ventre Slide is Slide Lake and if you keep going you will go past the Red Hills Ranch and other ranches as you make your way deep into the Gros Ventre Wilderness.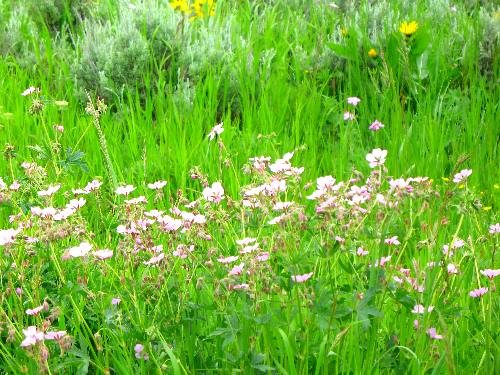 Sticky geranium like these can be seen throughout Grand Teton National Park.
This group of sticky geranium were blooming off Antelope Flats Road near Mormon Row.
Until next time remember how good life is.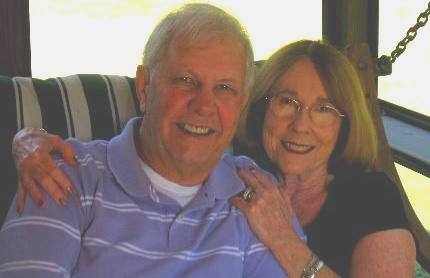 Mike & Joyce Hendrix who we are
We hope you liked this page. If you do you might be interested in some of our other Travel Adventures:
Mike & Joyce Hendrix's home page
Travel Adventures by Year ** Travel Adventures by State ** Plants ** Marine-Boats ** Geology ** Exciting Drives ** Cute Signs ** RV Subjects ** Miscellaneous Subjects
We would love to hear from you......just put "info" in the place of "FAKE" in this address: FAKE@travellogs.us
Until next time remember how good life is.