Colter Bay
Colter Bay Village is home to 166 authentic Jackson Hole homestead cabins that were relocated here and refurbished to today's standards. Each rustic cabin comes with its own local history and stories displayed for your reading pleasure

The laundry and shower facility in Colter Bay Village is a popular place. Tenters and other campers in RV's like popups and class B motorhomes do not have shower facilities and the campgrounds do not have showers. Thus, many campers visiting Grand Teton National Park are in need of shower facilities. As far as the laundry goes, the next closest laundry may be in Jackson around 35-miles south of Colter Bay Village. That may help you understand the popularity of this laundry.
Also keep in mind that Colter Bay Campground has over 300 sites and stays full most of the summer. That alone should be enough "captive" customers to keep the place busy.
You can enjoy tent camping, and they will provide the tent!
It is a more affordable option than a cabin. The tent cabins in Colter Bay Village are a lodging hybrid unlike any other option in Grand Teton National Park, Yellowstone National Park, or Jackson Hole.
These temporary summer cabins have two log walls with the remaining two walls and roof built from canvas. Think of them as a deluxe tent, but one in which you still have to provide some of your own camping gear.
These tent cabins have:
•Two pull-down bunks on each wall for a total of four bunks
•Add two single cots (for a nightly fee) and sleep a maximum of 6 guests
•An interior, potbelly, wood-burning stove for heat
•An exterior picnic table
•A grilling area

Pull-down bunks and cots have a simple outdoor mattress.
Guests are encouraged to bring their own bedding, as a limited number of sleeping bags are available for rent at the office.
Other things you need to understand include:
•Public restrooms - a short walk away.
•Showers are available at the Launderette in the Village for an additional fee.
Bear-proof storage containers are provided throughout the area.
Guests are asked to store all food in these areas to reduce visitation from area wildlife.
For more information and Reservations call 800-628-9988.
These rentals are available in Colter Bay Village.
Until next time remember how good life is.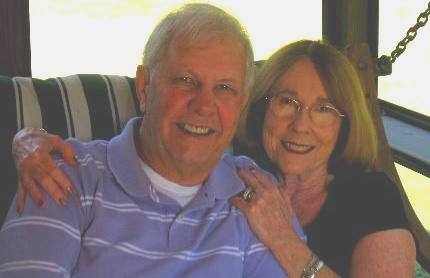 Mike & Joyce Hendrix who we are
We hope you liked this page. If you do you might be interested in some of our other Travel Adventures:
Mike & Joyce Hendrix's home page
Travel Adventures by Year ** Travel Adventures by State ** Plants ** Marine-Boats ** Geology ** Exciting Drives ** Cute Signs ** RV Subjects ** Miscellaneous Subjects
We would love to hear from you......just put "info" in the place of "FAKE" in this address: FAKE@travellogs.us
Until next time remember how good life is.