Mt Moran
It is so peaceful to experience the beauty of Mt Moran reflecting on Jackson Lake at Sunset in Grand Teton National Park. On this particular July night the cloud cover over the Teton Range was spectacular.
This picture of Mt Moran was taken from Antelope Flats road in Grand Teton National Park.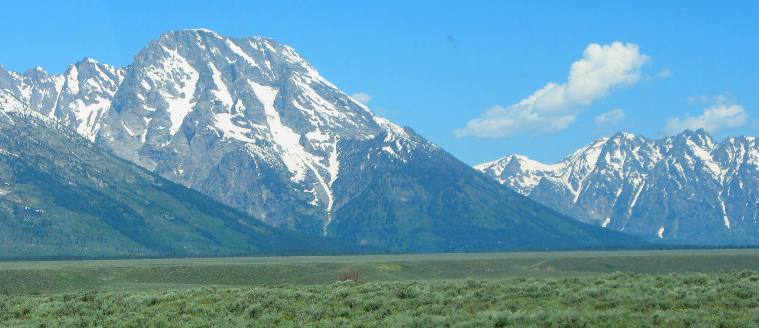 Gneiss dominates the peak of Mt. Moran and this gneiss is cut by the vertical black diabase dike which extends upward to the summit. A dike is an intrusion of molten rock that intrudes into a crack deep underground. In this case the gneiss cracked and molten rock (diabase in this case) filled the vertical crack and hardened. Gneiss is a metamorphic rock.
This picture of Mt Moran and the northern reaches of the Teton Range was taken from the eastern side of Antelope Flats as we were about to head up a mountain into the National Forest. The northern end of the range is located between Grand Teton National Park and Yellowstone National Park in an area called John D. Rockerfeller Jr. Memorial Parkway. Grassy Lake Road runs east west across the mountains in that dip. Jackson Hole valley, where we are, is around 6,300 feet in elevation while the peak of Grand Teton Mountain is over 13,000' and Mt. Moran is over 12,605-feet. As you might suspect roads that cross the Tetons are few and far between. However, at the north end of the Teton Range the pass is less than 8,000' so that is where a gravel road crosses from Flagg Ranch in Wyoming to Ashton, Idaho. When they were constructing Jackson Lake Dam back in 1911 equipment and supplies were transported across Grassy Lake Road from the closest railhead in Ashton, Idaho. Today, Grassy Lake Road is the only road across the mountains between Teton Pass west of Jackson, Wyoming and US-20 out of Yellowstone National Park between Madison Junction and West Yellowstone, Montana.
Now, go back and look at the Teton Range in the picture above. Grassy Lake Road crosses the mountains where you see the Teton Range dipping on the right side of the picture.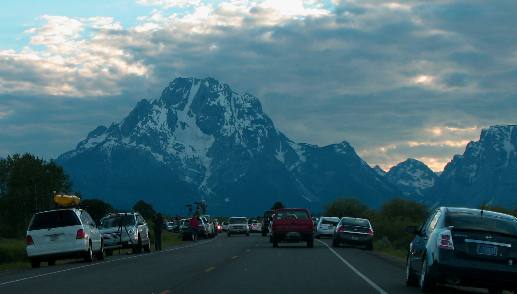 At sunset tourist are out watching for a Grizzly Bear and her clubs to cross the highway near Jackson Lake Dam. Notice the beautiful cloud cover over Mt Moran.
Willow Flats turnout in Grand Teton National Park is a popular place to stop and look for Elk and to soak in the beauty of Mt Moran and the Teton Range.
Until next time remember how good life is.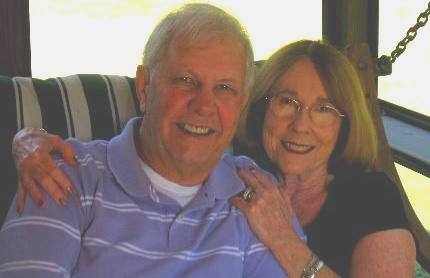 Mike & Joyce Hendrix who we are
We hope you liked this page. If you do you might be interested in some of our other Travel Adventures:
Mike & Joyce Hendrix's home page
Travel Adventures by Year ** Travel Adventures by State ** Plants ** Marine-Boats ** Geology ** Exciting Drives ** Cute Signs ** RV Subjects ** Miscellaneous Subjects
We would love to hear from you......just put "info" in the place of "FAKE" in this address: FAKE@travellogs.us
Until next time remember how good life is.