Texas Hill Country Wildlife
Texas Hill Country Wildlife
Texas: Kerrville, Ingram, Hunt, Harper, Mountain Home, Vanderpool, Medina, Tarpley, Leakey, Concan and Bandera
April 13 through 21, 2007.
We are staying in Kerrville at Kerrville Schreiner City Park that was the former Kerrville Schreiner State Park. $15 per-night for FHU plus a $5 per-day entrance fee (but you can purchase an annual pass for $25 which we did). Kerrville Schreiner Park is located within the city limits on the Guadalupe River and has everything one could want in the way of Hill Country Ambience. With that said there are probably 12-RV-Parks in Kerrville that are very nice plus they have good location as well. Many of these private parks are located on the Guadalupe River as well.
I am not sure but this looks like some kind of exotic goat. This one was inside a fenced area where he may be fair game for the right hunter. Hunters will not shoot this goat in this enclosure. Before that happens this breeder will sell the goat at an auction. The buyer will be from one of the hunting ranches. The goat will be turned lose on the hunting ranch. That is where the hunter will get to stalk this exotic goat.
I overheard a conversation between two buyers seated next to us at the auction. One commented "that orix appears to be blind in one eye" the other buyer replied, "that is ok, he won't see the bullet coming from that side". They both laughed and I chuckled. So it is in the world of big game hunting.
These axis deer are part of a group containing upwards of 20-animals feeding in a goat pasture. No these aren't pinned deer, they are completely wild and roaming the countryside. There are so many axis deer around Kerrville, and Junction that the state is considering methods to reduce their population.
Trophy axis deer seen from the highway on this game ranch
This is a trophy axis deer we spotted in one of those big game hunting preserves. This big boy has to keep both eyes open for city slicker desk jockeys that ride a desk job then head to the Hill Country big game hunting ranches for an opportunity to shoot this trophy axis deer as it walks to the feeder in front of his hunting blind. The fine folks at the ranch actually drive the city slicker out to the nice comfortable hunting blind in a ranch vehicle then stop back by in a couple of hours to pick them back up and of course load the trophy animal into the vehicle. Back at the ranch headquarters it will be time for pictures. Then ranch hands transport the trophy to a large walk in cooler until the taxidermist drops by and picks up the animal. Of course some of the animals will be handed over to a wild game processor that will do the cleaning and butchering chore. After the obligatory pictures it is time for the city slicker to sit down to a meal at the lodge fit for a true champion, that he is.
Axis deer & other exotics including audad and exotic goats
Take your pick. This picture captures several varieties of exotic goats, sheep, axis deer and probably audad. Hunters may be able to identify more.
Black buck running at a distance. Picture quality is not up to par but snapping a picture of these wild creatures is a bit difficult. I wanted to get a picture of their horns that are prized by hunters. Black buck horns have spirals.
These prize black buck are posing. You can see the spirals in these horns and better understand why they are prized by hunters wanting a good trophy.
I think this is a type of Spanish goat. Possibly a Corsican. These are usually a meat goat but the rams that have impressive horns get sold to the hunting lodges. I stopped in an upscale taxidermy shop in Junction, Texas. The owner told me that most Spanish goats were sold to the meat market. The exceptions were the ones he proudly displayed on his wall waiting for owners to pick them up. I have to say the horns on these goats were as impressive as other mounts with much more exotic names.
If you enjoyed this Travel Adventure you might like some of these:
Texas Hill Country Fences & Gates
Willow Loop Scenic Drive north of Fredericksburg
Kerrville, Bandera, Hunt & Ingram; Texas
Wildlife of the Texas Hill Country
Until next time remember how good life is.

Mike & Joyce Hendrix
Mike & Joyce Hendrix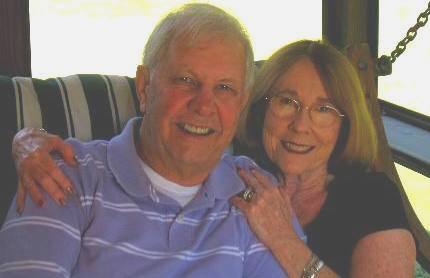 Mike & Joyce Hendrix who we are
We hope you liked this page. If you do you might be interested in some of our other Travel Adventures:
Mike & Joyce Hendrix's home page
Travel Adventures by Year ** Travel Adventures by State ** Plants ** Marine-Boats ** Geology ** Exciting Drives ** Cute Signs ** RV Subjects ** Miscellaneous Subjects
We would love to hear from you......just put "info" in the place of "FAKE" in this address: FAKE@travellogs.us
Until next time remember how good life is.