Hunt, Texas
Hunt, Texas
April 18 - 22, 2007.
We are staying in the Kerrville Schreiner City Park in Kerrville. A few years ago this was Kerrville Schreiner State Park. It is located on the Guadalupe River in the city limits of Kerrville on SR-173 one of the two highways between Kerrville and Bandera. Our site is FHU costing $15 per-night plus a $5 entrance fee (annual fee is only $25) so is insignificant if spending more than a few days.
Kerrville Schreiner City Park is one of our favorite Hill Country places because of the wildlife, deer in particular.
We have to stop by the Hunt Store when we are in the area. The architecture and ambiance draw us.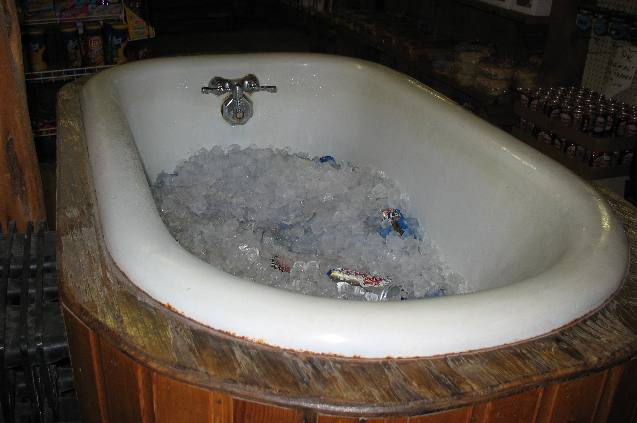 For the off moment when cypress tables do not satisfy my ambiance needs this old tub filled with ice and soft drinks does. Don't you just love it!
This unusual sight is the Hunt, Texas version of Stone Hinge.
If you are not sure about Stone Hinge just "Google it". Someone in Hunt decided to create their own version of Stone Hinge and have it on display in a large pasture.
Hunt, Texas Rodeo and Dance at Crider's
This inconspicuous place is in Hunt, Texas and can be a lively place on Friday night during the summer months. The fenced in area is where a dance is held each Friday night after the rodeo. The rodeo, staged next door, also takes place every Friday night. What you can't see is a stage for the live band that plays. Seating takes place under that big oak tree. The whole area is concrete and couples use the entire place for one big dance floor. Picnic tables are to the left in the picture. Young and old alike gather on Friday nights for these dances.
A large wooden sign, embossed with rope letters reading "Crider's", stands over the entrance to the dance floor. Massive Oaks grow out of the roomy dance slab. A building housing a cafe stands to the side. This establishment is typically Texas. Crider's has no specialized clientele. The charm of it lies in the unpretencious mingling of people. They are rustics, sophisticates, oil men, grounds keepers, high school students, teachers, professional football players, TV personalities, Presidents, Governors, Astronauts, movie stars, camp counselors, truck drivers, cowboys, grandparents, grandchildren, business executives, the works! Not all that go to Criders to dance... some go to hear the music, watch the dancers or just have an evening out with friends.
We were tourist staying in our motorhome back in Kerrville at Kerrville Schreiner City Park but we truly enjoyed both the rodeo and dance after the rodeo. What a hoot.
During summer months the counselors (college students out for the summer) at the myriad summer camps and dude ranches in the area congregate here as do the owners of those ranches. Between the rodeo and the dance afterward there is all the entertainment necessary for an entire weekend. Ask how we know. VBG
Limestone cliff cut by the Guadalupe River can be seen a few miles west of Hunt.
Guadalupe crossing in Hunt, Texas
Ranch building on bluff high above Guadalupe River west of Hunt, Texas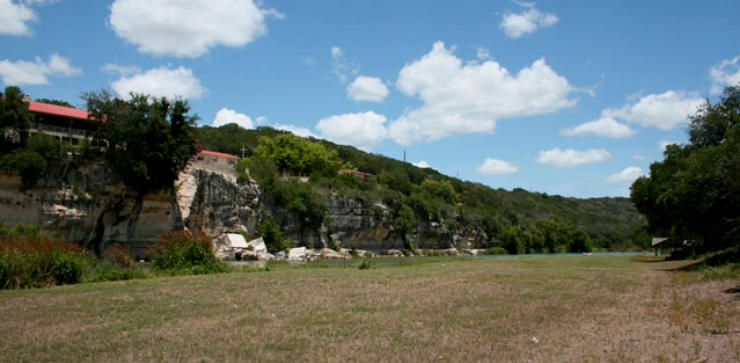 Here are some of our other Texas Hill Country Travel Adventures:
Ranches near Fredericksburg, Texas
Luckenbach The place made famous in a country song
Willow Loop Texas Hill Country Scenic Drive north of Fredericksburg
Willow Loop Texas Hill Country Scenic Drive part one
Willow Loop Texas Hill Country Scenic Drive part two
Willow Loop Texas Hill Country Scenic Drive part three
Willow Loop Texas Hill Country Scenic Drive part four
Willow Loop Texas Hill Country Scenic Drive part five
Bluebonnets in the Texas Hill Country
Wildlife around Blanco and Sisterdale, Texas
Hill Country Wildflowers part two
German Lutheran Churches in the Hill Country
Hill Country Fence Decorations
Loose Livestock in the Texas Hill Country
Willow Loop Scenic Drive north of Fredericksburg
Kerrville, Bandera, Hunt & Ingram; Texas
Wildlife of the Texas Hill Country
Mike & Joyce Hendrix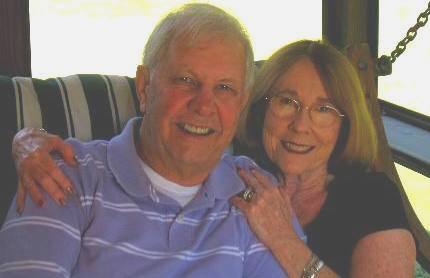 Mike & Joyce Hendrix who we are
We hope you liked this page. If you do you might be interested in some of our other Travel Adventures:
Mike & Joyce Hendrix's home page
Travel Adventures by Year ** Travel Adventures by State ** Plants ** Marine-Boats ** Geology ** Exciting Drives ** Cute Signs ** RV Subjects ** Miscellaneous Subjects
We would love to hear from you......just put "info" in the place of "FAKE" in this address: FAKE@travellogs.us
Until next time remember how good life is.