Tarpley, Texas
Tarpley, Texas
April 20, 2007.
We are staying in Kerrville at Kerrville Schreiner City Park that was formerly Kerrville Schreiner State Park. $15 per-night for FHU plus a $5 per-day entrance fee (but you can purchase an annual pass for $25 which we did). Kerrville Schreiner Park is located within the city limits on the Guadalupe River and has everything one could want in the way of Hill Country Ambiance. With that said there are probably 12-RV-Parks in Kerrville that are very nice plus they have good location as well. Many of these private parks are located on the Guadalupe River as well.
The Texas Hill Country around Medina, Vanderpool, Tarpley, Bandera, Kerrville, Hunt, Mountain Home etc., is overrun with deer. The ones in this picture are axis deer that have escaped from game ranches in the area. Thousands upon thousands are running wild. This is a herd we saw from Ranch-470 east of Tarpley. This is not uncommon at all. Whitetail deer are thick as flies but we have never see this many whitetail together. The male axis will have an exceptionally large rack and are favorite targets for hunters on the ranches in this area.
I slowed the Saturn down as we past this yard, yes these deer were munching grass and other plants in this endividuals front yard. When we slowed down to get this picture the axis deer started to slowly make their way to the woods. Joyce snapped this quick picture before they all disappeared.
Mac & Ernies Roadside Eatery in Tarpley, Texas
Menu board at Mac & Ernies Roadside Eatery in Tarpley, Texas
Mac & Ernies Roadside Eatery in Tarpley, Texas
Our friends from Vanderpool brought us to Mac & Ernies for dinner and fun time. The food is great as is the atmosphere.
Deer in the headlights a bit east of Tarpley
You have to drive carefully around here. In the late afternoon and early evening whitetail deer are everywhere, they are dangerous. It looks like all 5 of these are contemplating suicide by automobile. While it looks like we took this picture in the dark is was in the late afternoon and not nearly as dark as this picture makes it look. We had plenty of light to see these deer with our naked eye.
Joyce took this picture out the window of our Saturn as we were headed back to our motorhome in Kerrville Schreiner Park in Kerrville after dining at Mac & Ernies in Tarpley.
If you enjoyed this Travel Adventure you might like some of these:
Texas Hill Country Fences & Gates
Willow Loop Scenic Drive north of Fredericksburg
Kerrville, Bandera, Hunt & Ingram; Texas
Wildlife of the Texas Hill Country
Mike & Joyce Hendrix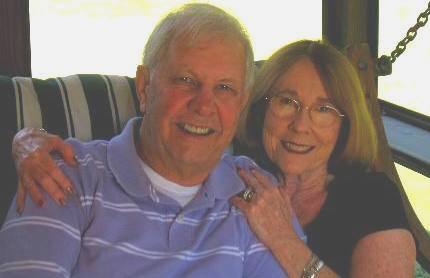 Mike & Joyce Hendrix who we are
We hope you liked this page. If you do you might be interested in some of our other Travel Adventures:
Mike & Joyce Hendrix's home page
Travel Adventures by Year ** Travel Adventures by State ** Plants ** Marine-Boats ** Geology ** Exciting Drives ** Cute Signs ** RV Subjects ** Miscellaneous Subjects
We would love to hear from you......just put "info" in the place of "FAKE" in this address: FAKE@travellogs.us
Until next time remember how good life is.