Kerrville, Texas scenic drive
April 18 - 22, 2007.
We are staying in the Kerrville Schreiner City Park in Kerrville. A few years ago this was Kerrville Schreiner State Park. It is located on the Guadalupe River in the city limits of Kerrville on SR-173 one of the two highways between Kerrville and Bandera. Our site is FHU costing $15 per-night plus a $5 entrance fee (annual fee is only $25) so is insignificant if spending more than a few days.
Kerrville Schreiner City Park is one of our favorite Hill Country places because of the wildlife, deer in particular.
Crider's Rodeo and Dance in Hunt, Texas
This inconspicuous place is in Hunt, Texas and can be a lively place on Friday night during the summer months. The fenced in area is where a dance is held each Friday night after the rodeo. The rodeo, staged next door, also takes place every Friday night. What you can't see is a stage for the live band that plays. Seating takes place under that big oak tree. The whole area is concrete and couples use the entire place for one big dance floor. Picnic tables are to the left in the picture. Young and old alike gather on Friday nights for these dances.
A large wooden sign, embossed with rope letters reading "Crider's", stands over the entrance to the dance floor. Massive Oaks grow out of the roomy dance slab. A building housing a cafe stands to the side. This establishment is typically Texas. Crider's has no specialized clientele. The charm of it lies in the unpretencious mingling of people. They are rustics, sophisticates, oil men, grounds keepers, high school students, teachers, professional football players, TV personalities, Presidents, Governors, Astronauts, movie stars, camp counselors, truck drivers, cowboys, grandparents, grandchildren, business executives, the works! Not all that go to Criders to dance... some go to hear the music, watch the dancers or just have an evening out with friends.
We were tourist staying in our motorhome back in Kerrville at Kerrville Schreiner City Park but we truly enjoyed both the rodeo and dance after the rodeo. What a hoot.
During summer months the counselors (college students out for the summer) at the myriad summer camps and dude ranches in the area congregate here as do the owners of those ranches. Between the rodeo and the dance afterward there is all the entertainment necessary for an entire weekend. Ask how we know. VBG
Roadcut on FM 337e between Medina & Vanderpool, Texas
This roadcut is on FM 337e between Medina and Vanderpool, one of the more scenic drives in the Hill Country.
FM 337e between Medina and Vanderpool is absolutely spectacular. Try and fit it in either late in the day or early morning so you can see all the wildlife. You can see emu wandering the highway, wild turkey, axis deer as well as white tail and a plethora of other exotic species, some behind fences others are obvious escapees.
Joyce and I love this Ranch sign. For it to have meaning you have to know where it is located. This sign is located on SR-16 between Kerrville and Medina, Texas. To be more specific it is located at the summit of a pass on that highway that is NOT recommended for trucks or RV's. SR-16 up that grade is not only steep but has more sharp turns than a coil spring. Then at the summit is this ranch sign.
Bandera Pass in the Hill Country of Texas
Bandera Pass is located between Kerrville and Bandera on SR-173 near Camp Verde. In the old days this pass was a well know spot, however, with modern highways making things so easy it is something that could easily be passed without much note. After stopping to read this Texas roadside history marker we realized the significance of Bandera Pass. It was at this point that Joyce took the picture to commemorate crossing Bandera Pass.
Emu & buffalo on Hill Country Ranch near Bandera
These are buffalo with an emu in the background on a small ranch outside of Bandera, Texas.
We were between Bandera Pass and Bandera when we spotted these. Most ranchers in this area are not raising buffalo. In this area of Texas the truly big ranches have switched to exotic game for their source of income. Even small ranchers have gotten in on the exotic game revenue train. The small ranchers can concentrate on raising smaller exotic species like antelope and sheep then selling them to the big game ranches where they hold hunts.
Large Cypress Tree on the Guadalupe River west of Hunt, Texas
This is one magnificent cypress tree. The size of it will take your breath away.
In the early days, when Texas was being settled, there was a large business in these parts making cedar shingles.
I think Joyce took this picture from Farm Road 1340 west of Hunt, Texas on the banks of the North Fork Guadalupe River. We could have been on SR-39 southwest of Hunt along the South Fork Guadalupe River.
If you are visiting the Kerrville area make sure you schedule a scenic drive along both Fram Road 1340 and SR-39 out of Hunt, Texas. Spectacular scenery awaits on both drives.
The Apple Barn in Medina is a favorite stop for everyone not on a diet. We used to stop here for the apple slushies. However, the slushy machine had broken and someone working in the place indicated it would not be replaced.
Stop in and tell them you stopped by for that apple slushie and are dissapointed it is not there. It was sooooooo unique and so very good, especially on a HOT Texas afternoon.
When visiting Kerrville make sure your scenic drive takes you to Hunt where you absolutely must stop in the Hunt Store. We love the furniture and you will also.
The store is full of mounts and memorabelia as well as being a good stop for lunch and beverages.
From the Hunt Store you want to visit "Stone Hinge" or at least the Hunt, Texas version of Stone Hinge. If you do not know where it is ask for directions in the Hunt Store.
This unusual sight is the Hunt, Texas version of Stone Hinge.
If you are not sure about Stone Hinge just "Google it". Someone in Hunt decided to create their own version of Stone Hinge and have it on display in a large pasture.
Limestone cliff cut & exposed by the Guadalupe River southwest of Hunt, Texas on SR-39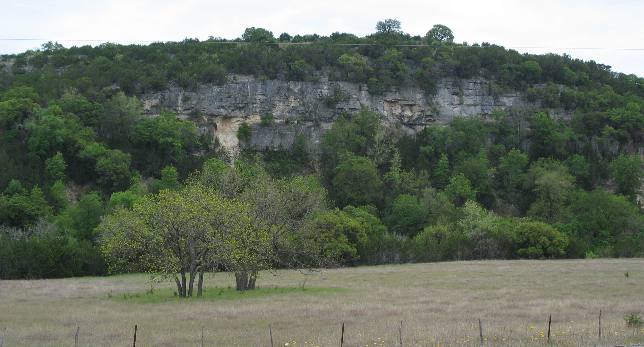 This might look like a road cut but it is a river cut. I think it was made by the Guadalupe River somewhere west of Hunt on SR-39.
Herding longhorns on the Y.O. Ranch west of Kerrville
These are working cowboys on the huge Y.O. Ranch west of Kerrville. When you are visiting Kerrville you absolutely must schedule a visit to the Y.O. Ranch. To schedule your visit stop by the Y.O. Ranch Inn in Kerrville, which is a must visit place in Kerrville as well. You can also go online and make reservations at: http://www.yoranch.com/activities/act_wildlife_tours/
Y.O. History And Exotic Game Tours
For the past 40 years people have been calling the Y.O. Ranch " Africa in Texas®" because Charles Schreiner III started his exotic wildlife conservation program in the 1960's when the San Antonio zoo's director Fred Stark needed help with the zoo's exotic wildlife program. The first species of exotic a wildlife to be let free on the Y.O. Ranch as an experiment in adaptation were Blackbuck Antelope from west Pakistan and Auodad Sheep from north Africa. Soon to follow were other species like Corsican Ram from the uplands of Corsica and Sardinia.
Today you'll see up to 55 species of exotic wildlife roaming the Ranch, including Giraffe, South American Rhea, African wildebeests and more. So come out to the Y.O. Ranch and take one of our tours. Our guides will get you as close as these animals will allow which will provide an opportunity for some great photos.
Available Thursday thru Sunday. For groups of 10 or more, available 7 days a week. Reservations required.
Be sure to check out our private tours: http://www.yoranch.com/activities/act_private_tours/
Private Y.O. History And Exotic Game Tours
The Y.O. Ranch invites you to experience our wildlife tour without the crowd. Your private guide will take you on a journey you will never forget. Tours with 6 or less people are usually taken in an open safari vehicle, weather permitting. We offer two options for private tours:
2 Hour Private Tour: $65.00 per person (Available Thurs.-Sun.)
This tour is similar to our regular 10:00 AM tour; however, you will begin with lunch at chuckwagon at noon, followed by the tour from 1-3 PM. Your guide will go out of his/her way to ensure you capture the best photos possible. This is an intimate experience not to be missed!
5 Hour Private Tour: $250.00 per person (Available 7 days a week)
This tour not only provides you with the opportunity to view and photograph our exotic wildlife, but you'll see part of the Ranch not seen on the 2 hour tour. Your private guide will take you to some of the more historic sites on the Ranch. Your tour will begin with lunch at our chuckwagon restaurant and then you will head out at 1:00 PM and enjoy the beauty of the Ranch until 6:00 PM. Two person minimum.
All private tours are based on availability. Reservations are required.
We have taken the "regular" tour and really enjoyed it. Heck, we would enjoy the "private" tour but ......the $250 each was above what we had for our entertainment.
Here are some of our other Texas Hill Country Travel Adventures:
Ranches near Fredericksburg, Texas
Luckenbach The place made famous in a country song
Willow Loop Texas Hill Country Scenic Drive north of Fredericksburg
Willow Loop Texas Hill Country Scenic Drive part one
Willow Loop Texas Hill Country Scenic Drive part two
Willow Loop Texas Hill Country Scenic Drive part three
Willow Loop Texas Hill Country Scenic Drive part four
Willow Loop Texas Hill Country Scenic Drive part five
Bluebonnets in the Texas Hill Country
Wildlife around Blanco and Sisterdale, Texas
Hill Country Wildflowers part two
German Lutheran Churches in the Hill Country
Hill Country Fence Decorations
Loose Livestock in the Texas Hill Country
Willow Loop Scenic Drive north of Fredericksburg
Kerrville, Bandera, Hunt & Ingram; Texas
Wildlife of the Texas Hill Country
Mike & Joyce Hendrix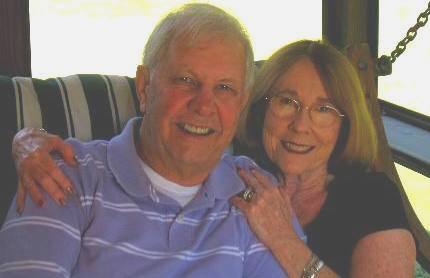 Mike & Joyce Hendrix who we are
We hope you liked this page. If you do you might be interested in some of our other Travel Adventures:
Mike & Joyce Hendrix's home page
Travel Adventures by Year ** Travel Adventures by State ** Plants ** Marine-Boats ** Geology ** Exciting Drives ** Cute Signs ** RV Subjects ** Miscellaneous Subjects
We would love to hear from you......just put "info" in the place of "FAKE" in this address: FAKE@travellogs.us
Until next time remember how good life is.