Texas Hill Country
Texas Hill Country
April 13 - 17, 2007.
Our motorhome is at Lady Bird Johnson City Park 3-miles south of Fredericksburg on SR-16; $20 FHU including cable with paved sites. We tend to like Lady Bird Johnson City Park when we are in Fredericksburg because the RV-sites are situated under the canopy of mature pecan trees but there are several more that are good as well. The Fredericksburg RV-Park on Highway street is another good park but it cost more and doesn't have mature trees that provide shade.
When visiting the Hill Country of Texas the first thing you need to get used to is this sign and what it means. Loose livestock means there are no fences so watch out for cows, sheep, goats, whatever in the highway. It takes a bit of getting used to but it makes sense in many areas especially when lightly traveled roads are passing through private property.
Now that would be loose livestock in the bluebonets.
Another frequent sign throughout the Hill Country is the Flood Gauge. While it might look bone dry right now things change quickly. Heavy rain does not do a good job of soaking into the limestone. It runs off in these dry arroyos and gulches. Roads are constructed so that water runs across them rather than build bridges. Dangerous water will only be across the road for short periods of time so people just wait for it to go down. Life in the Hill Country is a bit slower than around big cities. That is one of the things that draw people to the area.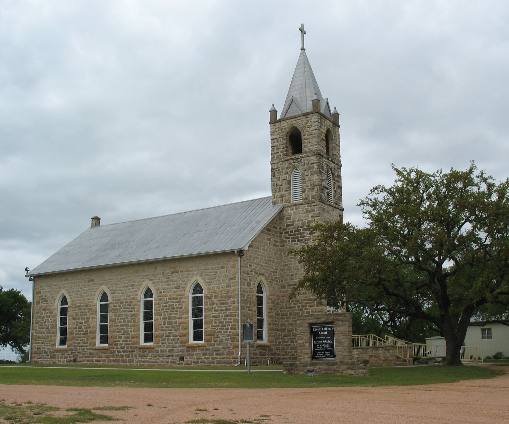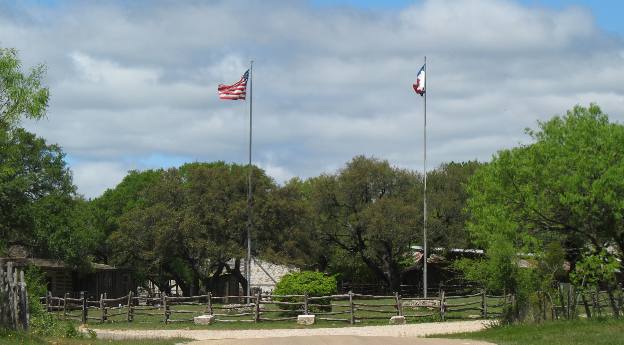 Texans are a proud people. Many ranches fly both the Texas and United States of America flag. You have to remember that at one time Texas was a country itself before it gave up being an independent country to join the United States. Many Texans are still filled with that "independent" spirit.
These catfish heads are not as old and disfigured as the single head. This fellow was obviously the Catfish King of this area. He needed a T-shirt with "Catfish Fear Me" written on it. Sometimes we see deer antlers displayed like this. Other times it will be old boots being displayed along a fence.
In downtown Kerrville, across the street from the big mall in town Joyce spotted these deer not more than 30-feet from one of the largest intersections in town. No it isn't a small intersection, think two four lane highways intersecting complete with traffic lights. This sight blew our minds. City deer is one thing but seeing this many in the middle of town and across the street from the regions mall was more than we could believe, but there it was. Totally amazing.
Hill Country fence decorations near Hunt, Texas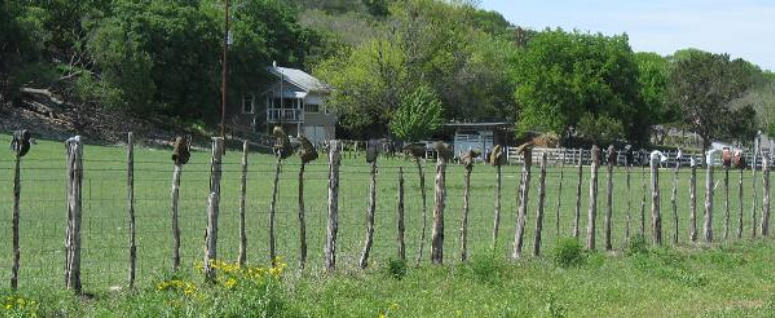 Here are some of our other Texas Hill Country Travel Adventures:
Ranches near Fredericksburg, Texas
Luckenbach The place made famous in a country song
Willow Loop Texas Hill Country Scenic Drive north of Fredericksburg
Willow Loop Texas Hill Country Scenic Drive part one
Willow Loop Texas Hill Country Scenic Drive part two
Willow Loop Texas Hill Country Scenic Drive part three
Willow Loop Texas Hill Country Scenic Drive part four
Willow Loop Texas Hill Country Scenic Drive part five
Bluebonnets in the Texas Hill Country
Wildlife around Blanco and Sisterdale, Texas
Hill Country Wildflowers part two
German Lutheran Churches in the Hill Country
Hill Country Fence Decorations
Loose Livestock in the Texas Hill Country
Texas Hill Country Fences & Gates
Kerrville, Bandera, Hunt & Ingram; Texas
Wildlife of the Texas Hill Country
Mike & Joyce Hendrix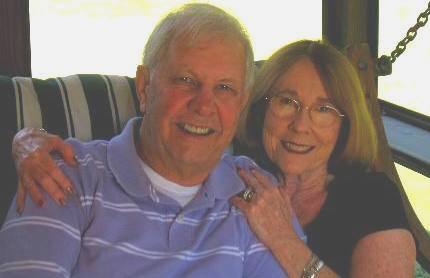 Mike & Joyce Hendrix who we are
We hope you liked this page. If you do you might be interested in some of our other Travel Adventures:
Mike & Joyce Hendrix's home page
Travel Adventures by Year ** Travel Adventures by State ** Plants ** Marine-Boats ** Geology ** Exciting Drives ** Cute Signs ** RV Subjects ** Miscellaneous Subjects
We would love to hear from you......just put "info" in the place of "FAKE" in this address: FAKE@travellogs.us
Until next time remember how good life is.