Game Ranches in the Texas Hill Country
Game Ranches in the Texas Hill Country
April 20, 2007.
We are staying in Kerrville at Kerrville Schreiner City Park that was formerly Kerrville Schreiner State Park. $15 per-night for FHU plus a $5 per-day entrance fee (but you can purchase an annual pass for $25 which we did). Kerrville Schreiner Park is located within the city limits on the Guadalupe River and has everything one could want in the way of Hill Country Ambiance. With that said there are probably 12-RV-Parks in Kerrville that are very nice plus they have good location as well. Many of these private parks are located on the Guadalupe River as well.
The Texas Hill Country around Medina, Vanderpool, Tarpley, Bandera, Kerrville, Hunt, Mountain Home etc., is overrun with deer. The ones in this picture are axis deer that have escaped from game ranches in the area. Thousands upon thousands are running wild. This is a herd we saw from highway (Ranch 470) east of Tarpley. This is not uncommon at all. Whitetail deer are thick as flies but we have never see this many whitetail together. The male axis will have an exceptionally large rack and are favorite targets for hunters on the ranches in this area.
Awesome rack on this Axis buck in a pasture near Sisterdale in the Texas Hill Country
We were on a scenic drive around Sisterdale in the Texas Hill Country when we spotted this majestic axis buc grazing in a pasture. I slowed the Saturn down and Joyce took this picture out the window. There were a number of equally impressive bucks within sight when Joyce took this picture. These axis deer were escapees from nearby game ranches. In fact vast herds of these escapees roam the Texas Hill Country.
Three Sisters or Twisted Sisters..... The exciting 4&1/2 star Bike Route through the Texas Hill Country
These are fallow deer. The males have impressive racks and are much sought after by hunters. These are young and probably all does. This operation is probably breeding fallow deer with a prize buk then selling the male offspring to game ranches.
Impressive racks on these fallow deer bucks in the Texas Hill Country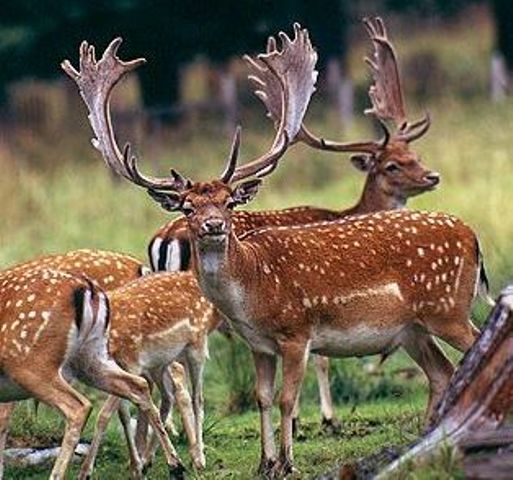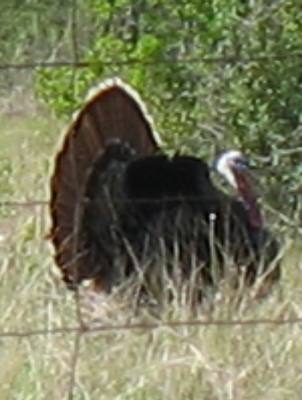 This tom turkey was strutting his stuff through the Texas underbrush in an effort to impress an out of sight female. We watched this time honored ritual for several minutes but never spotted the elusive female. This tom sure put on a show with his flared tail and strutting as we watched from Texas Ranch-337 between Medina and Vanderpool.
Wild turkey are really cared for in the Texas Hill Country
Game ranches in the Texas Hill Country do a good job of nurturing their wild turkey populations with feeding programs, supplying a reliable source of water and predator control.
As you might imagine turkeys need the right balance
of food, water, shelter, and cover to be successful in an
area. Wild turkeys must have completely different and separate habitat requirements for breeding and nesting, brood rearing, and winter roosting. Good turkey ranch management programs create a habitat that contains a mix of each of these habitat types.
In addition to other habitat components, such as water and nutritional even supplemented food sources such as feeders or food plots.
Breeding and nesting occurs during the spring months for wild turkeys like they do for most wildlife. For mating, wild turkeys require open areas of primarily grasses and other vegetation typically four to eight inches tall. Thus game ranches must create those open areas near brushy areas to provide cover from predators. As you might imagine predators must be controlled.
Open pastures are another necessary habitat, thus game ranches provide areas that are mowed or lightly grazed during the winter months to provide suitable habitat for mating in the spring.
Turkeys nest on the ground in the spring. Nests are usually placed in brushy areas near mating habitat with moderately tall grass. Brush piles or small clumps of brush and trees within pastures that are not mowed will provide the cover that female turkeys require for nesting.
Tender, green shoots of grasses and other plants make up a large part of the turkey's diet in the spring months. Mowing in the late winter will help generate new plant growth in the open areas provided by these game ranches.
.
Managers of these game ranches know to leave clumps of unmowed grass, particularly around the edge of pastures and around trees and brush, to provide places for turkeys to nest and hide from predators. They also create brush piles or plant clumps of trees in large pastures to provide more habitat diversity and extra escape cover for their wild turkeys. Knowledgable game ranchers also place brush and trees along fence lines, drainages, or other places where turkeys regularly travel in order to give them the cover they need to escape predators.
Roost sites are particularly important during the winter months. It is extremely important to not disturb turkeys at their roost tree during the late evening or at night, since it will cause them to abandon the tree. Game ranchers sure don't want their nurtured wild turkey to head to another property after putting in all their other effort. These game ranch managers generally provide a wooded areas near a creek or stream that is set aside and managed as roosting habitat for their wild turkeys. They preserve tall, mature trees with spreading crowns as potential roost trees. They keep people and pets away from roost sites during the evening and at night. In addition game ranch managers leave at least 50% of the brush from roosting areas to preserve cover for the adult turkey that use the roos during the winter months.
OK, there is much more to providing for and nurturing multiple robust flocks of wild turkey but that is what game ranch managers have to do on a year round basis in order to charge hunters big bucks to hunt their property.
If you enjoyed this Travel Adventure you might like some of these:
Texas Hill Country Fences & Gates
Willow Loop Scenic Drive north of Fredericksburg
Kerrville, Bandera, Hunt & Ingram; Texas
Wildlife of the Texas Hill Country
Mike & Joyce Hendrix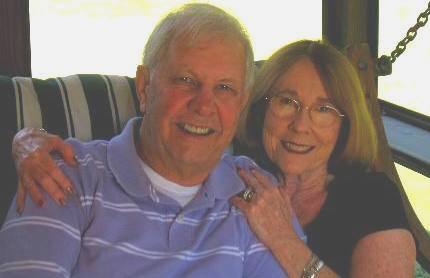 Mike & Joyce Hendrix who we are
We hope you liked this page. If you do you might be interested in some of our other Travel Adventures:
Mike & Joyce Hendrix's home page
Travel Adventures by Year ** Travel Adventures by State ** Plants ** Marine-Boats ** Geology ** Exciting Drives ** Cute Signs ** RV Subjects ** Miscellaneous Subjects
We would love to hear from you......just put "info" in the place of "FAKE" in this address: FAKE@travellogs.us
Until next time remember how good life is.