Fredericksburg, Texas Ranches
Fredericksburg, Texas Ranches
April 12 - 17, 2007.
We parked our motorhome at Lady Bird Johnson City Park 3-miles south of Fredericksburg on SR-16; $20 FHU including cable with paved sites. We tend to like Lady Bird Johnson City Park when we are in Fredericksburg because the RV-sites are situated under the canopy of mature pecan trees but there are several more RV-Parks that are good as well. The Fredericksburg RV-Park on Highway Street is another good park but it cost more and doesn't have mature trees that provide shade.
Fredereicksburg is located in the heart of "Texas Hill Country".
Donkeys are common animals throughout the Hill Country. Sometimes they are cute pets while others are placed in with goats and sheep. Ranchers do that because donkeys are know to protect sheep and goats from coyotes. This one was probably a cute pet.
Watusi at auction barn in Harper, Texas west of Fredericksburg
This is a watusi ----- an exotic that is waiting for auction at the Raz Exotic Animal Auction in Harper, a small town 15-miles west of Fredericksburg. This auction only occurs one Saturday-Sunday each month. For more information Google Raz Exotic Animal Auction in Harper, Texas. If you are in the Fredericksburg area this auction is a real hoot.
Raz Livestock Auction in Harper, Texas a few miles west of Fredericksburg
This is the unique sign outside the Raz Exotic Animal Auction facility in Harper, Texas.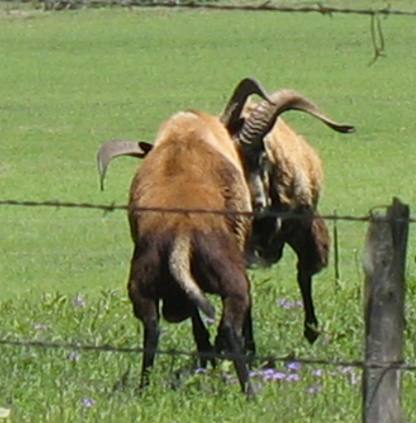 Male goats about to butt heads on ranch near Fredericksburg, Texas
We happened upon these two rams who had squared off in a battle for supremacy. They would back off like these two, then charge each other with heads down raming into each other at full speed. The crash of horns was very loud. We watched for 10-minutes as this ritual played out in time honored fashion.
One is going to get "lucky" the other is going to nurse a severe headache. Such is life.
This is a typical ranch scene in the Hill Country around Fredericksburg.
April in the Hill Country is offspring time. It seems like almost every sheep and goat has a little one by its side.
If you enjoyed this Travel Adventure you might like some of these:
Texas Hill Country Fences & Gates
Willow Loop Scenic Drive north of Fredericksburg
Kerrville, Bandera, Hunt & Ingram; Texas
Wildlife of the Texas Hill Country
Mike & Joyce Hendrix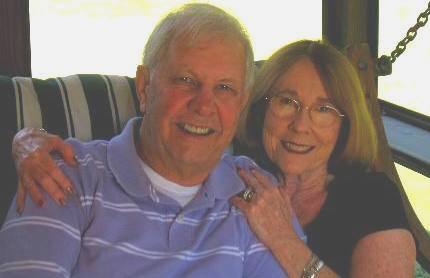 Mike & Joyce Hendrix who we are
We hope you liked this page. If you do you might be interested in some of our other Travel Adventures:
Mike & Joyce Hendrix's home page
Travel Adventures by Year ** Travel Adventures by State ** Plants ** Marine-Boats ** Geology ** Exciting Drives ** Cute Signs ** RV Subjects ** Miscellaneous Subjects
We would love to hear from you......just put "info" in the place of "FAKE" in this address: FAKE@travellogs.us
Until next time remember how good life is.