Game Ranches in the Texas Hill Country part two
Game Ranches in the Texas Hill Country part two
April 20, 2007.
We are staying in Kerrville at Kerrville Schreiner City Park that was formerly Kerrville Schreiner State Park. $15 per-night for FHU plus a $5 per-day entrance fee (but you can purchase an annual pass for $25 which we did). Kerrville Schreiner Park is located within the city limits on the Guadalupe River and has everything one could want in the way of Hill Country Ambiance. With that said there are probably 12-RV-Parks in Kerrville that are very nice plus they have good location as well. Many of these private parks are located on the Guadalupe River as well.
Deer like these whitetail are everywhere. We never seem to get used to how many deer we see in this area especially in broad daylight.
Deer in the headlights a bit east of Tarpley
You have to drive carefully around here. In the late afternoon and early evening whitetail deer are everywhere, they are dangerous. It looks like all 5 of these are contemplating suicide by automobile. While it looks like we took this picture in the dark is was in the late afternoon and not nearly as dark as this picture makes it look. We had plenty of light to see these deer with our naked eye.
Joyce took this picture out the window of our Saturn as we were headed back to our motorhome in Kerrville Schreiner Park in Kerrville after dining at Frank&Eddies in Tarpley.
Male black buck antelope fighting over a female on a game ranch near Bandera, Texas
Herd of black buck antelope
This is what a good game ranch manager produces for the hunters that visit their hunting ranch. There are a lot of nice bucks in this group.
These Audad were being bred for wild game ranches by a small property owner
Joyce took this picture at a small independent exotic animal rancher. He had about 2-acres enclosed with one of those 15' tall fences to keep these critters in, after all they are expensive critters. These are audad and are highly prized by hunters for their fine horns. It takes from 2 to 3 years for males to develop horns like these big males have.
At the RAZ exotic animal auction in Harper, Texas we saw these mature males fetching around $600 each. The females and babies were from $100 to $300 each. I was getting information from a ranching family sitting behind us at the auction. They told us hunters paid from $1,000 to $1,200 to shoot one of those males with the nice hornes. The lady of the family was providing me information while the men (her husband, son and and older man that was probably one of their father) were either bidding and totally engrossed in the auction. She said I should return in February (hunting season). The big game hunting places would be buying anything with good antlers or horns. I didn't understand that statement since hunters can hunt exotics anytime. It is only native game like white tail deer and turkey that are regulated with a hunting season. But since she was a local I am sure she knew what she was talking about.
If you enjoyed this Travel Adventure you might like some of these:
Texas Hill Country Fences & Gates
Willow Loop Scenic Drive north of Fredericksburg
Kerrville, Bandera, Hunt & Ingram; Texas
Wildlife of the Texas Hill Country
Mike & Joyce Hendrix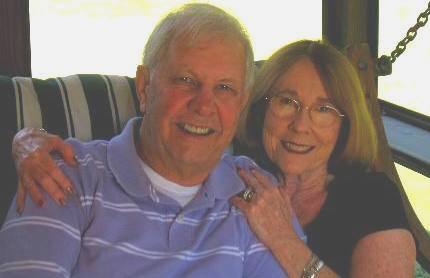 Mike & Joyce Hendrix who we are
We hope you liked this page. If you do you might be interested in some of our other Travel Adventures:
Mike & Joyce Hendrix's home page
Travel Adventures by Year ** Travel Adventures by State ** Plants ** Marine-Boats ** Geology ** Exciting Drives ** Cute Signs ** RV Subjects ** Miscellaneous Subjects
We would love to hear from you......just put "info" in the place of "FAKE" in this address: FAKE@travellogs.us
Until next time remember how good life is.