Fredericksburg, Texas
Fredericksburg, Texas
April 12 - 17, 2007.
We parked our motorhome at Lady Bird Johnson City Park 3-miles south of Fredericksburg on SR-16; $20 FHU including cable with paved sites. We tend to like Lady Bird Johnson City Park when we are in Fredericksburg because the RV-sites are situated under the canopy of mature pecan trees but there are several more RV-Parks that are good as well. The Fredericksburg RV-Park on Highway Street is another good park but it cost more and doesn't have mature trees that provide shade.
Fredereicksburg is located in the heart of "Texas Hill Country".
Bluebonets seem to do best in more moist areas. Cows, cactus and bluebonets are Hill Country fixtures.
Joyce took this picture on Willow Loop a beautiful scenic drive north of Fredeicksburg.
North of Fredericksburg is Enchanted Rock. Enchanted Rock is an anomaly in this region of limestone. Enchanted Rock is a batholith (large body of igneous rock intruded into overlying rock). In this case the Enchanted Rock granite is over a billion years old while the limestone in the Hill Country is only millions of years old. Therefore this molten rock intruded overlying rock over a billion years ago and hardened then the layers of limestone were laid down over millions of years. Now the limestone and the original "overlying" rock has eroded away leaving the much harder granite batholith. Enchanted Rock is so unique that it is a Texas State Park. Not far away pink granite is mined for architectural stone. We see pink granite outcropps on Willow Loop, a favorite bluebonnet viewing area, less than 10-miles to the east, that is part of this intrusion system. Marble, a metamorphic rock, can also be found in the area. Marble is created when hot molten rock from the interior of the earth comes into contact with sedimentary rocks like limestone.
LBJ Ranch along the Perdnales River east of Fredericksburg, Texas
Joyce took these pictures along the Perdnales River across from the LBJ Ranch which is now a National Park located around 20-miles east of Fredericksburg.
LBJ Ranch along the Perdnales River east of Fredericksburg, Texas
Another picture of the Perdnales River that flows through Fredericksburg on its way to the LBJ Ranch east of Fredericksburg.
If you enjoyed this Travel Adventure you might like some of these:
Texas Hill Country Fences & Gates
Willow Loop Scenic Drive north of Fredericksburg
Kerrville, Bandera, Hunt & Ingram; Texas
Wildlife of the Texas Hill Country
Mike & Joyce Hendrix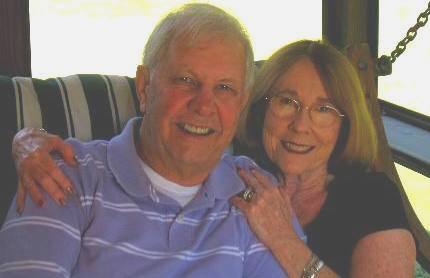 Mike & Joyce Hendrix who we are
We hope you liked this page. If you do you might be interested in some of our other Travel Adventures:
Mike & Joyce Hendrix's home page
Travel Adventures by Year ** Travel Adventures by State ** Plants ** Marine-Boats ** Geology ** Exciting Drives ** Cute Signs ** RV Subjects ** Miscellaneous Subjects
We would love to hear from you......just put "info" in the place of "FAKE" in this address: FAKE@travellogs.us
Until next time remember how good life is.