Junction, Texas part one
April 23 and 24, 2007.
We are staying in Junction at South Llano State Park. Water & 30-amps $15 plus $2 each for park entry fee. Located 5-miles south of Junction on the South Llano River. We like to stay here for the wildlife and birding.
We started our day in Kerrville when we connected the Saturn to our motorhome and headed west to Junction a journey of only 60-miles or so. Junction is one of our favorite Hill Country towns. There are so many things we like about Junction. We will share some of them with you.
We turn off I-10 east of Junction at exit 460 onto SR-481 loop.
Big Grade east of Junction, TX on SR-481 loop
This picture is taken on the SR-481 loop less than 2-miles from downtown Junction. As you can see we are at the top of a mountain (as in Hill Country) and the steep grade is heading down to the South Llano River and the bridge to Junction.
View from Big Grade east of Junction, TX on SR-481 loop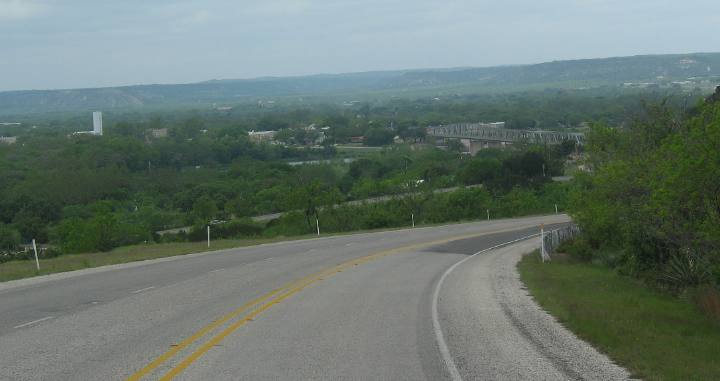 After rounding the bend in SR-481 we can see the city of Junction on the far side of that bridge. Note that we are still falling off that mountain on a pretty good grade.
Bridge over South Llano River at Junction, Texas on SR-481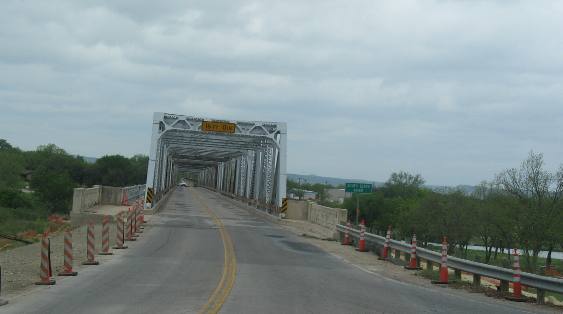 Driving the motorhome across this old bridge is easier than it may look. The bridge is actually wider than it looks. On the far side of the bridge is Junction. RV'ers are welcome to overnight in the city park on the north western side of this bridge and many take advantage of Junction's hospitality.
Rivercut on east side of South Llano River at Junction, Texas
When looking east from the South Llano River in Juntion you can see this impressive river cut. The highway we entered Junction on and the highway in the pictures above is to the left of this river cut.
Large rock in Junction City Park on east side of South Llano River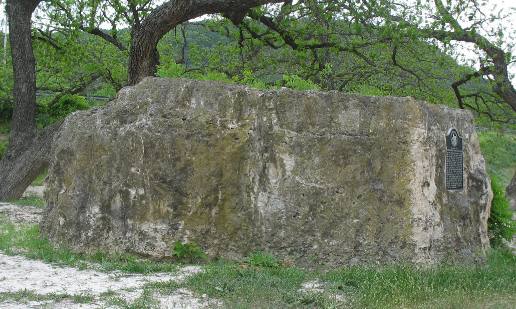 Site of 1908 Confederate Veterans Reunion
The historical sign to the right explains the signifigance of this large rock in the Junction City Park (on the east side of the South Llano River) and across from the City Park in Juntion proper. This is a pretty neat historical sign. If it weren't for signs such as this we would not know about reunions such as this. If you haven't done it make sure that you read the historical sign on the right above.
If you enjoyed this Travel Adventure you might like some of these:
Texas Hill Country Fences & Gates
Willow Loop Scenic Drive north of Fredericksburg
Kerrville, Bandera, Hunt & Ingram; Texas
Wildlife of the Texas Hill Country
Until next time remember how good life is.

Mike & Joyce Hendrix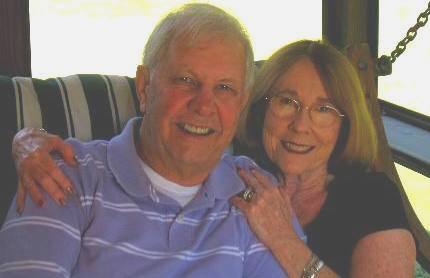 Mike & Joyce Hendrix who we are
We hope you liked this page. If you do you might be interested in some of our other Travel Adventures:
Mike & Joyce Hendrix's home page
Travel Adventures by Year ** Travel Adventures by State ** Plants ** Marine-Boats ** Geology ** Exciting Drives ** Cute Signs ** RV Subjects ** Miscellaneous Subjects
We would love to hear from you......just put "info" in the place of "FAKE" in this address: FAKE@travellogs.us
Until next time remember how good life is.