Vanderpool, Texas
Vanderpool, Texas
April 20, 2007.

We are staying in Kerrville at Kerrville Schreiner City Park that was formerly Kerrville Schreiner State Park. $15 per-night for FHU plus a $5 per-day entrance fee (but you can purchase an annual pass for $25 which we did). Kerrville Schreiner Park is located within the city limits on the Guadalupe River and has everything one could want in the way of Hill Country Ambiance. With that said there are probably 12-RV-Parks in Kerrville that are very nice plus they have good location as well. Many of these private parks are located on the Guadalupe River as well.
These are fallow deer. The males have impressive racks and are much sought after by hunters. Male fallow deer have the same color and marking and size as a male axis deer, however the antlers resemble carabou antlers. .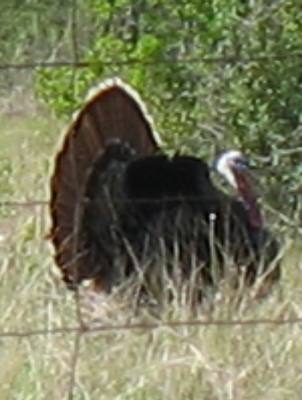 This tom turkey was strutting his stuff through the Texas underbrush in an effort to impress an out of sight female. We watched this time honored ritual for several minutes but never spotted the elusive female. This tom sure put on a show with his flared tail and strutting as we watched from Texas Ranch-337 between Medina and Vanderpool
Lost Maples State Natural Area is north of Vanderpool
Lost Maples State Natural Area is a few miles north of Vanderpool and is a must stop when visiting in this area. The park is absolutely beautiful any time of year but especially so in the fall.
Don't forget lunch at the Lone Star Bike Museum in Vanderpool where you can experience an Australian pie with the filling of your choice. These are not the sweet pie you are thinking of they have meat filling and are out of this world.
Bikers on the Scenic Drive between Medina and Vanderpool
This is a group of bikers on the road from Medina to Vanderpool. Bikers, such as these, are a common sight as they ride through the Hill Country scenic areas. The drive between Medina through Vanderpool and over to Leakey is considered one of the better scenic drives in the Hill Country. I can't disagree. We have friends that live off this road near Vanderpool and we are driving out to their place.
There is a good chance these bikers will stop at the Lone Star Bike museum in Vanderpool then head on over to Leakey where they will probably stop at either The Pig Pen or Leakey Feed Lot for food and a thirst quincher then continue on their ride on the "Twisted Sister" the 4&1/2 star bike ride through the Texas hill country and the Rio Canyon area north and west of Leakey.
Three Sisters or Twisted Sisters..... The exciting 4&1/2 star Bike Route through the Texas Hill Country
In case you are interested the Three Sisters or Twisted Sisters is an exciting 4&1/2 star bike ride of around 130-miles through some of the most beautiful landscape in the Texas Hill Country.
You can google and get the route that starts in Medina and heads west through Vanderpool to Leakey. From Leakey the Twisted Sisters ride heads north then west before turning south and making a loop ending back in Leakey. The "Three Sisters" are Ranch-337, Ranch-336 and Ranch 335.
Here is a good site to get a map of the Twisted Sisters bike ride:
http://www.google.com/imgres?sa=X&rlz=1T4RNSN_enUS403US403&biw=1272&bih=484&tbm=isch&tbnid=4k9nBCQPoBcAUM:&imgrefurl=http://www.bikebandit.com/community/blog/destination-guide-the-twisted-sisters-tx&docid=eLsYdRvV6EeSXM&imgurl=http://d136nqpz68vrmx.cloudfront.net/Marketing/community/blog/destination-guide-the-twisted-sisters-tx/twisted-sisters-3-large.jpg&w=1261&h=757&ei=85RyUqupHsPl2AXnxIHoBg&zoom=1&iact=rc&page=1&tbnh=148&tbnw=247&start=0&ndsp=19&ved=1t:429,r:17,s:0,i:132&tx=136&ty=90
You will have to copy/paste that entire url...... sorry.
Roadcut on the "big-hill" on Ranch 337 between Medina and Vanderpool
This is what the Hill Country of Texas is all about. This "big-hill" is a few miles east of our friends place on the Medina to Vanderpool road (Ranch 337). We were on our way to visit them when Joyce took this picture.
This was taken on the road between Medina and Vanderpool (Ranch 337) to give you an idea of what the "Hill Country" looks like.
Hill Country hummingbirds in our friends yard in Vanderpool
At our friends home in Vanderpool we sat on the front porch and watched humming birds. Most of the humming birds in this area are ruby throated, as these are. Unfortunately the sun was not striking these at the right angle to showcase their ruby throat.
As lunch time approached it was time for us to head to the local place which happens to be the Lone Star Bike Museum. It is owned by friends of our friends. The man who owns the museum happens to be from Australia and has a funny accent as you might expect. A real nice chap --- eh!
Ah, but I told you we were going to lunch not a motorcycle museum. Well, it seems that visitors to the museum kept wanting food so the owner's wife started a small restaurant in the back corner of the museum. They do hamburgers and such then throw in some home made soups and Ausie pies. The Ausie pies are something the Aussie gets in on. He makes the dough and she makes the fillings. They have about 6-different kinds of meat fillings. With that dough it probably wouldn't matter what you put in for a filling --------------- on the other hand it might matter. Anyway, the dough is great and the filling is great also. Too bad I only had room for one pie. If you are ever in the Vanderpool area stop in and tell the chap I sent ya. Tell them you want an Aussie meat pie.
The two girls in this picture were trying to pick up one of those burly bikers -------- too bad, they had to settle for me and Al. VBG
If you enjoyed this Travel Adventure you might like some of these:
Texas Hill Country Fences & Gates
Willow Loop Scenic Drive north of Fredericksburg
Kerrville, Bandera, Hunt & Ingram; Texas
Wildlife of the Texas Hill Country
Mike & Joyce Hendrix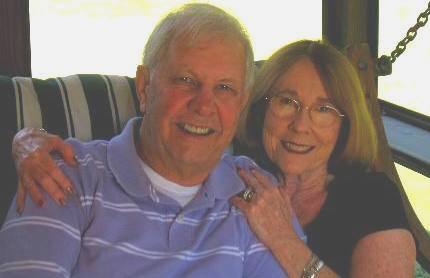 Mike & Joyce Hendrix who we are
We hope you liked this page. If you do you might be interested in some of our other Travel Adventures:
Mike & Joyce Hendrix's home page
Travel Adventures by Year ** Travel Adventures by State ** Plants ** Marine-Boats ** Geology ** Exciting Drives ** Cute Signs ** RV Subjects ** Miscellaneous Subjects
We would love to hear from you......just put "info" in the place of "FAKE" in this address: FAKE@travellogs.us
Until next time remember how good life is.