Texas Hill Country Exotic Game Ranches
Texas Hill Country Exotic Game Ranches
Texas: Kerrville, Ingram, Hunt, Harper, Mountain Home, Vanderpool, Medina, Tarpley, Leakey, Concan and Bandera
April 13 through 21, 2007.
We are staying in Kerrville at Kerrville Schreiner City Park that was the former Kerrville Schreiner State Park. $15 per-night for FHU plus a $5 per-day entrance fee (but you can purchase an annual pass for $25 which we did). Kerrville Schreiner Park is located within the city limits on the Guadalupe River and has everything one could want in the way of Hill Country Ambience. With that said there are probably 12-RV-Parks in Kerrville that are very nice plus they have good location as well. Many of these private parks are located on the Guadalupe River as well.
This picture was taken at a small independent exotic animal rancher. He had about 2-acres enclosed with one of those 15' tall fences to keep these critters in, after all they are expensive critters. I think these are audad and are highly prized by hunters for their fine horns. It takes from 2 to 3 years for males to develop horns like these big males have.
At the RAZ exotic animal auction we saw these mature males fetching around $600 each. The females and babies were from $100 to $300 each. I was getting information from a ranching family sitting behind us at the auction. They said that hunters paid from $1,000 to $1,200 to shoot one of those males with the nice hornes. The lady of the family was providing me information while the men (her husband, son and and older man that was probably one of their father) were either bidding and totally engrossed in the auction. She said I should return in February (hunting season). The big game hunting places would be buying anything with good antlers or horns. I didn't understand that statement since hunters can hunt exotics anytime. It is only native game like white tail deer and turkey that are regulated with a hunting season.
I think this is a type of Spanish goat. Possibly a Corsican. These are usually a meat goat but the rams that have impressive horns get sold to hunting ranches & lodges. I stopped in an upscale taxidermy shop in Junction, Texas. The owner told me that most Spanish goats were sold to the meat market. The exceptions were the ones he proudly displayed on his wall waiting for owners to pick them up. I have to say the horns on these goats were as impressive as other mounts with much more exotic names.
Guinea fowl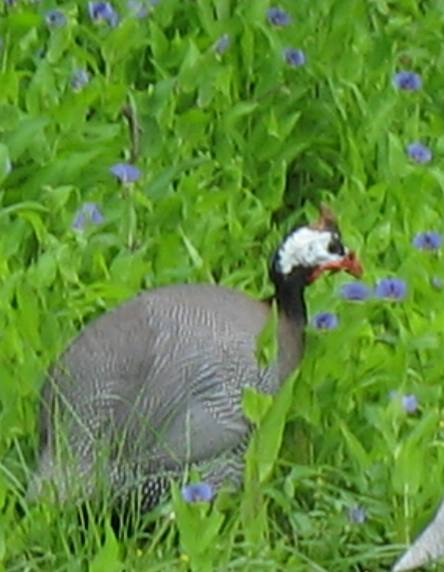 Guinea fowl are a common ranch fixture. It seems every ranch has a flock of Guinea fowl along with free range chickens and roosters.
Joyce took this picture on a back road north of Hunt, Texas.
Bighorn sheep or some other exotic sheep in a breeding pen
Is this a big horn sheep? I am not sure but it would make a nice mount.
This is a picture of mostly axis deer but a careful examination will reveal an audad and possibly several species of goat.
Again, mostly deer. I think I recall spotting fallow deer in this group but I can not pick them out now.
This group appears to be axis deer unless that light colored one on the right side is a fallow deer.
If you enjoyed this Travel Adventure you might like some of these:
Texas Hill Country Fences & Gates
Willow Loop Scenic Drive north of Fredericksburg
Kerrville, Bandera, Hunt & Ingram; Texas
Wildlife of the Texas Hill Country
Until next time remember how good life is.

Mike & Joyce Hendrix
Mike & Joyce Hendrix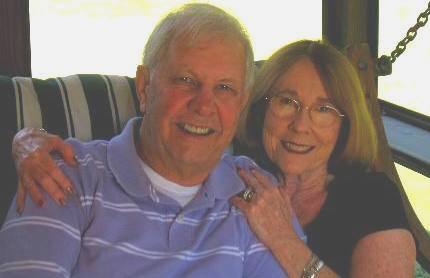 Mike & Joyce Hendrix who we are
We hope you liked this page. If you do you might be interested in some of our other Travel Adventures:
Mike & Joyce Hendrix's home page
Travel Adventures by Year ** Travel Adventures by State ** Plants ** Marine-Boats ** Geology ** Exciting Drives ** Cute Signs ** RV Subjects ** Miscellaneous Subjects
We would love to hear from you......just put "info" in the place of "FAKE" in this address: FAKE@travellogs.us
Until next time remember how good life is.