Leakey, Texas part two
April 20, 2007.
We are staying in Kerrville at Kerrville Schreiner City Park that was formerly Kerrville Schreiner State Park. $15 per-night for FHU plus a $5 per-day entrance fee (but you can purchase an annual pass for $25 which we did). Kerrville Schreiner Park is located within the city limits on the Guadalupe River and has everything one could want in the way of Hill Country Ambiance. With that said there are probably 12-RV-Parks in Kerrville that are very nice plus they have good location as well. Many of these private parks are located on the Guadalupe River as well.
The old Real County Courthouse constructed in 1918
Constructed of limestone quarried near nere this building dates from 1918.
The courthouse contained a jail with two small cells that was used until 1978. The bars can still be seen on the windows.
I think this is an active court house to this day but I do not know that for a fact.
Historic Marker commemorating the Real County Courthouse dating from 1918
The Leakey Feed Lot is one of the great eateries in the Hill Country.
Bike riders exploring the Hill Country and especially those heading to the Three Sisters or the Twisted Sisters ride north of Leakey plan to stop in Leaky at either the Feed Lot or the Pig Pen.
You need to plan on doing the same.

No matter what you are thinking this is a BBQ Restaurant and a good one. It is definitely a favorite of the biker groups that roar through Leakey every weekend and holiday.
Leakey is an area of natural beauty. It has spectacular hill country views and is sometimes referred to as "The Swiss Alps of Texas." Ranch Road 335, 336 and 337 also known as "The Three Sisters," is famous around the world for the amazing rides. Ranch Road 337 was also voted #1 road to ride by Ride Texas Magazine.

Blue Hole swimming area at Riding River Ranch 9-miles north of Leakey, Texas

Blue Hole is located on private property. I think you have to be a guest at the ranch to enjoy Blue Hole. Here are some methods to contact the property owners.
Connect with Riding River Ranch on Facebook here:
https://www.facebook.com/pages/Riding-River-Ranch/132281530143684
Address: Kentcreek Rd, Leakey, TX 78873
Phone:(830) 232-6034 cwpavlas@gmail.com

If you enjoyed this Travel Adventure you might like some of these:
Texas Hill Country Fences & Gates
Willow Loop Scenic Drive north of Fredericksburg
Kerrville, Bandera, Hunt & Ingram; Texas
Wildlife of the Texas Hill Country
Mike & Joyce Hendrix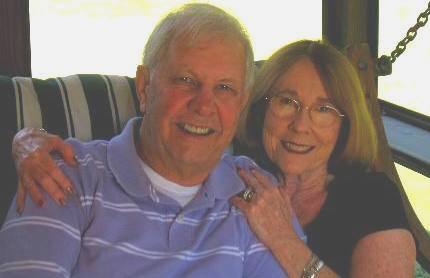 Mike & Joyce Hendrix who we are
We hope you liked this page. If you do you might be interested in some of our other Travel Adventures:
Mike & Joyce Hendrix's home page
Travel Adventures by Year ** Travel Adventures by State ** Plants ** Marine-Boats ** Geology ** Exciting Drives ** Cute Signs ** RV Subjects ** Miscellaneous Subjects
We would love to hear from you......just put "info" in the place of "FAKE" in this address: FAKE@travellogs.us
Until next time remember how good life is.