Yellowstone National Park
Mike & Joyce in front of the Yellowstone National Park entrance sign located at the south entrance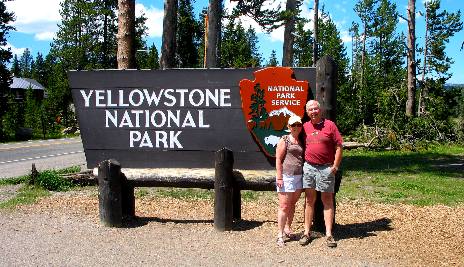 We are standing in front of the south gate entrance sign to Yellowstone National Park in early July of 2011. We are comfortable in shorts but as you will soon see we will be traveling through snow as we cross over the Continental Divide 6-times in Yellowstone.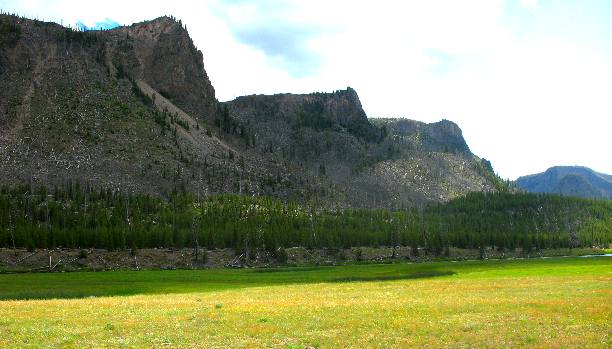 We made this journey into Yellowstone National Park to view elk along the Madison River in the Madison Valley. However, as we found out the elk had not returned to the valley after leaving to birth their young in the relative safety of the nearby lodgepole forest.
Joyce standing behind a patch of snow in Yellowstone National Park in her shorts
It is the 2nd week in July 2011 and there is still snow on the ground here in Yellowstone. Joyce was in shorts when this picture was taken. Temperatures were approaching 80-degrees today. The brave thing Joyce was doing was standing there with a swarm of vicious mosquitos attacking her. We retreated back to the safety of the Saturn as soon as we snapped this picture.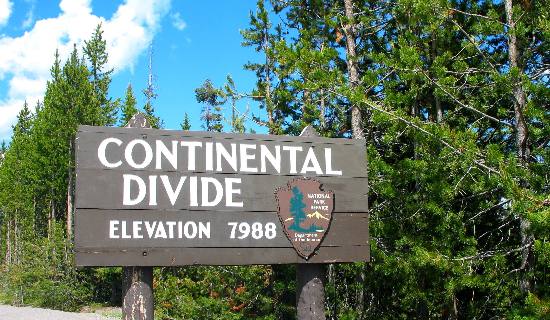 We crossed the Continental Divide three times on our way into the interior of Yellowstone National Park today and we passed over the Continental Divide three more times on our way back to our campground at Colter Bay in Grand Teton National Park.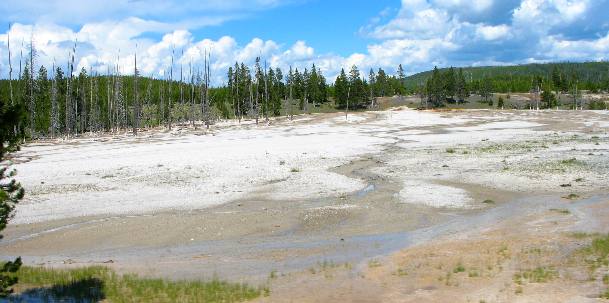 This is one of the thermal areas in Yellowstone National Park not far from Old Faithful. Super heated water is oozing to the surface laden with dissolved minerals. As that water evaporates it leaves behind the dissolved minerals.
Along the Firehole River between Old Faithful and Madison Junction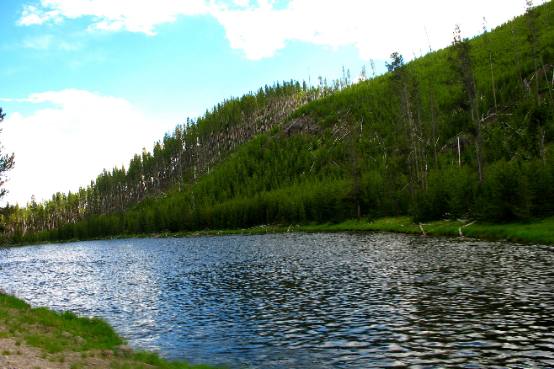 Joyce took this picture somewhere along Loop Road between Old Faithful and Madison Junction.
One thing to note in this picture is the old growth forest that did not get consumed in the 1988 Yellowstone Fires and the new growth forest emerging. It is fairly easy to see where the fire destroyed everything and where the old growth forest was spared.
Until next time remember how good life is.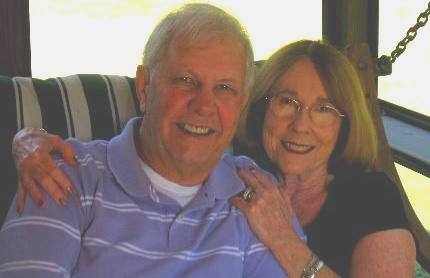 Mike & Joyce Hendrix who we are
We hope you liked this page. If you do you might be interested in some of our other Travel Adventures:
Mike & Joyce Hendrix's home page
Travel Adventures by Year ** Travel Adventures by State ** Plants ** Marine-Boats ** Geology ** Exciting Drives ** Cute Signs ** RV Subjects ** Miscellaneous Subjects
We would love to hear from you......just put "info" in the place of "FAKE" in this address: FAKE@travellogs.us
Until next time remember how good life is.