Teton Range

This is the awesome view we experienced very day while we were staying in Grand Teton National Park at Gros Ventre Campground. The drive from Grand Teton National Park into Jackson, Wyoming is only 7-miles. After turning off at the Gros Ventre Junction then it is 4.5 miles to Gros Ventre Campground and another 3 miles to Kelly, Wyoming. Spectacular views along the entire drive.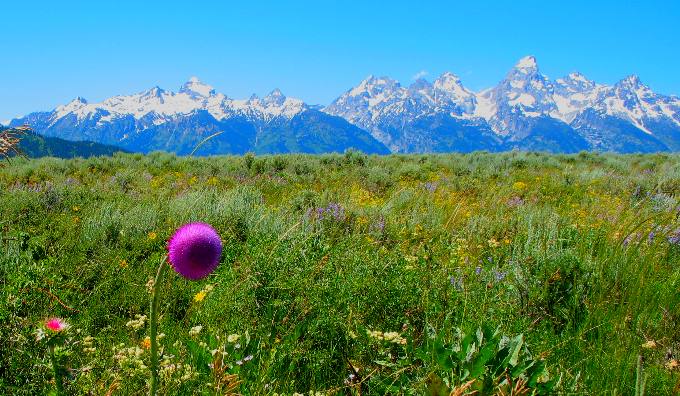 Teton Range framed by a beautiful thistle and other wildflowers in Antelope Flats.
Sunset over Teton Range.
This picture was taken at Gros Ventre Junction as we were driving into Jackson Hole for an evening of dancing at Million Dollar Cowboy Bar.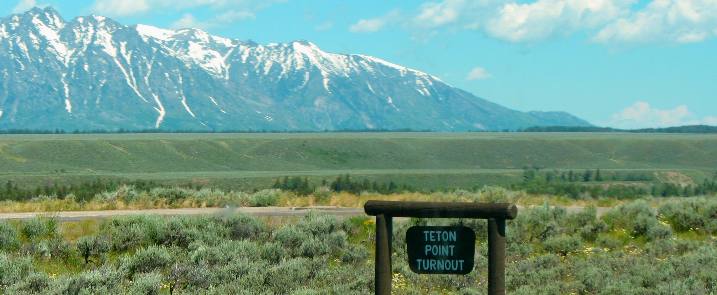 Teton Point turnout is the first chances visitors to Grand Teton National Park have to pull over and get a picture of the Teton Range.
The Teton Range is 40 miles long and 15 miles wide.
The Tetons are formed of granite. The rock is very hard and prone to slides.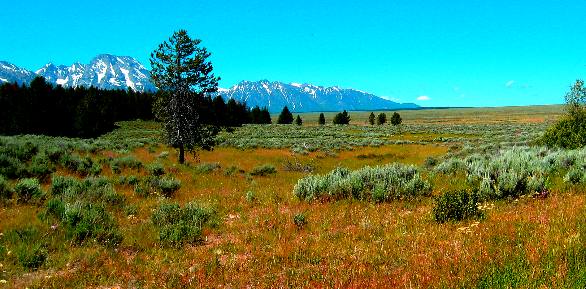 Mt Moran and the Teton Range framed spruce trees in Antelope Flats.
Reflections of Mt Moran and the Teton Range on Jackson Lake.
Until next time remember how good life is.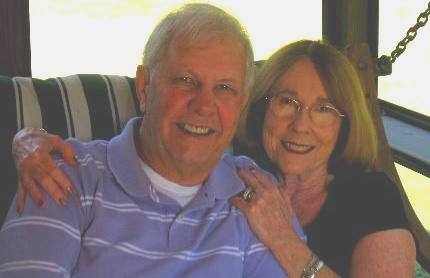 Mike & Joyce Hendrix who we are
We hope you liked this page. If you do you might be interested in some of our other Travel Adventures:
Mike & Joyce Hendrix's home page
Travel Adventures by Year ** Travel Adventures by State ** Plants ** Marine-Boats ** Geology ** Exciting Drives ** Cute Signs ** RV Subjects ** Miscellaneous Subjects
We would love to hear from you......just put "info" in the place of "FAKE" in this address: FAKE@travellogs.us
Until next time remember how good life is.