Jackson, Wyoming
Note that Jackson is at an elevation of 6,209-feet which is actually in a "hole" compared to the surrounding area. Grand Teton Mountain, just a few miles away, is over 13,000-feet. The 6,209-feet of elevation is why Jackson is referred to as Jackson Hole.
Outdoor recreation places make up the majority of businesses in Jackson

Outdoor outfitters seem to be on every corner in Jackson.
Ground squirrel living under the sidewalk in Jackson's Town Square Park
A lot of ground squirrels live in Town Square mostly living under the wooden side walks.
This is Mike walking past some beautiful flower baskets in downtown Jackson
Strolling through down town Jackson, Wyoming late in the evening.
It is probably around 8PM and we are on our way to the Million Dollar Cowboy Bar. While it is warm now it will be cold when we head home around midnight. That is what the black, long sleeve, sweater is doing on my arm.
This is one of the picture windows in an upscale hat shop in Jackson
I am surprised that Joyce did not get one of these hats since she paid so much attention to them each time we passed this window.
Mike & Joyce under one of the Elk Antler Arches on Jackson's Town Square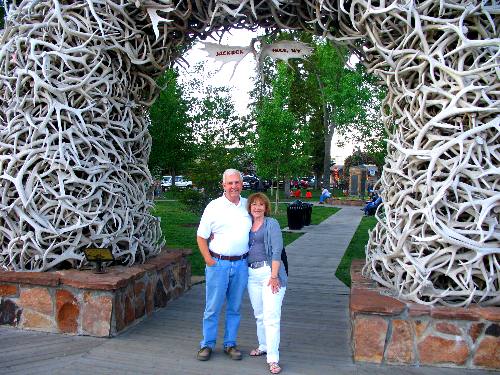 I am a lucky man. Amen!
This is proof positive that we were in Jackson, Wyoming.
In case you do not recognize this location it is under one of the elk antler arches that mark the four-corners of Town Square in Jackson.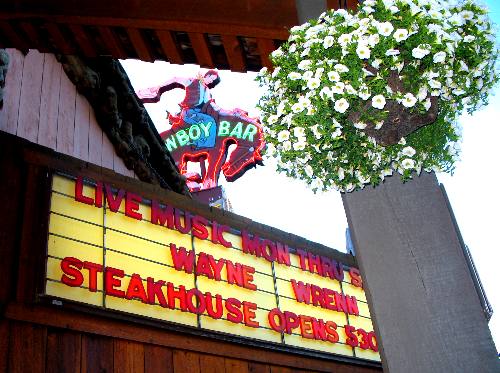 The Million Dollar Cowboy Bar in down town Jackson, Wyoming across from Town Square is the premier entertainment venue in Jackson 7-nights a week with live music and a large dance floor.
Until next time remember how good life is.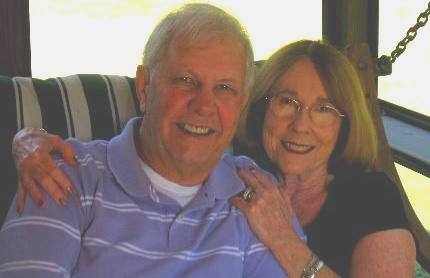 Mike & Joyce Hendrix who we are
We hope you liked this page. If you do you might be interested in some of our other Travel Adventures:
Mike & Joyce Hendrix's home page
Travel Adventures by Year ** Travel Adventures by State ** Plants ** Marine-Boats ** Geology ** Exciting Drives ** Cute Signs ** RV Subjects ** Miscellaneous Subjects
We would love to hear from you......just put "info" in the place of "FAKE" in this address: FAKE@travellogs.us
Until next time remember how good life is.