Favorite Restaurants of Key West
Louie's Backyard Restaurant
Only minutes for the Southernmost Point Louie's Backyard is host to many fine tourists to come to Key West to enjoy fine dinning. It is located at 700 Waddell Avenue in a beautiful Victorian house. The view at Louie's Backyard Restaurant is outstanding. It over looks the Atlantic Ocean with two decks jutting out over ocean.
The Caribbean American food is prepared by Chef Doug Shook with over 23 years of experience in pleasing Key West tourist as well as locals.
El SIBONEY Restaurant
The best Cuban cuisine in Key West. Where the locals go to eat and the tourist
who ask the locals were to get only the best Cuban food. Not a fancy place but family friendly and delicious food.
Located at 900 Catherine Street in the heart of Old Town.
Open 11:00 AM - 9:30 PM
SLOPPY JOE'S
Sloppy Joe's on Duval Street always draws a big crowd and there is usually some type of entertainment. I think every tourist in Key West must visit the Sloppy Joe's gift shop because I see a lot of Sloppy Joe's shirt and sweatshirts all over Key West.
I you visit Key West you must go to Sloppy Joe's just for the experience. The food is nothing special but it is a fun atmosphere.
Hog's Breath Saloon is a popular destination in Key West. The food is good and you can dine inside our outside.
I would say that 99% of the time there is good music at Hog's Breath Saloon. People always appear to be enjoying themselves at this restaurant.
There is also a Hog's Breath gift shop where you can purchase a Hog's Breath tee shirt.. Like they say: "Hog's Breath is Better than No Breath."
Located at 400 Front Street, Key West 33040
305 296 4222
Stock Island famous Hogfish Grill & Bar is a must visit. Don't let the drive to the restaurant scare you away as you pass old dilapidated trailers. Hogfish Grill in Downtown Stock Island is full of ambiance such as feral cats and Key West chickens to watch as you dine under the hatch roof restaurant.
The food is delicious and the serve is excellent. They have live music in the evenings. There is also waterfront dinning where you can watch the beautiful boats arrive in the harbor.
Location: 6810 Front Street, Stock Island ( mile maker 5.)
305 293 4041
Hours: Monday -Saturday 11:00 AM - 11:00 PM, Sunday 8:00 Am - 11:00 PM
The locals highly recommend B.O.'s Fish Wagon It doesn't look like much other than a junk yard but he food is delicious and the staff are friendly.
You have to experience B.O.'s Fish Wagon if you are visiting Key West. To enjoy a perfect fish sandwich or the best burger in Key West.
Located at 801 Caroline Street and across the street from the Red Doors.
305 294 9272
Dinning at the Blue Heaven is fun experience and the food is delicious. Ambiance galore and a gift shop to boot. A lot of tourist like to have breakfast at Blue Heaven, but I guess those who really want to experience sin in a glass might want to have lunch or dinner.
Located at 729 Thomas Street,
Key West, 33040
305 296 8666
PEPE'S CAFE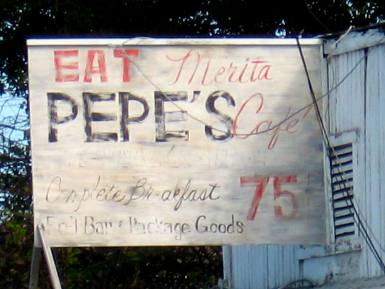 Established in 1909 Pepe's is the oldest restaurant in Key West. Serving breakfast, lunch and dinner . The are located at 806 Caroline Street Key West. In a small 100 year old house.
The food is good. Eat inside or of the patio. They are open everyday from 7:30 AM to 10:30 PM
If you are visiting Key West you have to dine at Pepe's Cafe.
Location, location, location is what Sunset Pier Restaurant is all about when it comes to dinning and good music in Key West.
Every evening at sunset you will find hundreds of tourist gathering at Sunset Pier Restaurant to celebrate. I must say it became a habit for the two of us each evening.
Topical and Caribbean food, is served for you dinning pleasure.
Topping off the tropical experience is a variety of good music. The entertainers begin about an hour before sunset and continues through the night. Our favorite entertainer sings motown and sixty hits five nights a week.
It doesn't get any better in
Key West
then at
Sunset Pier
Restaurant.
00 Duval Street
Key West, Florida, 33040 305 295 7047
Daily ll:00 AM - ll:00 PM
No Name Pub is located on Big Pine Key, but the 32 mile drive from Key West is worth it because they have the best pizza in the area. Now you would say give me a break I am not going to drive 32 miles just for pizza. I can assure you the pizza and ambiance is worth the drive. As you make you way to No Name Pub you will also have an opportunity to see the Key Deer so slow down and enjoy the drive and the pizza.
If you go to No Name Pub on Friday, Saturday or Sunday then expect about an hour wait. Yes that is right,at least an hour,but you could drive around and look for the Key Deer and then come back for your pizza. You can order your pizza with just about any ingredient on it from shrimp to pineapple. It is a very large pizza so we always have leftovers for another meal or two. Hey three meals for a 32 mile drive from Key West in my opinion that's not to bad!
30813 North Watson Boulevard
Big Pine Key Florida, 33043
305 872 9115
Daily 11;00 AM - 11:00 PM
Until next time remember how good life is.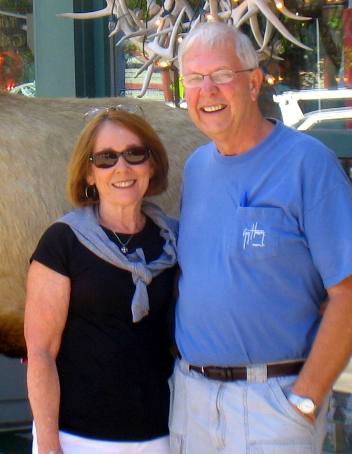 Mike & Joyce Hendrix who we are
We hope you liked this page. If you do you might be interested in some of our other Travel Adventures:
Mike & Joyce Hendrix's home page
Travel Adventures by Year ** Travel Adventures by State ** Plants ** Marine-Boats ** Geology ** Exciting Drives ** Cute Signs ** RV Subjects ** Miscellaneous Subjects
We would love to hear from you......just put "info" in the place of "FAKE" in this address: FAKE@travellogs.us
Until next time remember how good life is.