Stock Island Fishing Boats
We took this picture one day after having lunch at Hogfish Grill on Stock Island.
We first spotted Pirate's Sons to the dock outside Hogfish Grill while we were eating lunch. After we finished eating we strolled the docks to inspect the various forms of commercial fishing vessels tied to the wharf.
These colorful nets were hanging from rigging on a gulf shrimper docked at the commercial boat docks on Stock Island.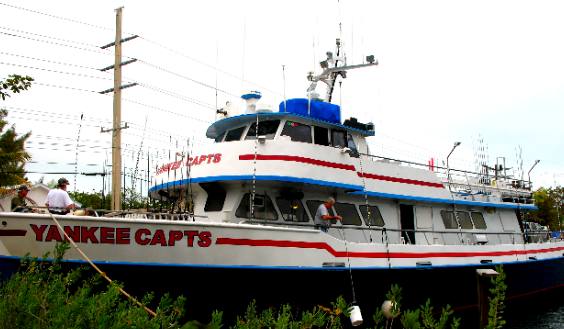 The Yankee Capts is a large party boat specializing in 2,3 and 4 day fishing trips to the Dry Tortugas.
It docks in the marina next to Hogfish Grill on Stock Island. Since the Yankee Capts specialize in 2,3 & 4 day trips the boat is not at the dock very often. They seem to come in around noon then leave around 5pm. Sometimes they are at the dock overnight before leaving on another trip. If you are looking for it you should locate Hogfish Grill since it is always there. VBG. Once you locate Hogfish Grill you will see the Yankee Capts if it is at the dock.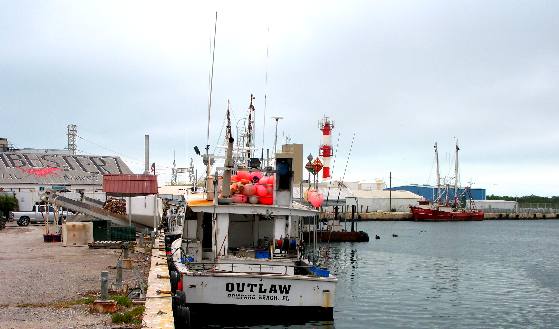 This is a commercial longline boat we saw docked on Stock Island when we were dining at Hogfish Grill.
The Outlaw is docked where the Yankee Capts would dock if they were in. I suspect this boat is just here for a few hours.
We watched a longline boat very similar to this one unload a catch of swordfish and wahoo the other day. It was interesting to see how the individual swordfish were handled and processed in-between the boat and the refrigerated truck that transported the swordfish to market.
Key West Harbor Marina on Stock Island
That is one lean, mean fishing machine with the three big outboards.
They are returning to the dock and weighin station with a big king mackerel to be weighed in the Key West Harbor King Mackerel Tournament.
That is the huge Key West Harbor "boat barn" or dry storage facility in the background. I read somewhere that it held 377 boats and was constructed to withstand 150-mph winds.
Joyce took this picture of two of the sleek fishing machines entered in the Key West Harbor King Mackerel Tournament.
These are true fishing machines, designed to get to the fish as fast as possible and return to the dock equally as fast.
These boats fish the SKA (Southern Kingfish Association) Tournament Circuit.
Lobster traps stockpiled in staging area on Stock Island
Stock Island has several staging areas where lobstermen repair and stage their traps.
As you can see these lobster traps are stored on pallets and stacked very high. I took this picture over a chain link fence so the bottom pallets in this picture are around 5' off the ground. Well, you can see they are stacked to the top of these coconut palm trees.
Until next time remember how good life is.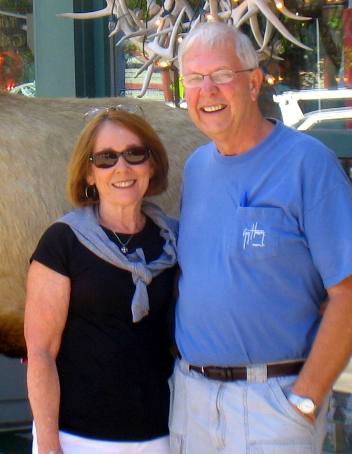 Mike & Joyce Hendrix who we are
We hope you liked this page. If you do you might be interested in some of our other Travel Adventures:
Mike & Joyce Hendrix's home page
Travel Adventures by Year ** Travel Adventures by State ** Plants ** Marine-Boats ** Geology ** Exciting Drives ** Cute Signs ** RV Subjects ** Miscellaneous Subjects
We would love to hear from you......just put "info" in the place of "FAKE" in this address: FAKE@travellogs.us
Until next time remember how good life is.